JEROME — An Idaho State Police trooper and trooper-recruit were assisting a motorist on Interstate 84 when another suddenly needed their help.
On July 3, 2018, then-senior trooper Robert Allred and trooper-recruit Jonathan Demcak were helping a motorist who'd run out of fuel in Jerome County. At 10:41 a.m., they heard a loud vehicle crash and explosion about a half-mile behind them, to the east.
Video footage from the patrol vehicle shows the wreckage that resulted when two commercial vehicles collided head-on in a construction zone. Potatoes lay strewn across the road and a fire was spreading, smoke erupting in great clouds from a tractor-trailer that lay on its side.
The fatal crash sent one man to the hospital and killed another. But both troopers and civilian William Johnson were able to save one life that day.
On Friday, Idaho State Police awarded Allred and Demcak with a Silver Star award. Johnson received a certificate of appreciation.
"It's kind of hard to remember what happened, and the exact thought process became more instinct," Allred recalled. "The adrenaline was pumping so hard, it's more of a blur."
Allred and Demcak are only the third and fourth ISP District 4 troopers to receive a Silver Star, the second highest award the agency presents for heroism in the face of danger. The other times District 4 troopers received the award were in 1997 and 2004.
Thompson, meanwhile, was honored because he sprang into action. The commercial truck driver from the Dallas, Texas, area brought out his own fire extinguisher and helped Allred and Demcak pull a man from his truck before it was fully engulfed.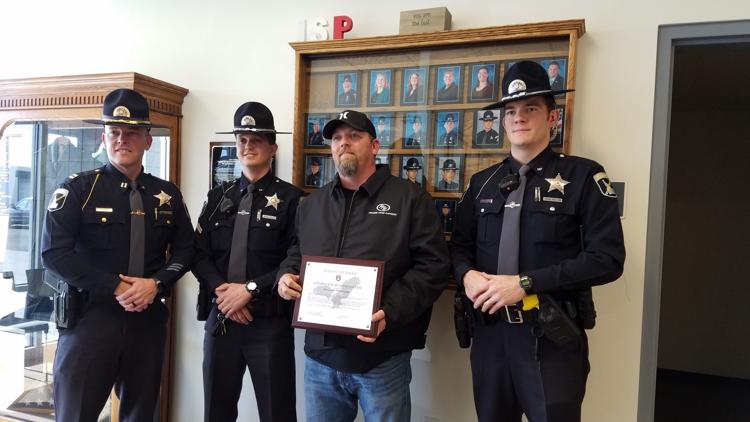 "I'm glad I was there," Thompson said.
The crash happened right in front of his vehicle, and he's thankful that he kept a safe driving distance.
The July 3 crash happened at eastbound I-84 milepost 187, near Eden. According to an ISP statement after the crash, David Wetmore, 57, of Irrigon, Ore., was driving west in a commercial vehicle in a construction zone. Corey McCaslin, 29, of Port Washington, Ohio, was going east in another semitrailer. Wetmore crossed over the center line and struck McCaslin's vehicle head-on.
Wetmore was flown to Portneuf Medical Center in Pocatello, but McCaslin succumbed to his injuries at the scene.
Both vehicles were on fire when ISP arrived. Troopers saved Wetmore by getting him out of the cab before it was fully engulfed in flames. The cab had detached from the trailer and rolled down the embankment.
This was only Demcak's third or fourth ride-along with a trooper before going to the academy.
"All of them acted in a way that exudes the highest ideals of the Idaho State Police, some of those being bravery, courage and selflessness," District 4 Captain Dave Neth said. "There is no doubt that your actions saved a life that day."
When Allred and Demcak arrived, Allred got out of the vehicle and used his fire extinguisher to try to put out the flames. That's when Thompson grabbed his own extinguisher and Allred signaled for Demcak's assistance.
Demcat used Thompson's extinguisher and tried to put the fire out. Allred broke the side window and grabbed the driver's hand. The driver was incoherent, yelling in pain, and couldn't get out. Allred called for help and both Demcak and Thompson helped him pull the driver free.
"Those who saved a life that day kept running toward the cab and helped that driver out of that truck," ISP Lt. Colonel Sheldon Kelley said. "That's what raises these folks above the ordinary citizen."
According to court records, Wetmore faces a misdemeanor charge of vehicular manslaughter. An arraignment is scheduled for Monday in Jerome County Magistrate Court.