TWIN FALLS — It's no secret that the Snake River Canyon is a natural wonder.
Since I relocated to Twin Falls in early May, I've known the canyon is an obvious tourist attraction. After staring into it from above on the canyon rim and taking some hikes through it, I knew there was still more to see.
When I spotted little specks that were people kayaking on the river from above, I knew I had to get down there somehow to experience the place in a new way. The Times-News' Summer Entertainment Staff Picks provided the perfect opportunity for me to explore, so I did some research.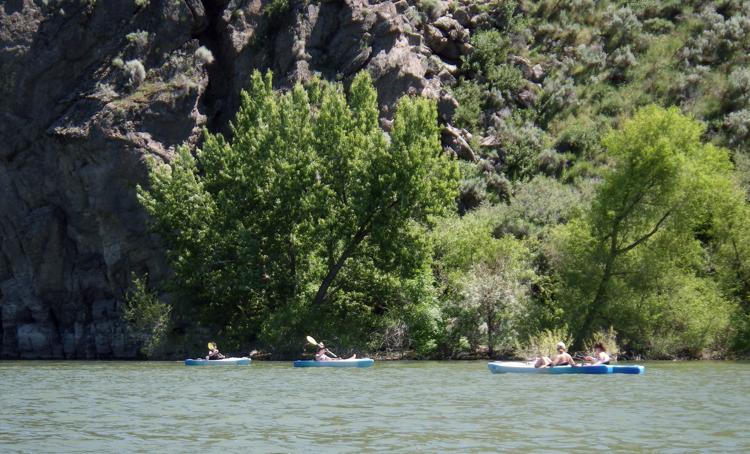 AWOL Adventure Sports is a one-stop shop for those seeking a water adventure. The company has provided kayak rentals for four years, scuba diving instruction for three and has run the canyon's zip line for the past year.
Owner and diving instructor Paul Melni said the range of activities offered appeals to every level of adventurer from beginner to expert and to both residents and tourists.
For Magic Valley residents, Melni recommends diving. Classes range from basic instruction to rescue diving and information is available at paddlethesnake.com/scuba.
For the tourist or the new Magic Valley resident, Melni says kayaking the Snake River is a must.
On a Tuesday in early June, I decided to give it a shot and headed down to Centennial Waterfront Park.
Renting a kayak from AWOL is easy and straightforward. They recommend you reserve one in advance, which I did online. That probably wasn't necessary on the weekday afternoon that I went, as there seemed to be plenty available. But I would guess for a weekend excursion, locking down a craft ahead of time is likely a good strategy.
Rentals are available in two-, four- and eight-hour time slots. I opted for two hours, but the trip didn't feel nearly that long and I could have easily spent four hours on the water.
Chief Photographer Drew Nash tagged along. With a pair of single kayaks, we headed down to the dock. The staff was friendly and helpful hauling the kayaks from storage down to the water. We slid off into the river and started our adventure.
I began by paddling upriver, which isn't much of a challenge given how slowly the Snake River flows. I took my time to lounge around and go wherever I wanted as long as I followed the general road traffic rule of keeping right. There was enough space on the river that it never felt crowded, and the only thing to avoid was the occasional passing boat.
Everything seemed bigger from the river's vantage point. The canyon inspires awe from above, but being on the water allows an entirely new perspective. The river appears small from above, but down in the canyon, it's pretty darn massive. Everything above looks like a tiny dot in the distance, which felt vastly different than looking down on the ant-sized boaters and kayakers earlier from above.
We made it past the Perrine Bridge before turning around, although it's possible to go much farther upriver to Pillar Falls and Shoshone Falls.
There are some interesting rock formations along the canyon wall on both the north and south sides downriver from the bridge. I had viewed them from the rim before, but paddling up to explore them was even more fascinating. They also provided some much-needed shade on a sunny afternoon.
While it may seem obvious, kayakers should be sure to pack sunscreen. Even though I was only out there for a couple of hours and had applied my own, I still got sunburned. The sun reflecting off the water didn't help matters. Especially if you're going to go out for four or eight hours, bring plenty of sun protection.
Our trip back was slightly easier because the flow of the river aided our paddling. But I found that I could paddle forward, backward, left or right without much trouble no matter where I was on the river, making kayaking ideal for beginners like me or for kids.
When I landed back at the dock, I felt like I could have stayed out at least another two hours. I paddled almost non-stop the whole time, and I think it would have been nice to relax and coast around a little more. I'll definitely be doing that the next time I go out.
Overall, it was a great experience. It was easy and inexpensive to rent a kayak ($15.90 for two hours, including tax). The staff was efficient and personable, and the experience was a stress-free adventure for a novice kayaker such as myself.