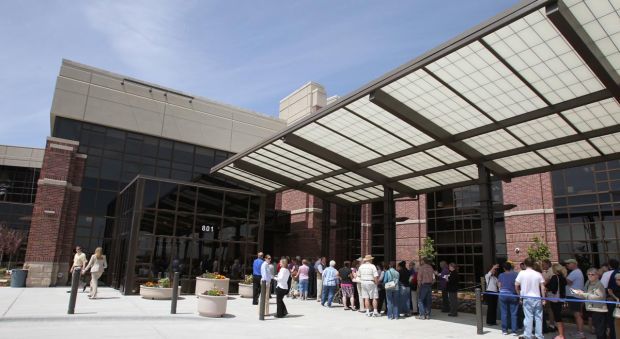 TWIN FALLS — The Idaho Supreme Court upheld Thursday a jury's decision to award a Twin Falls couple $3.85 million in damages in a medical malpractice case.
Rodney and Joyce Herrett filed a lawsuit in February 2015 in Twin Falls County District Court. After a nine-day trial in summer 2016, a jury ruled in the Herretts' favor, saying a St. Luke's Magic Valley Medical Center nurse acted recklessly when she improperly removed a catheter from Joyce's neck, leading to a stroke and permanent brain damage.
St. Luke's admitted liability in the case and that the nurse involved "breached the standard of care," according to the Idaho Supreme Court decision. But St. Luke's appealed the 2016 verdict, claiming "the district court erred by denying its motion for mistrial, admitting certain expert testimony, and improperly instructing the jury as to recklessness."
"We sincerely regret that Mrs. Herrett was unintentionally injured during a necessary medical procedure and have agreed all along that she is entitled to compensation," St. Luke's Magic Valley spokeswoman Michelle Bartlome said in a written statement Thursday to the Times-News. "We appealed this case due to several significant legal issues that we believe impacted the amount of compensation determined at trial. While we are disappointed by the court's decision, it is important to bring resolution to this matter."
The Herretts' attorney, Jarom Whitehead, talked Thursday with the Times-News.
"Obviously, we're very happy for the Herrett family," Whitehead said. "(Joyce) was injured at that hospital in 2013 and (St. Luke's) fought us every step of the way, even after the jury issued a resounding decision in her favor."
Joyce is permanently paralyzed on her left side and is unable to care for herself, he said. The decision will go a long way toward paying for Joyce's medical care.
"A lot of the money awarded by the jury was to help provide in-home medical care she badly needs," Whitehead said. "Up to today, they were paying for that out of pocket."
Herrett was a patient at St. Luke's Magic Valley on Christmas Eve in 2013 with a septic infection, according to the decision filed Thursday. Shortly before she was scheduled to be discharged, nurse Marilou Wentz removed a central venous catheter while Herrett was sitting upright in a wheelchair.
Bartlome told the Times-News in 2016 that "based on imaging studies, we realized the stroke was caused by an air embolism, and that more likely than not, a nurse removing the central line did not have Mrs. Herrett positioned flat on her back."
The hospital notified the Herretts of the mistake immediately, Bartlome said in 2016.
Wentz testified in court she sought guidance from her supervisor because she'd never removed that type of catheter before and her supervisor told her to "just pull it out slowly," according to court documents. Her supervisor denied Wentz sought any instruction.
As Wentz was removing the catheter, Herrett began to complain about difficulty breathing. She was placed in a hospital bed and Wentz went to get help.
"A rapid response team was called and Herrett was transferred to the intensive care unit," court documents state. "Herrett had suffered a stroke resulting from an air embolism introduced during the removal of the CVC."
After spending time in the rehabilitation unit, Herrett was sent home.
"After initially doing well, Herrett was readmitted to the hospital in September of 2014 for failure to thrive," according to court documents. "Following the stroke, Herrett has had trouble caring for herself and increased anxiety."
Wentz is no longer employed by St. Luke's, Bartlome said.