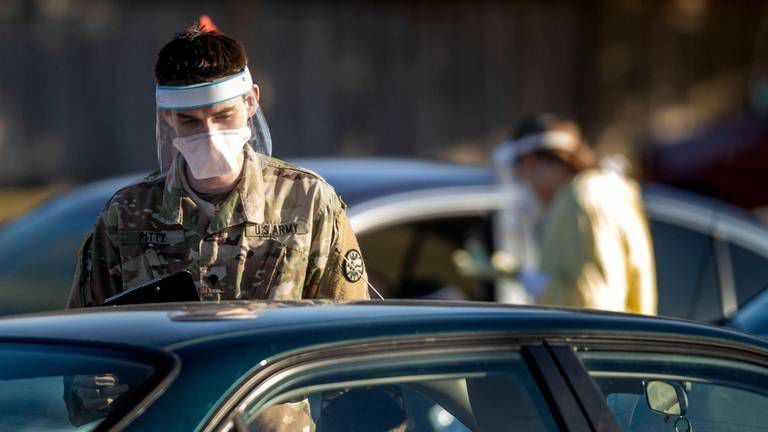 BOISE — Idaho Gov. Brad Little described a "heartbreaking" scene at a St. Luke's intensive care unit he visited Monday evening — an ICU nearly filled with unvaccinated patients who contracted COVID-19. Two of them were pregnant, and the average age of the patients was 43, Little said. All were struggling to breathe, and health care workers are "exhausted."
Little on Tuesday announced he will deploy up to 150 National Guard members for short-staffed health care facilities. He also secured another 200 contract workers to be available to the state through a contract with U.S. General Services Administration, and a 20-person Department of Defense response team to be sent to North Idaho, where Little said there's the greatest need.
"We've reached a point in the pandemic we have not been before," Little said. "Idaho hospitals are beyond constrained. … We're pulling out all of the stops."
Little said only four adult ICU beds were available in the state as of Tuesday morning, according to a daily call with hospitals. Hospitals have converted other spaces to work as overflow ICU units, but those are also filling up. The Department of Health and Welfare over the weekend reported 500 patients hospitalized and 160 in the ICU with suspected or confirmed COVID-19 — the most since the pandemic began. On Aug. 28, the state reported 76 COVID-19 patients were on ventilators, also the highest it's ever been.
"We expect this to get worse in the coming days and weeks," said Dave Jeppesen, Department of Health and Welfare director.
Idaho is on the brink of implementing crisis standards of care, a set of guidelines hospitals use to make difficult decisions about who gets the best treatment to maximize the number of lives saved. A committee of health care professionals and administrators crafted the plan in June 2020 as the state battled the COVID-19 pandemic.
National Guard members and GSA contract workers will be assigned based on requests submitted to the Idaho Office of Emergency Management, said Marissa Morrison Hyer, Little's spokesperson. The Department of Defense will fully fund its medical team, she said.
"I hope it'll be enough," Little said, to avoid crisis standards of care. But there's only one real solution, he added.
"We need more Idahoans to choose to receive the safe, effective COVID-19 vaccine," Little said. "It is our ticket out of the pandemic."
Idaho this week reached a milestone: 80% of residents 65 and older have received at least one dose of the COVID-19 vaccine. But the state is still behind in its vaccination rate. Among the total eligible population, only 54% have received at least one dose. The national average is 72%.
The vast majority of hospitalizations, serious cases and deaths due to COVID-19 are among the unvaccinated, according to the state.
Doctor urges vaccinations 'for the people who love you'
In the past week, patients who have been hospitalized for COVID-19 aren't just the elderly, who have been historically more high risk for severe illness. Four COVID-19-related patients admitted into Idaho hospitals were under 18 years old. Another 16 were between the ages of 18 and 29. Overall, about a quarter of the patients were under 50, according to federal data.
Dr. Joshua Holweger, an ICU doctor at Saint Alphonsus Regional Medical Center in Boise, told the Idaho Statesman that the ICU patients seemed to be getting younger. Of the 15 COVID-19-related patients he'd seen in the Boise ICU on Friday, three of them were in their 20s. Most were under 60 years old.
Holweger recalled a patient he had seen about a month ago that stuck with him. The patient was in his 40s, was unvaccinated and contracted COVID-19. Holweger described the "gut-wrenching" moment he told the spouse that the patient wasn't going to make it. He described seeing the spouse praying, begging God to change this outcome. And he described seeing the teenage son come in, sobbing next to the body.
Holweger said it was a tough loss. The medical staff had done everything it could to keep him alive, he said.
"Watching a teenager weep over the body of the parent — it was so unnecessary," Holweger said. He urged people to reconsider the COVID-19 vaccine. "If you don't want to do it for yourself, or you feel like you're being forced into it … look at your wife, look at your husband, look at your kids. Do it for them. Do it so you can be around for the people who love you."