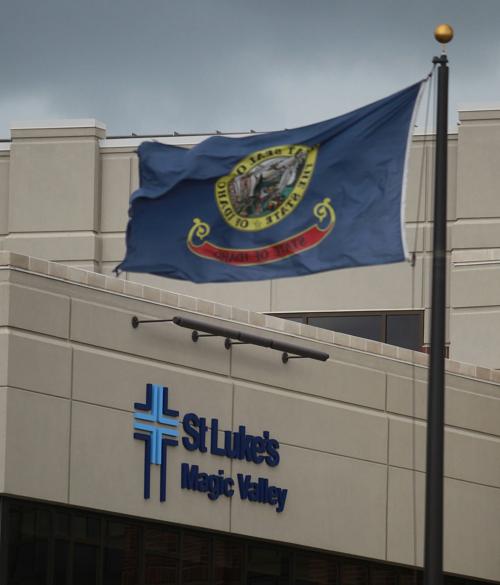 TWIN FALLS — Health care leaders are worried Idaho's medical system could be overwhelmed if the state and residents don't take swift action to slow the spread of COVID-19.
Executives and doctors for hospitals in the Treasure and Magic valleys said at a Tuesday press conference that they felt a strong need to share with the community the seriousness of the situation.
The exponential growth in cases is alarming, they said. They would like to see the state impose a mask requirement, and urged residents to ask their state and local policy makers to institute a mandate.
In response to the press conference, Marissa Hyer, Gov. Brad Little's press secretary, said the governor recommends mask wearing but has no plans to instituting a mandate. Instead, Little is deferring to the decisions of municipalities — some cities have required individuals wear masks in public.
"The numbers are frightening, the trends are more concerning, but we know we have the opportunity to turn this around," St. Alphonsus Chief Clinical Officer Dr. Steven Nemerson said.
The situation
Two weeks ago, Idaho had 5,552 confirmed cases. In the past 13 days alone the state has had another 5,110 cases. Nearly half the state's cases have occurred in July. That's bad, hospital leaders said.
Last week Twin Falls had 142 new confirmed cases, behind only Ada, Canyon and Kootenai counties. Minidoka and Cassia counties had the fourth and fifth highest weekly totals in Idaho with 50 and 49 cases respectively.
While most of the new cases are coming out of the Treasure Valley, Magic Valley cases keep rising, too. There were 266 new cases in the eight-county Magic Valley region last week. That's the most the region has had since early April when an outbreak in Blaine County was largely responsible for 285 weekly Magic Valley cases.
The explosion in cases is leading to a rapid increase in hospitalizations.
Idaho intensive care units are filling up again, after a bit of a respite in May and June.
Right now, Idaho hospitals said they're capable of handling the influx. It's the next weeks and months they're worried about. They're already considering reducing some of their less urgent offerings, such as elective surgeries, since the case spike is forcing them to divert staff to COVID-19 patients.
"We see no change in this trend, and our projections suggest COVID-19 related admissions will double every two weeks," St. Luke's President and CEO Chris Roth said.
On June 26, there were 26 COVID-19 patients hospitalized in St. Luke's facilities. On July 2, there were 40. That jumped to 51 on July 7 and 77 as of Tuesday.
Statewide there are now 129 people hospitalized for COVID-19, compared to 22 on June 14. During the outbreak in late March and early April, there were never more than 69 people COVID-19 patients in the hospital at a given time.
And treating just 69 people was incredibly difficult. Many of those individuals were from Blaine County and treated at St. Luke's Magic Valley Medical Center. St. Luke's Wood River closed, both because too many of its nurses and doctors got sick and because the hospital wasn't set up to take care of so many patients.
"I can tell you that what we saw play out there in Twin Falls was a once in a lifetime experience for me," St. Luke's Chief Medical Officer Dr. Jim Souza said.
Souza said the Twin Falls ICU was completely full of respiratory patients with COVID-19, most of them intubated. The hospital's anesthesia team was called up to help in the ICU. The hospital couldn't keep up, Souza said, so some patients were airlifted to St. Luke's facilities in Boise and Meridian.
If hospitalizations double weekly as the projections predict, Idaho hospital leaders said facilities are going to have a difficult time keeping up.
Souza described it like this: Imagine going into work and your boss asks you to do 50% more work than you already do. And then imagine you get asked to do more work again, and again. You might be able to handle extra work for a while, but it's really hard to do it for weeks and months.
Plus, while doctors and nurses are being asked to do more, there also aren't as many of them to do the work. They keep getting sick.
Odette Bolano, CEO and president of St. Alphonsus' health system, said that her hospital had 25 employees quarantined a month ago. Today 123 are quarantined.
"We can create an increased bed capacity," Souza said. "But … We need people to provide that care."
Hospital leaders also made clear that the new cases are not merely a result of increased testing. Dr. David Peterman, CEO of Primary Health Medical Group, said that since late March and early April, the positive case rate has tripled. When Idaho first dealt with a case spike, 5.1% of tests came back positive, now between 12 and 15% of cases are coming back positive.
The ask
Health care leaders are not calling for a re-institution of stay-at-home orders — those have too many negative effects, they said.
But they are asking Idahoans to pitch in and fight the virus. They're urging everyone to be more vigilant — wear masks, keep your distance from others and wash your hands. Do everything you can to slow the spread.
"Until we change our collective behaviors, (the exponential growth in cases) will continue," Roth said.
They're also asking Idahoans to reach out to their government leaders and ask them to impose mask-wearing mandates.
There shouldn't be any controversy over mask wearing, Souza said. There is now mounting scientific evidence that they work. If you talk without a mask, you're releasing droplets into the air. If you're sick, those droplets can infect others. Wear a mask and you virtually eliminate those droplets.
Souza said that someone you know or love is likely to need a health care facility in the next few weeks or months — so do your part to limit the spread for the sake of those you care about.
Idaho has been in a better spot than states like New York, Florida, Texas and Arizona. If people don't do a better job slowing the spread, health care leaders said, that could change.
"If we do not reverse this trend," Roth said, "we are headed for a crisis."