BURLEY — Embattled beef processor Ida-Beef has again botched a slaughter, according to a U.S. Department of Agriculture report.
The USDA is suspending the assignment of inspectors and withholding marks of inspection for the company's Burley slaughterhouse.
The most recent bungled slaughter happened May 29. The USDA Food Safety Inspection Service's Consumer Safety Inspector reported that a worker's first stun attempt hit the cow's skull, but did not kill the animal. The cow remained conscious and began crawling away, without making any audible sounds. The stun operator then stunned the cow a second time, which rendered it unconscious.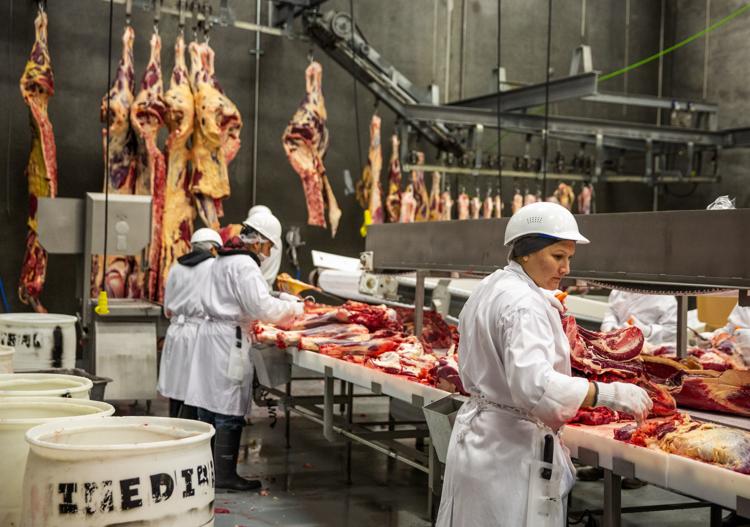 The botched slaughter comes after an incident in January when an Ida-Beef worker shot one cow three times before knocking it unconscious and another cow had to be shot twice.
Ida-beef Plant Manager William Gilger did not immediately return a phone message Monday.
People for the Ethical Treatment of Animals sent a letter to Cassia County Prosecutor Doug Abenroth requesting a criminal investigation into the slaughterhouse.
"Again and again, animals have suffered behind Ida-Beef's walls," PETA Senior Vice President Daphna Nachminovitch said. "This latest bungled killing shows that USDA enforcement action alone isn't enough to keep this facility from subjecting cows to slow, torturous deaths, which is why PETA is demanding a criminal investigation immediately."
The suspension will hold until Ida-Beef informs the USDA how it will avoid similar "inhumane noncompliance" in the future, the USDA report said.
The plant opened just over a year ago, and at the time said it had 48 employees and harvested just over 100 cows per day. The plant was designed to process 350 to 400 cows per day, with much of the meat sent to food companies in the region, including one in Wilder that makes hamburgers and taco meat.
Ida-Beef specializes in taking dairy cull cows, cows that are too old, sick or injured to continue producing milk.
About a third of Idaho's 600,000 dairy cows will be slaughtered each year to be made into hamburger and lean cuts of beef.
Get local news delivered to your inbox!
Subscribe to our Daily Headlines newsletter.