TWIN FALLS — A few months ago, Kayden Barrott's family wasn't sure he'd live to see his 14th birthday.
He's been through a lot since February when doctors discovered a brain tumor.
Kayden will mark his big birthday on Sunday, but he and his family, friends and supporters have been celebrating his cancer-free status since returning from Florida in late October.
Saturday, they gathered at Bearded Axe in Twin Falls for some food and fun.
Support for the teen has been extraordinary, according to Kayden's mother, Brittnie Peck, and his aunt, Shaylene Reeves.
Rather than missing the last half of seventh grade and the first part of eighth grade, the Blaine County School District provided a homeschool teacher in the spring, Peck said.
While Kayden was having radiation treatments at a hospital in Orlando, Florida, over the past few months, he's had access to an online program to keep up with his studies.
And support for the young man's recovery has come from some surprising sources.
A fan of UnderArmour clothing — "They're just so comfortable," he said — he got a package of new Stephen Curry gear as a gift from the company.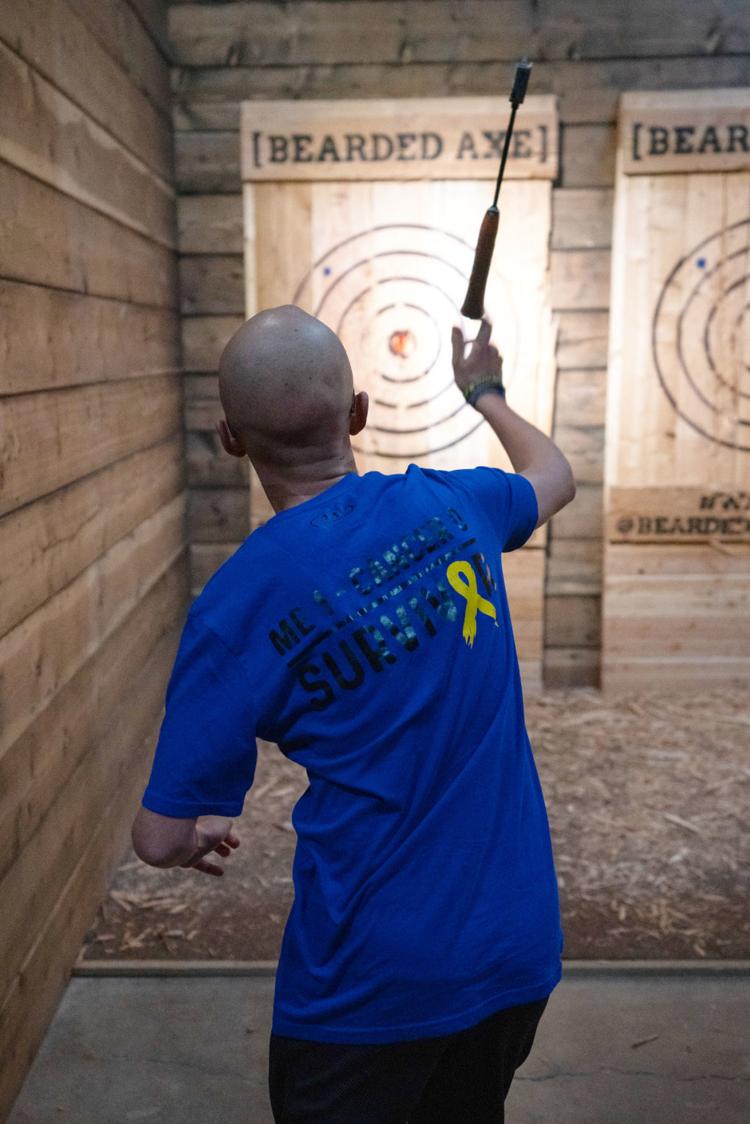 While in Florida, Kayden found out the valet parking team at the hospital wore Nike socks. Before departing, he bought UnderArmour socks for them to wear instead.
Kayden's favorite football team is the Cleveland Browns, which sent him autographed team items.
One of Kayden's pastimes is playing football at school. He was hoping to resume his position as quarterback this year, but is taking it easy, Peck said.
There's a need for that, she said.
In January, the family went through a bout of influenza A. Kayden, however, didn't catch it.
"He didn't get it," Peck said. "He never gets sick."
Kayden came home from school on Valentine's Day, however, not feeling well. He continued to attend school, Peck said.
About a week later, Kayden's eyes were enlarged, concerning his family. A trip to an urgent-care facility showed he wasn't suffering from mononucleosis or the flu.
When an optometrist friend of the family was consulted, he directed Peck to take Kayden to the emergency room.
A CT scan showed Kayden had a mass in his brain. The boy was flown by air ambulance to Primary Children's Hospital in Salt Lake City, where further tests revealed a brain tumor.
What started as a golf-ball-sized tumor somehow increased to hockey-puck size after the first round of chemotherapy, Peck said.
On April 3, doctors performed surgery, removing the entire tumor.
That wasn't the end of the process, however.
You have free articles remaining.
Kayden underwent six more rounds of chemotherapy to address any remaining cancer cells.
He also lost his memory of those events.
Peck said one morning, she asked Kayden if he knew the date.
He thought it was December 2018.
"It was a slow process," Peck said. "He had to relearn everything."
That included walking and talking.
One thing Kayden didn't forget: his favorite music artist, singer and rapper Post Malone.
"When I lost my memory, I didn't forget that," Kayden said.
Malone's music helped get the teen through the tough times.
Malone sent Kayden a personal video greeting, and the teen will be traveling to a concert on Nov. 11, complete with a hotel room and backstage passes donated by the venue.
Kayden is excited about that trip and is excited about his hair growing back.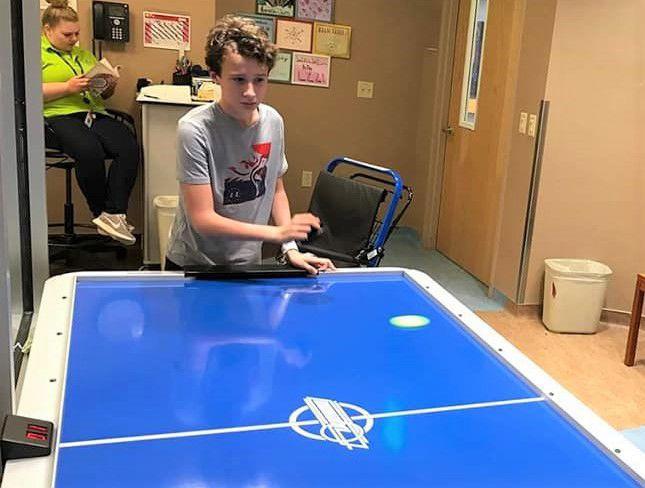 He doesn't like having a shaved head.
From the start, Reeves has been Kayden's biggest cheerleader.
"I help out where I can," Reeves said.
That included babysitting for Kayden's three younger brothers and sending out loads of emails to arrange some of the surprises that lifted Kayden's spirits in recent months.
Reeves started a GoFundMe page that helped pay transportation costs back and forth to the hospital.
A number of businesses made donations, too, such as Fashion 15 Below in Twin Falls, where T-shirts were sold, raising $5,000, Reeves said.
The Bearded Axe donated the party room for Kayden's celebration.
Another issue to be addressed for Kayden in the months to come is that the tumor compressed the optic nerve in his left eye. He wears an eyepatch as a result.
Surgery is scheduled for January to repair that damage, and, hopefully, Kayden will again be able to see out of both eyes.
"It's been a journey," Peck said. "I'm glad it's almost over."
Editor's note: This story has been updated to clarify where Kayden lives.