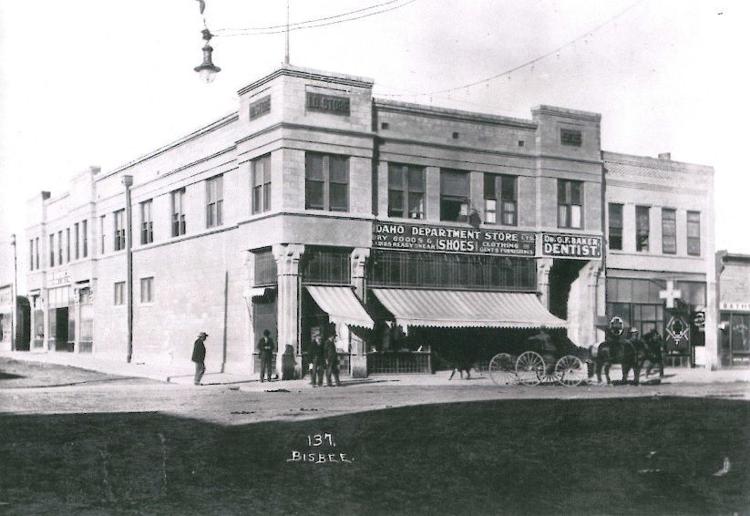 When farmers were short on cash but needed school clothes for their children, they'd milk old Bossie, gather eggs from the hen house and head to town.
They knew they could barter for anything they needed at the Idaho Department Store at the west corner of Main Avenue and Hansen Street.
The department store, also known as the I.D., was built in 1905 by brothers O.H. and Harry Allen of Boise. Then known as Allen Mercantile, the red-brick store carried clothing and dry goods on the first floor and sold groceries in the basement. The second story housed offices and residences.
Customers would bring their goods to the side entrance that went to the basement where they received store credit. They would then turn in their grocery list and wait at the front of the store with other customers as clerks gathered their orders.
Such stores were where people met to share news, Twin Falls Mayor S.T. Hamilton reminisced in a short story detailing the town's beginnings.
Before the Allen brothers came to Twin Falls, the west corner at Hansen Street and Main Avenue was the site of the town's first drug store, owned by E.B. Williams, Hamilton wrote. Afterward, Williams moved into a residence on the second story of Allen Mercantile.
Due to a "clerical error," Hamilton wrote, the brothers changed the store's name to the Idaho Department Store in 1908.
The second story of the building was also used by the Knights of Pythias, the Grand Army of the Republic and the Knights of Columbus. In addition, Twin Falls County commissioners John Hansen, L.E. Salladay and George Crocker met there until the county courthouse was finished in 1911.
Many still remember riding in the I.D.'s elevator and weighing themselves on the big white scale as they waited for the elevator doors to slide open. Some even remember the store's X-ray machine that customers used to see the bones in their feet as they tried on shoes.
The store also featured a mezzanine where the cashiers handled customers' money — which was transported back and forth in canisters on wires, a forerunner of the pneumatic tubes used at bank drive-thrus today.
Some still remember the store as the Disneyland of the Magic Valley.
The building, which until recently housed the Idaho Youth Ranch Thrift Store, is slated for demolition.
Mychel Matthews reports on rural issues for the Times-News. The Hidden History feature runs every Thursday in the Times-News and on Magicvalley.com. If you have a question about something that may have historical significance, email Matthews at mmatthews@magicvalley.com.
Get local news delivered to your inbox!
Subscribe to our Daily Headlines newsletter.