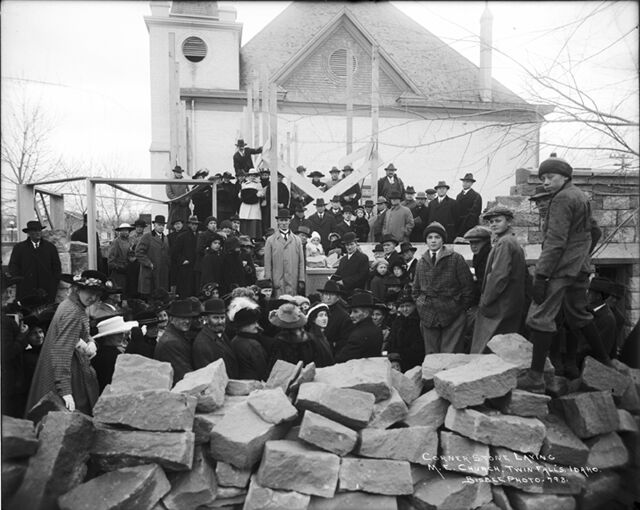 This column first ran Nov. 27, 2014, in the Times-News and at Magicvalley.com.
Kitty-corner from the county courthouse sits the Twin Falls First United Methodist Church, an impressive structure made of sandstone.
The church, however, had humble beginnings.
It started as Twin Falls' first schoolhouse on Third Avenue East, a few blocks from its present location on Shoshone Street East.
In 1906, the Methodist Episcopal congregation relocated the 24-by-30 wooden structure to Fourth Avenue East near Shoshone Street, across the street from City Park. The building was moved, papered and painted at a cost of $577.
Two years later, the congregation gave the chapel a face-lift. The addition of sharply pointed Gothic arches and a facade made with Boise white sand-lime brick completely changed its appearance.
As the congregation grew, it made plans to expand the building into the empty lot next door, at the south corner of Fourth Avenue East and Shoshone.
Twin Falls pioneer photographer Clarence E. Bisbee recorded the laying of the cornerstone of the addition in 1916. The congregation remodeled the existing building and added a massive brown sandstone sanctuary, tripling the size of the building and increasing its capacity to 1,150.
Contractor Earl Felt built the sanctuary, designed in the Tudor Gothic style by architect B. Morgan Nesbit. Steeply parapeted gables and stone tracery set with stained glass are its distinct features. One of the windows was a memorial to Bishop Luccock and the other a contribution by the Epworth League, according to the Twin Falls Weekly News.
Dedicatory services were held in October 1917 and featured a 12-piece orchestra led by R.A. Parrott. An $18,000 building debt remained when the church opened, but by the end of the service, the congregation had pledged enough to clear the debt. In addition, T.F. Warner and horseman Charlie McMaster donated $2,000 each for a new pipe organ.
The building was said to be worth $60,000.
A stained-glass dome, designed by John Visser, architect of the nearby Presbyterian church, was built over the church's large auditorium in 1920.
Mychel Matthews reports on rural issues for the Times-News. The Hidden History feature runs every Thursday in the Times-News and at Magicvalley.com. If you have a question about something that may have historical significance, email Matthews at mmatthews@magicvalley.com.
Get local news delivered to your inbox!
Subscribe to our Daily Headlines newsletter.