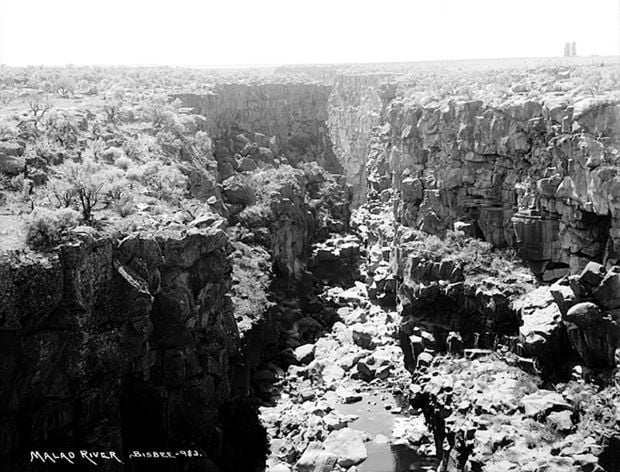 TUTTLE • The Malad River bears one of the oldest names in the Magic Valley, christened by one of the first white men to enter southern Idaho.
Donald Mackenzie was an Astorian and part of the Wilson Price Hunt expedition that met with disaster on the Snake River in eastern Twin Falls County some 200 years ago. After exploring the Snake River Canyon for a few days, Mackenzie and a small group of men headed north on foot, in search of Ft. Astoria at the mouth of the Columbia River.
Local historian Jim Gentry says Mackenzie's exact route north is unknown. But on that trip, he probably never saw the Malad River Gorge, which gives the river its tourist-attraction status today.
"Mackenzie would have thought that the river impeded his travel," Gentry said. From the Snake River near today's Milner Dam, Mackenzie's group headed north in early November 1811. His group arrived at Astoria in January 1812, a month ahead of Hunt and the rest of the Astorians.
Mackenzie returned to southern Idaho in 1818, as a part of the British-owned North West Co.
The next year, Mackenzie's group of trappers became ill after eating beaver meat while camped on the banks of the river that Mackenzie named "Malad" — meaning "sick" in French.
In his "Reminiscences of Early Days Volume II," pioneer author Charles Walgamott claims the beaver in the Malad River had gained a solid reputation for sickening trappers.
Alexander Ross and his men had an experience similar to Mackenzie's in 1824, and assumed the beaver had been dining on the roots of some poisonous plant growing along the stream. Ross named the stream "Riviere Malades," said Walgamott. John Work also noticed dead fish in the stream in 1830, and he named it "Sickly River."
Walgamott, who came to Idaho from Iowa in 1875, speculated that it was the root of the poisonous water hemlock that the beaver were eating that was sickening those who ate the meat.
The Malad River starts near Gooding, where the Big Wood River and the Little Wood River converge. From there, it travels 12 miles to the Snake River near Hagerman. The Malad River Gorge is 250 feet deep and nearly three miles long. Interstate 84 crosses the Malad River Gorge near Tuttle.
Mychel Matthews is the chairwoman of the Twin Falls County Historic Preservation Commission and the director of the Twin Falls County Historical Museum. The Hidden History feature will run every Thursday on Page 2. If you have a question about an object that might have historical significance, email Matthews at mytchy@yahoo.com.
Get local news delivered to your inbox!
Subscribe to our Daily Headlines newsletter.