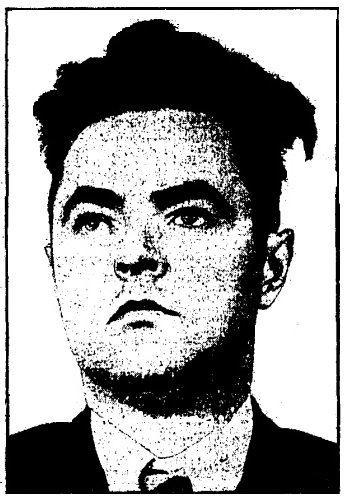 Love went awry when two young Tacoma, Washington, neighbors secretly wed in 1933.
Twenty-year-old Mildred Hook's new husband, Douglas Van Vlack, 29, was politely described as a "misanthrope" and Hook knew her parents would not approve of their union.
Their rocky marriage ended two years later, after many months of Van Vlack's unemployment, heavy drinking and spousal abuse.
Van Vlack stalked his ex-wife for two months and, in November 1935, abducted Hook at gunpoint, forcing her into his slate-gray 1931 Ford Model A coupe with Washington license plates.
Tacoma police sent out an alert across the West.
On Nov. 24, 1935, the two stayed in Boise, then left the next morning for Salt Lake City. That afternoon, state patrolman Fontaine Cooper and Twin Falls Sheriff's Deputy Henry Givens saw Van Vlack's eastbound coupe on U.S. Highway 30, just east of Buhl.
Cooper, 34, of Lava Hot Springs, pulled over the car and the officers approached the driver. When confronted, Van Vlack shot Cooper in the left eye, killing him instantly. Van Vlack then shot Givens, 45, three times.
Eyewitness Cliff Hammond, a Buhl farmer, watched in his rearview mirror while Van Vlack — with his ex-wife in tow — left the scene in his car. Hammond returned in his truck to find one man dead and the other critically wounded.
Hammond took Givens to the Twin Falls County Hospital and telephoned Sheriff Edwin F. Prater.
Prater sent out his posse.
Meanwhile, Van Vlack abandoned his car in a dry irrigation canal on the Salmon Tract near Berger.
On the morning of Nov. 25, the sheriff's posse found Van Vlack, alone, trying to stay warm in a borrow pit on U.S. Highway 93, 2 miles north of Hollister. Carl Groth, an employee of the Idaho Evening Times — a predecessor of the Times-News — disarmed the fugitive and held him at gunpoint until the Prater arrived.
Hook's body was later found stuffed in a culvert, hidden by sagebrush. Givens later died of his wounds. A Twin Falls jury convicted Van Vlack of Hook's murder and sentenced him to die by hanging. Five hours before he was to hang on Dec. 9, 1937, Van Vlack slipped out of his cell and shimmied 32 feet up onto a beam in the Idaho State Penitentiary.
"I have a right to choose the way I die," the Boise Capital News quoted Van Vlack as saying before he nosedived into the concrete floor. He didn't die immediately and Warden William H. Gess still contemplated hanging Van Vlack.
Prison physician George H. Wahle, however, pronounced the misanthrope dead from his fall a half-hour after his scheduled execution time.
Mychel Matthews reports on rural issues for the Times-News. The Hidden History feature runs every Thursday in the Times-News and on Magicvalley.com. If you have a question about something that may have historical significance, email Matthews at mmatthews@magicvalley.com.
Get local news delivered to your inbox!
Subscribe to our Daily Headlines newsletter.