TWIN FALLS — Dr. Brian Fortuin has a patient whose oxygen levels seemed fine during afternoon appointments.
The problem: It turns out the patient's oxygen levels were dipping throughout the night and into the morning — not in the afternoons.
"We had no idea his lung disease was deteriorating when he wasn't here," said Fortuin, an internal medicine physician at St. Luke's Magic Valley Medical Center. The patient also didn't tell Fortuin he couldn't afford to pay for inhalers.
When a patient visits a physician, there's limited time to assess how the person is doing, Fortuin said, and "we're constrained by the information before us."
His patient has a hypoventilation syndrome, which means his body doesn't trigger him to breathe as often or deeply as needed. That can lead to bigger issues and he can become very ill.
The man was enrolled in St. Luke's remote patient management program and his oxygen levels have gotten drastically better since then. He hasn't been to the emergency room. And St. Luke's helped him get the medications he needed.
When Fortuin recently saw the patient, the man commented he hadn't realized how poorly he felt until he saw improvement.
St. Luke's pilot project for remote patient management has been up and running for nearly a year at two Magic Valley clinics and two Treasure Valley clinics — primarily, in internal and family medicine. More than 200 people have participated.
"Far and away, the Magic Valley embraced this with us," said Krista Stadler, senior director of telehealth services for the St. Luke's Health System.
Participating patients have an iPad they use to manage their chronic diseases — such as congestive heart failure — by monitoring their blood pressure, oxygen levels and weight.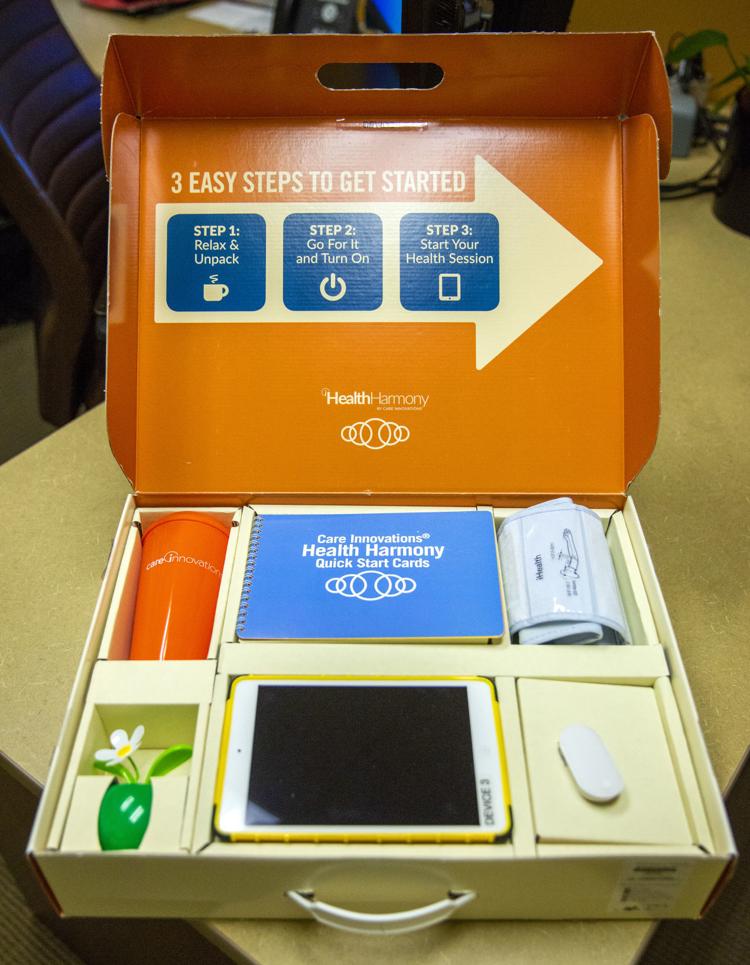 That information is automatically uploaded wirelessly via Bluetooth into St. Luke's electronic medical records system and is monitored by nurses for any abnormalities.
"We can intervene before patients even realize they feel worse," St. Luke's Health System chief executive officer Dr. David Pate said Wednesday during his "State of the System" address in Twin Falls.
Patients also communicate with nurses via phone, text message and live video without having to leave their home.
"This is a novel way to helping support them in a way they haven't had support before," Fortuin said. "It catches people before they go off the cliff to illness."
Fortuin has had about a dozen patients on and off in the program. It's designed to be a short-term way to get patients on track with managing their health conditions.
"Most of these folks have multiple conditions," Stadler said, and in the past, their coordination of care may not have been as seamless.
St. Luke's is already seeing results. The number of emergency room visits has been cut by 38 percent. The number of hospitalizations dropped by 54 percent and of those who were admitted, there was a 65 percent reduction in the length of time they spent there.
There's no cost for participants to participate, but some decline when offered. Only some health insurance companies are participating, so not every patient is eligible.
It's something St. Luke's is footing the bill for to help reduce the total cost of care, Fortuin said, and provides "a greater sense of accountability for the total outcome for our patients."
"It's a pretty extensive program looking at the sickest of the sickest patients we can try to help," he said.
The program is open to those in both urban and rural areas. Patients who have one or more chronic illnesses not under good control are identified using St. Luke's using computer algorithms. Health care providers also make referrals.
Factors that may trigger a patient being recommended for the program include whether they're on a number of medications, have uncontrolled diabetes, or have been in the hospital for conditions such as chronic obstructive pulmonary disease or heart failure.
Many of the patients are "polychronic," meaning they have multiple illnesses that are extremely difficult to manage well, Fortuin said. They may need accountability and reminders, he said, or may not have the resources to effectively manage their own care.
Once patients are identified, they receive a brochure in the mail and a phone call explaining the program. Once they verbally consent to participate, they receive a kit of supplies mailed to their house.
St. Luke's follows up again by phone to make sure patients know how to use the equipment. Most of the time, they already have their iPad up and running and are experimenting with it, Stadler said.
At the same time each day, the patient participates in a "daily health session" that lasts two or three minutes. They measure their vital signs and answer questions on the iPad specific to their illness.
If a patient indicates they're feeling worse than the previous day, the iPad brings up additional questions to dive into more specific details.
The patient receives care from a team — with the physician as the "quarterback of care" — and communicates with nurses through the St. Luke's Virtual Care Center, which just opened last week, Stadler said.
It's a 35,000-square-foot facility in Boise open 24/7 where providers communicate with patients across Idaho and eastern Oregon.
Nurses at the Virtual Care Center review patient data and their responses to questions. If their vital signs aren't normal or their answers to health questions are concerning, a nurse contacts them via text message, phone call or live video call to verify the information.
If the patient needs help, "we activate resources to support that patient so they don't feel the need to go to the (emergency department)," Stadler said.
"What we found is that if we can reach out to those patients and give them more support, we can catch (them) before they fall off the straight and narrow," Fortuin said.
The response from patients: They love it, Stadler said, including the convenience and they haven't struggled with the technology component of the program.
Health-care providers are able to build a relationship with patients, she said.
"We get to know them on a personal level."