WENDELL — Anyone seeking an example of a positive attitude need only look to Alex Flores.
The 9-year-old Wendell resident wore a sunny smile June 10 while selling Kool-Aid for 75 cents a glass with friends and siblings in Wendell.
Alex has undergone 28 surgeries since January when he was struck by a "hay train" — a tractor-trailer pulling three trailers of hay — while crossing a street at an intersection. He lost his left arm as a result of the accident.
"We were worried about his left side," said Alex's mother, Brianne Watson.
Initially, the health care team thought Alex would lose his left leg; his femur was broken in three places. But medical teams in Salt Lake City were able to save his leg.
Alex had about a week when his spirits sank, his mother said.
"He asked, 'Why me?'" she said. Then Alex decided he was glad to be alive.
The experience was rough on the entire family, his parents said. With five other children to care for and with his father, Mike Watson, away driving truck most of the week, family and friends came together to help.
"We had to make time for all the kids," Mike Watson said. "We wanted to get them to the hospital to see Alex."
For his part, Alex took the hospital stays in stride.
"The food's not good in the hospital," he said. "Except for the corn dogs."
His aunt and uncle brought him chicken nuggets from McDonald's when they visited on weekends, he said, or breakfast from IHOP.
Coming home in a wheelchair due to his broken leg, Alex used a ramp to get in and out of the house — but only temporarily.
"It was a blessing to see him walk as soon as he did," Mike Watson said.
The ramp will remain in place for a while, he said, because Alex still gets a bit tired on outings, and it's easier for him to use the ramp than the steps.
You have free articles remaining.
Brianna Watson sees her son as "stubborn" in a good way.
"I told him he couldn't mow the grass," she said. "He said, 'Yes, I can.'"
"I tied my shoe with one hand today," Alex said.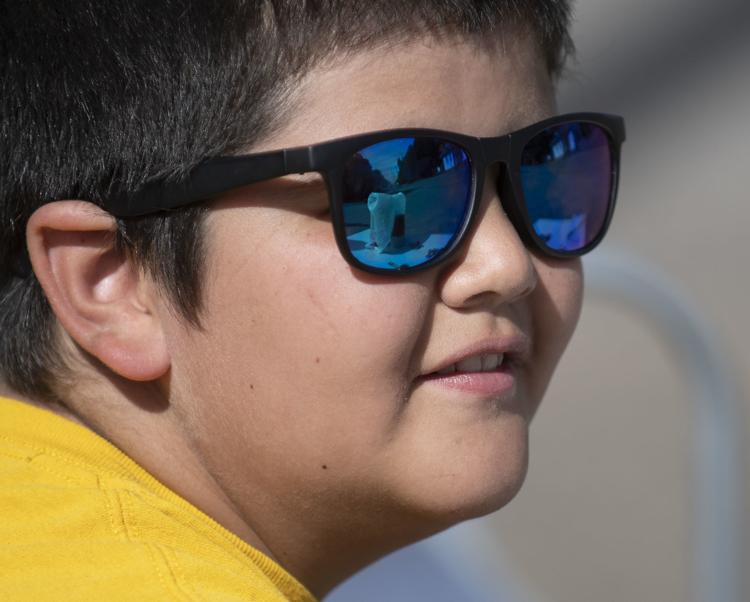 There are lots of other things Alex wants to do. He recently told his father he wants to play professional football when he's older.
"He wants to play baseball and soccer," Mike Watson said. "He still likes to go fishing."
While Alex will need to return to Salt Lake City for medical follow-up every three to six months, he's not going to let that stop him from enjoying his youth.
"He has big dreams," Brianna Watson said. "He's not willing to give up."
Selling Kool-Aid on a warm Monday afternoon may seem one of Alex's milder dreams, but it earned the youngsters a bit of spending money.
"It's something to do when they get bored," his mother said. "Alex doesn't like to be in the house."
When he returns to school in the fall, Alex will be a fourth grader at Wendell Elementary. His parents have no concerns about his future.
"He's a hell of a strong kid," his father said. "Everybody's proud of him."
Alex is definitely proof that a positive attitude makes a huge difference.
"Nothing's going to stop him," his mother said with a smile.