TWIN FALLS — One has only to take a sniff of the local dairy air to know that the Magic Valley has lots of cows.
So those with sensitive noses might be thrilled to know there is a way to turn a byproduct of milk production — manure — into electricity.
While large dairies are making more power from digesters than in the past, for many smaller local dairies, the machine isn't a guaranteed path to turn poop to profit.
An anaerobic digester is a device that turns organic matter, such as cow manure, into energy. Between 2000 and 2014, the number of anaerobic digesters on U.S. farms rose from 15 to 214, with six of them in Idaho, the nation's third-largest milk producer.
Five anaerobic digester projects at Magic Valley dairies sell electricity to Idaho Power. Together, they produce more than 14.5 megawatts, enough energy to power about 11,000 average homes, said Idaho Power spokesman Brad Bowlin.
"A nice thing is they produce at a steady rate," Bowlin said. "We can predict wind or solar a little, but with a biomass digester we can predict and factor that into our energy plan."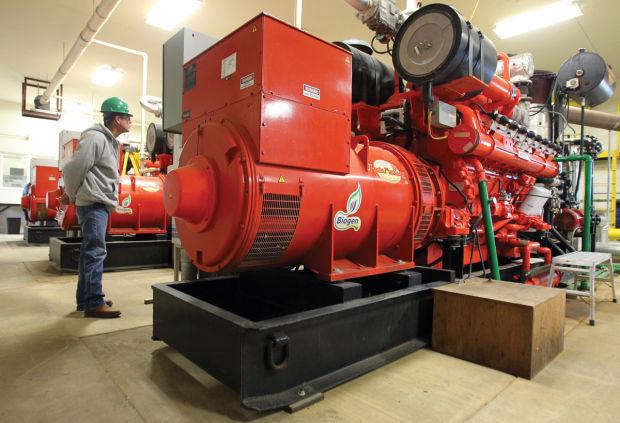 But only a handful of farms are able to use the anaerobic digesters, Idaho Dairymen's Association President Rick Naerebout said. Many local dairy farms aren't big enough to make a profit with a digester.
"It's not something the average dairy farmer even considers," Naerebout said.
On average, more than 3,000 cows are needed to make a profit with a digester, said Jason Hansen, senior research economist at the Idaho National Laboratory. The technology is expensive, and it takes about four years for them to make a profit.
"There is significant potential in the state," said Hansen, who wrote a study on the subject. "For 45 percent of large dairy farms across the state, this is a viable option."
Though anaerobic digestion systems serve as an alternative to natural gases as well as reduce the odor from the manure, they don't eliminate phosphate, potassium and nitrogen, Naerabout said. And they don't solve water-quality problems like many dairy farmers' current manure management plans, which use the manure for fertilizer.
"It's not the silver bullet that everyone thinks it is," Naerebout said. "Anaerobic digestion is viewed as a fix-all. It's not a fool-proof manure management tool."