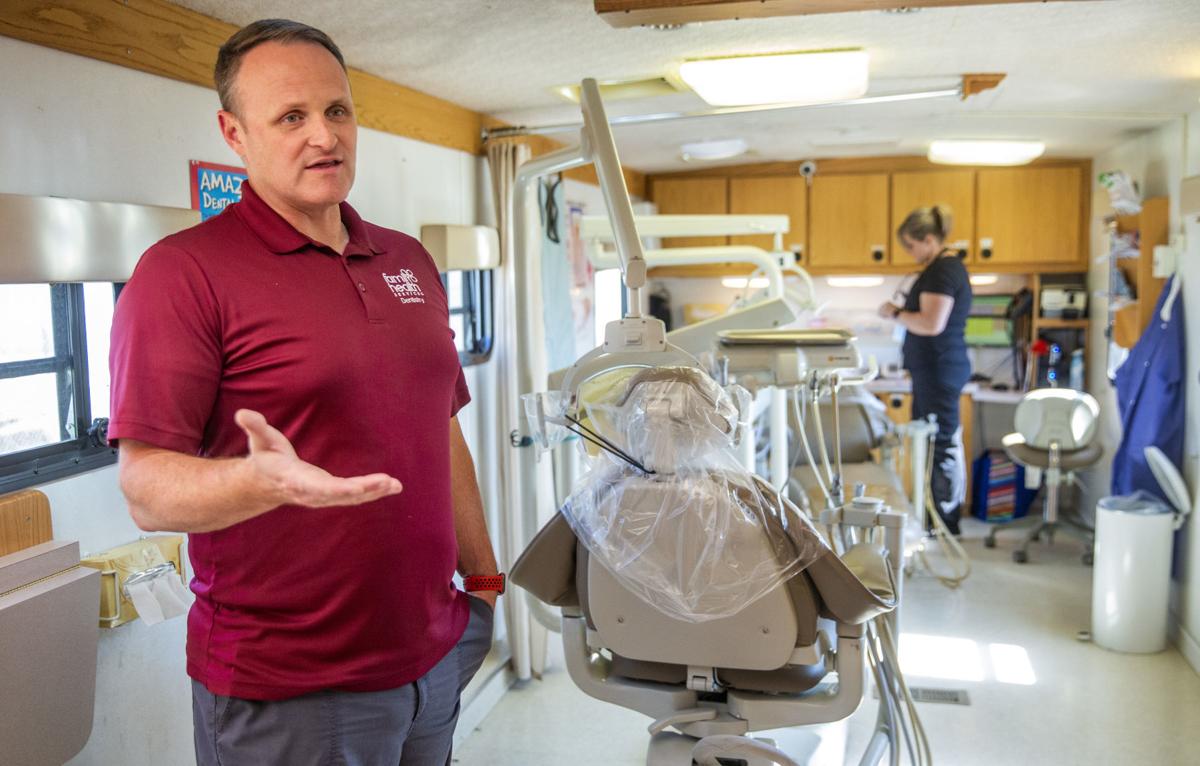 JEROME — A toothache isn't typically considered a serious dental problem. But for some who struggle to pay for oral care, it's a lot scarier than a typical trip to the dentist. And the longer they wait, the more dangerous it becomes.
Idaho is afflicted by a lack of dental coverage, with 44% of Gem State residents are without dental insurance. Those numbers are worse in the Magic Valley, where 52% of people don't have dental insurance.
Latinos are more likely than the general population to not have dental insurance, with 54% lacking coverage, according to the Idaho Department of Health and Welfare.
This need led to Family Health Services, in conjunction with Idaho Children's Health Project, to create a mobile dentistry unit. The mobile unit, which was once based in Twin Falls, is now in Jerome and is predominantly used as a way to create extra space to provide dental services.
"Sometimes we can't justify having a full-size clinic," Adam Hodges, dental director at Family Health Services, said. "But in Jerome we've actually been outgrowing our space and soon will have a new, larger dental clinic."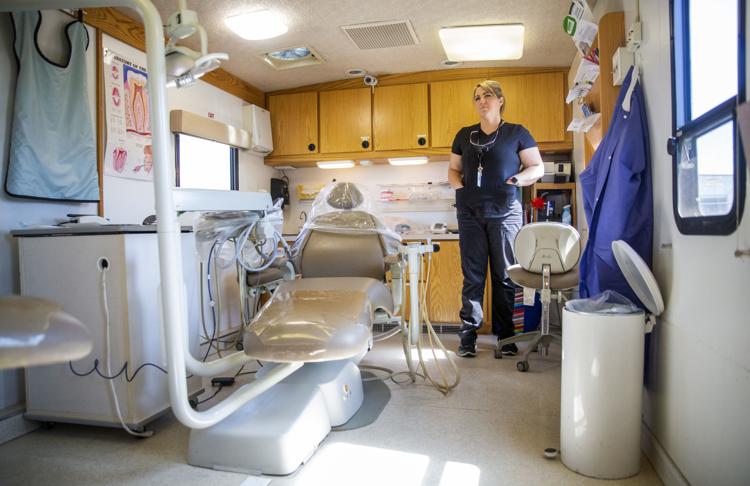 Idaho tends to have a sufficient number of dentists per capita and does not necessarily need more practitioners. The bigger issue is a high rate of communities identified as underserved, which include those in isolated rural areas and those with low-income patients. This brings up a bevy of issues, including transportation and having to prioritize expenses.
"For some lower-income people, good oral care is not a necessity," said Jennifer Wheeler, executive director of the Idaho Oral Health Alliance. "It's 'I need to take care of my teeth' or 'I need to put gas in my car.' These are hard financial choices."
Dental insurance may not even cover all expenses depending on the severity of someone's condition, Hodges said. Forgoing regular cleanings until there is a problem results in significantly higher dental bills. A fundamental missing piece in dental care nationwide is education about proper oral hygiene.
"We can clean your teeth, but if you go home and eat Snickers and drink Gatorade all day then all we did is for naught," Hodges said.
According to a 2014 study by the Hispanic Dental Association, 21% of Latinos believe that regular brushing will heal cavities. Another 53% said brushing is more important than flossing. Yet for immigrants who may not have received proper dental care in their home countries, community clinics like Family Health Services can prove invaluable.
"I have found the Latino community to be very concerned about their oral care," Hodges said. "I think for some immigrants, when they've gone so long without care, they really value it."
Immigrants may also face a language barrier when seeking care. About 60% of Family Health Services' clients who use translation services in Jerome speak Spanish as their primary language.
Gov. Brad Little signed a bill allowing for the use of dental therapists on Native American reservations in March in an attempt to bring more practitioners to tribal land and give residents better access to preventative care. Dental therapists are mid-level practitioners who can perform basic procedures such as fillings, temporary crowns and extractions.
While the Idaho State Dental Board and the Idaho State Dental Association remained neutral on the bill, those who oppose dental therapists say that allowing anyone other than a trained dentist to perform more complicated procedures like extraction is dangerous for patients. As for Idaho, its decision to allow dental therapists is less about rural dental care as a whole and more about addressing structural barriers specifically afflicting Native Americans.
"(The bill) was meant to bridge the cultural gap by recruiting people within the tribe to work in the community, which has a higher rate of decay and dental disease than the general population," said Susan Miller, executive director of the Idaho Board of Dentistry.
Dental therapists have become more popular nationwide with allowances for practitioners in nine other states to bring dental care to rural communities. At least a dozen other states and tribes are in the process of creating measures that authorize them to practice. Wisconsin is the latest to join.
But the solution is more complicated than building practices in underserved communities. The cost for a dentist to build an office exceeds that of a doctor's office due to the need for x-ray machines, several specialized chairs and surgical equipment, items most medical doctors don't need in their private practices.
A focus on preventative care is needed to mitigate long-term problems, Wheeler said. This includes biannual cleanings, regular brushing and flossing and water fluoridation. The majority of Idaho's counties' water-fluoride levels do not meet federal recommendations.
Nearly half of Latinos put off dental care in the last 12 months, according to a 2011 study by the W.K. Kellogg Foundation. The Idaho Oral Health Alliance is directing an initiative that tries to merge medical care with dental care and emphasize its role in overall health.
"Cavities are preventable," Wheeler said. "If a child's mouth hurts and they can't get treated, they can't learn, can't eat, can't grow and that sets them up for all sorts of issues down the road."
Megan Taros is a Times-News reporter and Report for America corps member covering the Magic Valley's Hispanic community and Jerome County. You can support her work by donating to Report for America at http://bit.ly/supportRFA.
Get local news delivered to your inbox!
Subscribe to our Daily Headlines newsletter.