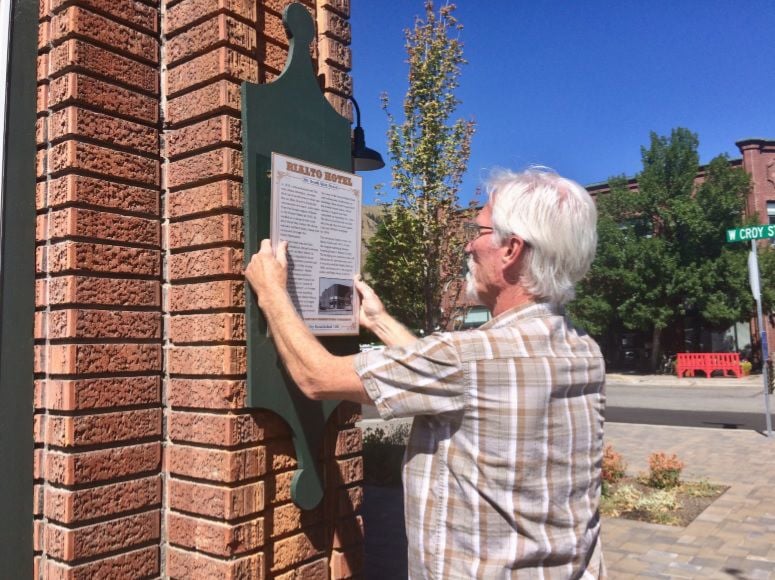 HAILEY — The Hailey Arts & Historic Preservation Committee has recently completed its Historical Interpretive Plaques Project, which showcases the history of the city through its historical architecture.
The committee identified 20 historical buildings in the downtown Hailey area, researched their history and worked with local sign maker Andrew Hawley of Hawley Graphics to produce and mount the historical plaques.
The committee and city officials will hold a special ceremony to commemorate the completion of the project at 4 p.m. Monday at the Emmanuel Episcopal Church, 101 S. Second Ave., Hailey. The public is invited to attend the event and take a guided walking tour of a few of the plaques with local resident historians Joan Davies and Robert Lonning.
"Honoring and celebrating our history is an important aspect of our community," Daniel Hansen, chair of the committee, said in a statement. "This commission spent months of volunteer work on this project, and we are excited to add another unique asset to the city that can be enjoyed by residents and visitors alike."
The historical interpretive plaques are located on the following buildings, some of which are on the National Register of Historic Places:
Bullion Block Site/Werthheimer Building — Luke's Pharmacy, 101 S. Main
J.J. Tracy Building — Lone Star, 111 S. Main
Golden Rule Building — El Toro Mexican Restaurant and Café Della, 103 S. Main
Commercial Building — Valley Carpet & Tile/Taste of Thai, 108 N. Main
Liberty Theatre, 110 N. Main
J.C. Fox Building — Hailey City Hall, 115 S. Main
W.H. Watt Bank — Christopher & Company, 120 N. Main
Harris Building — Windermere Real Estate, 100 N. Main
Assay Office — Emmanuel Episcopal Church Thrift Store, 19 E. Bullion
Fox-Worswick Home — Wood River Land Trust, 119. E. Bullion
Emmanuel Episcopal Church, 101 S. Second Ave.
Riley Corner & Hailey Masonic Lodge, Bullion Street and S. Second Avenue
Hailey Community Baptist Church, 202 S. Second Ave.
Alturas Courthouse — Blaine County Courthouse, 206 S. First Ave.
Ezra Pound Home — Sun Valley Center for the Arts, 314 S. Second Ave.
St. Charles Borromeo Catholic Church, 315 S. First Ave.
U.S. Forest Service Buildings/Hailey Ranger Station, 308 S. River
Rialto Hotel — Barkin' Basement, 201 S. Main
Inchausti Home/Basque Boarding House — Cornerstone Realty, 19 W. Bullion
Alturas/Hiawatha Hotel site — Atkinsons' Market, 93 E. Croy
Get local news delivered to your inbox!
Subscribe to our Daily Headlines newsletter.