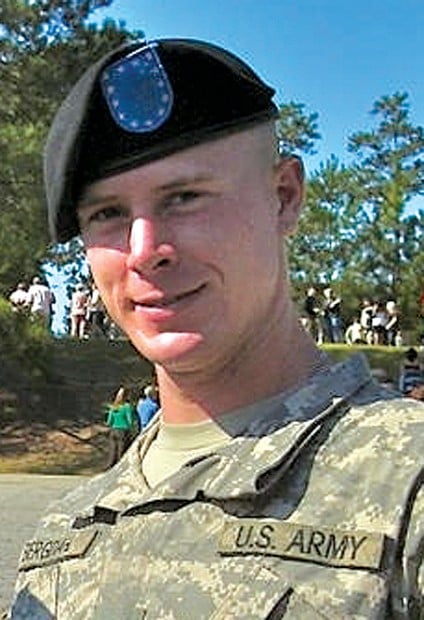 HAILEY • While much of the country begins decorating itself in red, white and blue, the most common color in the city of Hailey remains yellow.
Yellow ribbons throughout the community remind residents of their missing native son, U.S. Army Sgt. Bowe Bergdahl, now 26, who was taken captive by the Taliban in eastern Afghanistan June 30, 2009.
Today marks three years since Bergdahl's captivity began, and three years of uncertainty and anguish for a family and a community.
Bergdahl is America's only prisoner of war in the Afghanistan and Iraq conflicts.
On Friday, Bergdahl's parents, Bob and Jani Bergdahl, declined interviews but released a statement to mark the date. The parents remain hopeful for the release of their son and vowed to continue to work to bring him home.
"We would like to thank the organizers and participants in a number of events around our nation who have rallied to bring awareness to our cause of bringing Bowe home," the Bergdahls said in the statement. "The yellow ribbons we see all around our own community remind us that our son has not been forgotten here at home or around the world."
As Bowe Bergdahl enters his fourth year as a prisoner, the family asked that people remain aware of his situation.
"We want this to be the year we see our only son safely returned home," they wrote.
Idaho Gov. C.L. "Butch" Otter also released a statement about the anniversary.
"It's a sad day for all Idahoans as we face the reality that one of our native sons is about to enter his fourth year in captivity," Otter's statement said. "But I know the Department of Defense and other U.S. agencies are doing all they can to safely bring Sgt. Bergdahl home to his family."
In the statement, Otter wrote he has met with the Bergdahl family several times and is impressed with their fortitude throughout the ordeal.
"I know that part of their strength comes from the support they receive in their community, from citizens around our state and our nation," Otter said. "Please continue to keep the Bergdahls in your thoughts and prayers as we look forward to the day Bowe Bergdahl safely returns to Idaho."
To mark the third anniversary, Bergdahl was chosen as the honorary grand marshal in Hailey's Fourth of July Parade, City Administrator Heather Dawson said. That takes place Wednesday.
"The community is pretty focused on that," she said.
Today, a fundraiser for Sun Valley Adaptive Sports, Higher Ground and the Bergdahl family is being held in Bowe's honor.
Supporters will gather at Nelson Field at Hailey Elementary School for a CrossFit workout event to raise awareness and funds. According to the event's website, the workout consists of three rounds for each year in captivity. The number of reps in each activity also hold significance, the site says.
Bergdahl's parents have generally shied away from the press. But this spring, they granted a few interviews — largely in national media — to raise awareness and express frustration in what they see as a stalled effort to bring their son home.
Bob Bergdahl also spoke in June at the annual Rolling Thunder motorcycle rally in Washington, D.C., where he thanked those present for drawing attention to prisoners of war and troops missing in action.
In June, emails from Bowe quoted in Rolling Stone magazine — reportedly sent to his parents before he was captured by the Taliban three years ago — suggest Bergdahl was disillusioned with the war and considered deserting.
The military has never detailed the circumstances of Bergdahl's disappearance or capture, and he is not classified as a deserter. He was initially listed as "duty status unknown" and is now considered "missing-captured."