TWIN FALLS – Idaho is one the most heavily-armed states in the U.S. It also has some of the least restrictive gun sale laws in the country, and no formal gun registration.
And while the gun debate rages nationally, gun sales in Idaho continue, mostly unimpeded.
What has changed is the way people buy firearms, said Ryan Horsley, general manager of Red's Trading Post in Twin Falls. Founded in 1936 by Horsley's great-grandfather Lowell Kinney, Red's is the oldest gun shop in Idaho.
About 70 percent of Red's gun sales are now made online, and only new models are sold over the counter, Horsley said.
"We really started seeing a bigger shift when we moved to our new location (from their old store on Shoshone Street South), because we were better equipped to accommodate the balancing act of being a brick-and-mortar storefront, as well as an online store," he said. Red's moved to their new location on Fifth Avenue South in 2008.
Gun sales have fluctuated over the years as supply and demand shifted with the political atmosphere, Horsley said. Talk of banning AR-15s after school shootings often increase sales of the semi-automatic rifle. During the Obama administration, the perceived possibility of new gun-control measures stoked gun enthusiasts' fears.
"It was nuts a couple of years ago after the Sandy Hook tragedy," Horsley said.
But just weeks after the Parkland, Fla., school shooting, firearm sales have yet to spike. Horsley says under the new Republican administration, people are less fearful of losing their guns.
Online auctions
When Red's started selling firearms online, Horsley did all of the photography and online listings himself, and let his salesmen handle the sales counter. Now he has only a few salesmen at the counter selling new models, and has hired a full-time studio photographer to show used firearms in the clearest light.
"We do not even put used firearms on the shelf anymore," he said.
When someone brings in a collection to sell, photographer Tony Hernandez takes pictures of the guns, showing flaws and all. People want to know what they are buying, Horsley said. Any cosmetic flaw or crack in the stock or ding in the barrel is photographed in detail.
Potential buyers get suspicious if a gun has been refinished, he said. A ding in a metal barrel should expose the shiny metal beneath the black exterior of the barrel. If a ding in the barrel is black, it has obviously been refinished.
Red's uses Amazon and eBay to sell gun accessories, and GunBroker.com to sell firearms. He lists the guns one at a time, even if they're part of a large collection. Horsley has sold collections as large as several hundred firearms online.
Selling to out-of-state buyers
"We start our used firearms out at cost and let them go on a 14-day auction online," Horsley said.
The advantage to selling online is a large gun-savvy audience bidding against each other.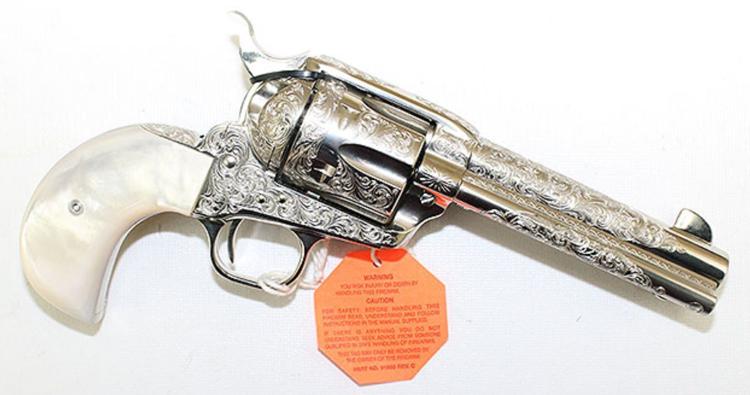 "Very rarely does someone local win the auction," he said, and that means the firearm must be shipped.
Firearms can't be shipped out of state to a private buyer; by federal law, it must be shipped to federally licensed firearms dealer, who will complete the transaction.
He ships rifles through FedEx and UPS, and handguns through the U.S. Postal Service.
Don't get taken by unscrupulous dealer
When a collector dies, the surviving family often underestimates the value of the collection, Horsley said. Widows are often overwhelmed by the job of liquidating assets during a difficult time, and they become victims of unscrupulous con artists.
"There are too many times when someone has been told that something is worth nothing," Horsley said, "and it may actually be quite valuable."
His favorite story is about a World War II veteran who came into Red's with a German-made pistol. He told Horsley he wanted to trade the German gun in on a $399.99 Beretta 9 mm and offered to pay the difference.
"The serial number on both magazines and the holster matched, which is very rare," Horsley said. "I questioned him about how he got it and he told me he was a pilot and grabbed it out of the bins as German soldiers were surrendering."
Knowing military history, Horsley asked the veteran if he still had the letter from his commanding officer that allowed him to take it home. The letter added considerable value to the handgun, which brought $2,800.