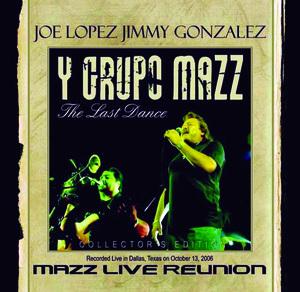 "Please, whatever you do. You stay alive and be somebody," said Tejano legend Joe Lopez before bidding farewell to music fans and colleagues of Grupo Mazz. Years spent sharing historic stages performing in front of sold-out arenas have ended for Lopez in a long sentence behind bars, leaving a former member of the group questioning his own future.
Months shy of what some consider the greatest album release in the history of Tejano music, former bad boy of Tejano, Joe Lopez faced sentencing for sexually assaulting a teenage girl.
On Nov. 1, 2006, Tejano star and Grupo Mazz co-founder, Lopez, 56, stood in front of a jury that ordered a 20-year prison sentence for the molestation of a 13-year-old relative at his Rancho Viejo home on the charge of aggravated assault of a child. The jury also ordered 8 1/2 years for a second count of aggravated assault of a child, and four years for indecency with a child. The terms will run concurrently.
Lopez was convicted of the three charges on Oct. 20, 2006. Defense attorneys said probation was sufficient, telling jurors that Lopez had a ruined named as "the most well-known sex offender in the state of Texas."
District Attorney Armando Villalobos countered that Lopez had not yet admitted to guilt. In addition, Lopez had a history of drug abuse, causing him to take advantage of people.
Lopez has continuously set a bad reputation for himself - personally and professionally - surrounding himself in drug abuse situations and ultimately, leading to child molestation charges.
"Although, Joe is a good man and has been a great friend, times can change a man," said Jimmy Gonzalez, Lopez's former music partner, during a phone interview. "I have talked to Joe on several occasions after the incident occurred and he claims to be innocent. As a friend, I have to respect his words."
Controversy and conflict have made it extremely difficult for respected record labels to work with the Tejano artist. Lopez, who had recently received a five-year contract with Corpus Christi based-Freddie Records, was dropped from the label's roster late December 2006.
However, before bidding his final farewell from the industry, Lopez finished his reign as one part of the original bad boys of Tejano music. He teamed for the first time in almost a decade with former friend and music partner, Jimmy Gonzalez, for a live album reunion.
"Having the opportunity to work with Joe helped bring back memories of what Grupo Mazz used to be back in the day," Gonzalez said.
It was back in 1998 that Gonzalez and Lopez made the decision to split, leaving unanswered questions concerning the future of Grupo Mazz.
Lopez went on to release two solo albums under EMI Latin-Televisa, including "A.B. Quintanilla III Presents Joe Lopez." Backed with "La Nueva Imagen de Grupo Mazz," Lopez soon learned that the sound differed to that of the original Grupo Mazz, leading fans to lose interest in the Brownsville, Texas, native.
"My music changed drastically. It wasn't that Joe Lopez-style music fans were used to," said Lopez in an August 2006 interview. "I went from doing vocals for Jimmy (Gonzalez) arrangements to working with an individual like A.B. Quintanilla III. I was honored that the production teamed work hard to release this album. However, it just wasn't to my satisfaction."
Gonzalez also struggled to move along with his career. Eight months after the separation, he landed a five-year contract agreement with Freddie Records.
"After the split, I was lost, emotionally," Gonzalez said.
"Throughout my career, it was never about Jimmy Gonzalez y Grupo Mazz. Joe Lopez was the voice and representation since the beginning days of Grupo Mazz."
According to Gonzalez, it was his wife Lisa who pushed him forward.
"Lisa has always been great with me and my career. After she saw the stress I was putting myself in, she explained to me that the impossible was possible," he added. "I've been truly blessed with life and my career y Gracias a Dios (and thanks to God), I have been successful throughout the years and have managed to remain in the hearts and interest of music fans."
"Grupo Mazz Reunion The Last Dance", which hit stores earlier this month, has set an emotional value to the final chapter surrounding the legacy of Grupo Mazz. In addition to live recording performances by the duo, the album includes studio recorded tracks produced and arranged Gonzalez and Lopez.
"The wait is finally over," said Marc Martinez, promotions director with Freddie Records. "After years spent working to get the original bad boys of Tejano back on the same stage or even in the recording studio has finally paid off. This album will give Tejano fans nationwide the opportunity to witness one of the greatest reunions en la onda Tejana (in the world of Tejano)."
Esteban Gonzalez, a Burley native, worked as writer and co-founder of Tejano Y Grupero News in Corpus Christi, Texas, which covered the music scene. He has written about Gloria Esteban, Los Tigres del Norte and AB Quintanilla, to name a few.
Get local news delivered to your inbox!
Subscribe to our Daily Headlines newsletter.