TWIN FALLS — From a functional standpoint, Addison Avenue West does just what a state highway is supposed to do.
"It's a very successful road in moving freight and high volumes of traffic into our city," said Nathan Murray, executive director for the Twin Falls Urban Renewal Agency.
But as a gateway into Twin Falls, what sort of impression does it give? URA officials say that businesses along the road are dilapidated, calls to police are high and it's not all that attractive. Which is why the agency wants to include more of Addison Avenue West in its boundaries, where it might eventually aid development and even beautify the area.
It may be years before that can happen, but if the city approves, the very first steps toward redeveloping the area will be taken quite soon.
"Urban Renewal is looking for a potential to relieve blight, bring up property values and in general renew that area of town," URA board member Perri Gardner said.
As the agency wrapped up a major downtown renewal project on Main Avenue — and with that revenue allocation area expiring in just a few years — it needed to look elsewhere.
The board has already voted to make a "Finding of Necessity" for the change to its boundaries, eliminating a section of Blue Lakes Boulevard North while encompassing both sides of Addison Avenue West extending from the western city limits to just east of Washington Street. The new map also includes a section of Addison Avenue East near Blue Lakes.
The next step, Murray said, is to ask the City Council to make a finding of necessity stating that the new boundaries meet the criteria for redevelopment. The URA could then file for its amended boundaries with the state starting in January.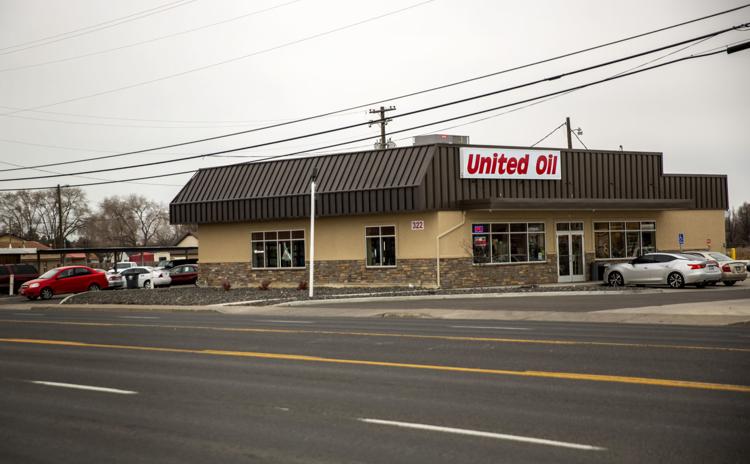 The boundary adjustment alone doesn't allow the agency to begin projects, however. To do so, the URA would need a large-scale project that would be the catalyst for a revenue allocation district. The agency could then collect taxes on the increased property values, so the project would need to generate enough future revenue to warrant the URA's creation of the district and assistance with public projects.
"There is no current project in the works but we're interested in having that area of town under our umbrella for the potential to attract new business and new opportunities out there," Gardner said. "If something does come that way, it won't be the type of industry we've seen on the Chobani/Clif Bar side of town. It would be less industrial."
Murray would like to see a large commercial project come in to kickstart a new revenue allocation district. That could be an office or housing project that needs roadway improvements. Or perhaps a new retail development on vacant property just north of the Twin Falls County West building.
Once the URA started collecting money from the improved property values, he said, the agency could then consider other public projects in the area such as beautification, connectivity and improvements along Rock Creek Canyon.
"It's a lengthy process," URA Chairman Dexter Ball said. "We're moving forward in that process."
The URA and the city also own some property in that area that they could sell for future developments, Murray said.
The city of Twin Falls will likely study the area and notify property owners before the boundaries of the URA are changed, he said.
Some businesses along Addison Avenue West were interested in learning more about what it could mean for them — while others had no opinion.
Executive Director Sharon Breshears with Valley House, a homeless shelter, said she would like more lighting on Addison Avenue. Her organization will also need help widening Rose Street to develop a 10-plex. The 10-plex would increase the capacity of the shelter's men's quarters and expand the transitional family housing, Breshears said.
Although the URA can help with public projects like that, Murray said the agency would probably not consider a smaller project that wouldn't generate a lot of future tax revenue. However, he noted that nonprofits can benefit when they apply for grants if they are within an urban renewal district.
Any roadway improvements on Addison Avenue West itself would need to be approved by the state. Idaho Transportation Department spokesman Reed Hollinshead said there are no plans to improve the roadway at least within the next seven years unless something changes. But ITD would consider working with an urban renewal agency.
"We're moving forward in the area of public-private partnerships," Hollinshead said.
Steve York moved his embroidery business, Threads USA, to Addison Avenue West from Blue Lakes Boulevard in April because Blue Lakes Boulevard didn't lend itself well to his type of business, he said.
"We're kind of a destination spot, but we still need to be convenient," York said.
As several businesses have remodeled lately on Addison Avenue West, he feels that part of town is becoming more attractive.
"This is an alternative to the high traffic on (Pole Line)," York said.
But there are still things that could be improved. He would especially like to see better street lighting in the evenings.
Twin Falls County Commissioner Don Hall said he'd like the URA to help with some public infrastructure projects even farther west on Addison, outside the city limits. He believes the area is custom-made for growth given the wide roadway, access to rail and the minimal impact to residential areas.
"I think that is a good corridor," Hall said.