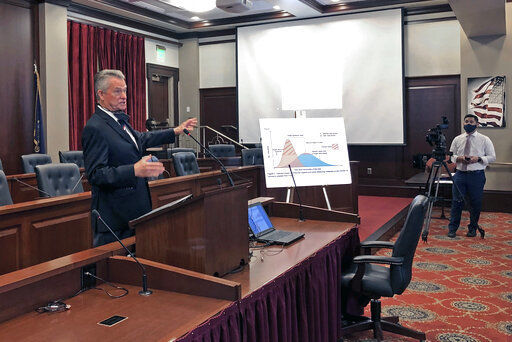 BOISE — Idaho will remain in Stage 4 of its reopening plan after too many people got sick, and decisions will now include more input from local leaders.
Gov. Brad Little announced at a press conference Thursday that the state will not advance beyond its fourth and final stage after failing to meet several criteria. The stage was set to end Saturday, but officials will reevaluate in two weeks instead.
"We're not slamming on the brakes, we're tapping on the brakes," Little said.
Over the last two weeks, the number of cases in the state rose to record levels, a higher percentage of tests came back positive, and more health care workers got sick.
Little called it a learning experience and warned that some opportunities "could go away if things got worse."
"We want our businesses to open," he said. "We want our children back in school at the end of summer, so please do not let your guard down."
Missed marks
Little's phased reopening plan, called Idaho Rebounds, began in April. Each new stage lifts additional restrictions on businesses and gatherings, and officials use several data-driven criteria to determine whether it's safe to advance.
The report showed the number of new daily cases went up significantly during the period. Most of the new cases were concentrated in the Treasure Valley, but many were also reported in the Magic Valley.
On June 10, when the observation period began, the 14-day rolling average sat at 37.8 new cases per day, according to new confirmed and probable cases reported by Idaho Department of Health and Welfare. On Tuesday, when the observation period ended, the 14-day rolling average had more than doubled to 84.4 new cases per day. That doesn't include the 243 cases IDHW reported Wednesday — the most of any day since the pandemic began.
More people who got tested during Stage 4 were positive for the virus. Between June 8 and June 21, about 5.12% of tests returned positive, above the 5% threshold. Last week, a record 11,115 tests were taken. Of those, 6.7% returned positive, nearly triple the rate from the week prior and the highest rate since March.
An average of 4.2 health care workers per day tested positive for the virus from June 10 to 23, more than double the state's target of less than two per day. State Epidemiologist Christine Hahn said most of those health care workers were infected in the Treasure Valley, and many of them acquired the virus in the community, rather than at work.
As of Wednesday evening, a total of 4,645 cases of COVID-19 and 90 deaths were reported by IDHW. Idaho
Idaho Department of Correction announced Wednesday its first case of COVID-19 at a men's prison in Kuna.
Stage 4 continues with more local control
Stage 4 allows 100% of business to open and gatherings of any size can occur as long as certain health protocols are met — that doesn't change with Thursday's decision. Little said officials will reevaluate in two weeks whether the state can advance from the final stage, which would ease the few remaining guidelines and restrictions.
Little said the decision to remain in Stage 4 reemphasizes the importance of Idahoans wearings masks, washing hands frequently, and staying 6 feet apart.
"We anticipate, we hope, we pray, … that staying in Stage 4 will be a message to people that, all these things I've talked about, that people do a good job of implementing those," he said.
Little also announced local governments and health districts will have more decision making authority in response to the virus going forward.
"The statewide approach to mitigating the spread of COVID-19 three months ago was the right thing to do," he said. "Three months ago, testing and contact tracing was limited, some areas of Idaho faced alarming health care capacity constraints, and there wasn't enough personal protective equipment on hand for businesses and health care workers. But from the start, our plan was to eventually transition to a more regional approach in our response, and that's what we've begun."
Earlier this week, Ada County reverted to Stage 3 after seeing a spike in cases. 
Twin Falls city manager Travis Rothweiler said community leaders have a good understanding of local values and can make properly tailored decisions.
"I think the governor's approach in the beginning because of the uncertainty was appropriate and I'm glad he's going to turn more control over locally," Rothweiler said.
Twin Falls County Commissioner Brent Reinke said leaders will continue to work together to monitor the virus.
"People are intelligent," Reinke said. "They know what they need to do to take care of themselves, they know what they need to do to stay safe."
Little said offering more local control is an attempt to be fair to areas that are not experiencing an outbreak.
"As long as we keep our criteria down, we'll be able to manage it on a regional basis, but there's nothing perfectly fair about this whole system," Little said. "I just have to emphasize to everybody that COVID-19 is not fair. There are some people that have suffered incredible consequences. And there's some people that have had a business model and made money off of it. Is that fair? No, but sometimes life's not fair."
Concerned about COVID-19?
Sign up now to get the most recent coronavirus headlines and other important local and national news sent to your email inbox daily.