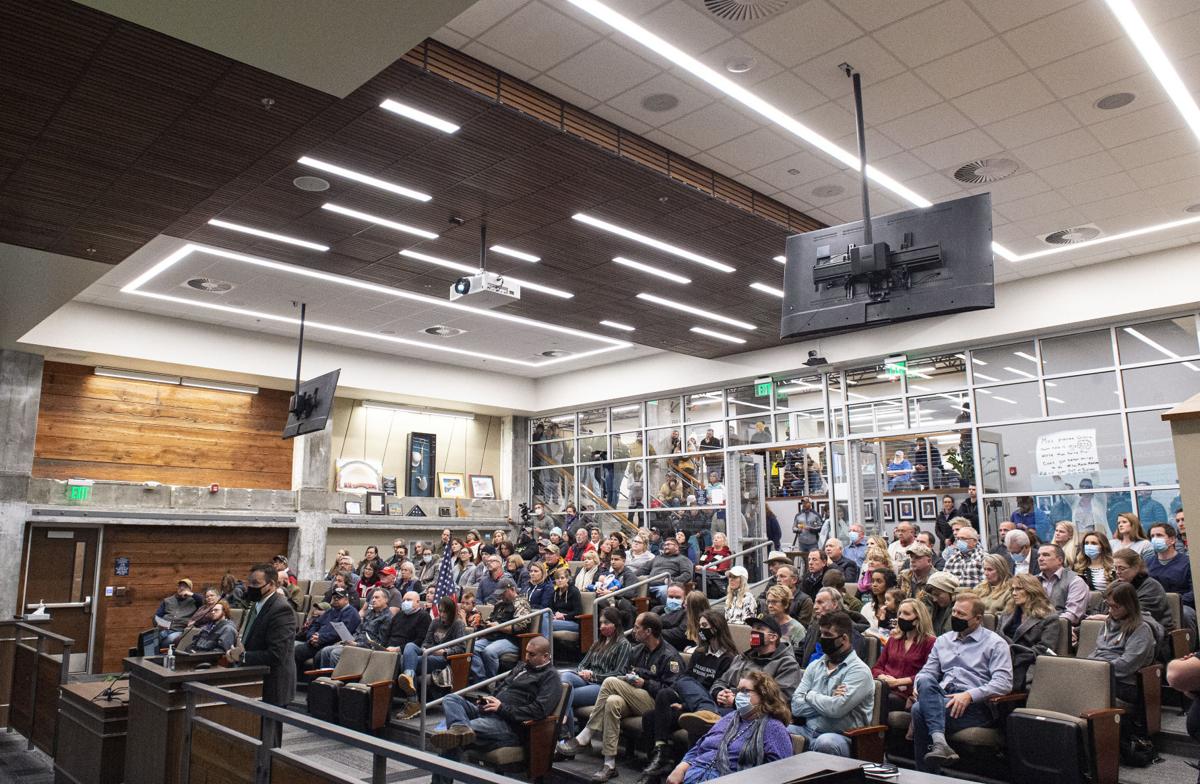 TWIN FALLS — A week after tabling a mask mandate discussion, City Council passed a resolution encouraging citizens to slow the spread of COVID-19.
"We need to be kind to each other again and do what we can do," Twin Falls Mayor Suzanne Hawkins said Monday.
The resolution passed 6-1, with Councilwoman Nikki Boyd casting the lone dissenting vote. Boyd said she wasn't opposed to the recommendations in the resolution, but voted against the proposal because the recommendations have already been publicized by nearly every government entity in Idaho.
"Basically it says what we're already doing," she said. "There's nothing new and different in this."
Resolutions aren't laws. The resolution doesn't trigger any legal or enforcement-related measures. Resolutions simply represent the hopes and opinions of a city council.
The resolution urges all Twin Falls residents to abide by the Centers for Disease Control and Prevention guidelines, known as the three Ws: Wash your hands, watch your distance and wear a mask. On top of that, the resolution asks citizens to avoid group gatherings unless physical distancing and masking are possible.
Most Idaho health districts and governments — including the city of Twin Falls — have already encouraged residents to follow the CDC guidelines. For instance, the South Central Public Health District board passed a resolution "strongly encouraging" people to wear masks back in July. The health district's own staff said in October that the resolution "wasn't enough" to slow the spread of the virus in the Magic Valley.
The resolution also recognizes that COVID-19 has infected 80,000 Idahoans, killing 733. Twin Falls County has seen 5,450 infections and 65 deaths. The resolution acknowledges that slowing the spread of COVID-19 is "essential … to protect public health and safety and safeguard the ability of ... health care providers to handle an influx of new patients."
All Twin Falls businesses, organizations and institutions are asked to post the resolution on their premises in a conspicuous place.
The resolution comes at a time when St. Luke's Magic Valley Medical Center and other Magic Valley hospitals are either struggling or failing to keep up with incoming COVID-19 patients. There is simultaneously a flood of COVID-19 patients needing hospitalization and a shortage of nurses. Nurses continue to catch COVID-19 — almost always outside the hospital — and miss work. Those absences force remaining staff to work overtime and extra shifts. Health care leaders have repeatedly said the emotional and physical stress levels among staff aren't sustainable.
Dr. Joshua Kern, St. Luke's vice president of medical affairs for Magic Valley, told the Council the Twin Falls hospital once again had to divert ICU patients on Monday. For weeks the hospital has had about 50 daily COVID-19 admissions.
Kern noted that overall deaths at the hospital are up significantly. During the Nov. 1 through Nov. 16 window last year, St. Luke's Twin Falls hospital had six deaths. This year, during the same window, there have been 19 deaths, including 12 COVID-19 deaths.
Right now, Kern said, most of the patients the Twin Falls hospital can't handle are being sent to Treasure Valley facilities — Utah and eastern Idaho hospitals don't have room for the Magic Valley's overflow patients right now. If the Treasure Valley fills up, the situation could become still bleaker here.
"Our concern continues to be that we could reach a point where we're not able to provide care routinely," Kern said, noting that he doesn't see any signs of Magic Valley COVID-19 infections going down and if the situation worsens the Twin Falls hospital may have to start triaging patients.
The hospital has already paused elective surgeries, as well as some cardiac procedures and pediatric care.
Councilman Greg Lanting explained that he sees the community split into four different groups. One group does whatever it can to slow the spread of COVID-19, wearing masks and following all of the CDC's guidelines.
Then there are the groups of people in the middle, who in varying degrees sometimes wear a mask and sometimes avoid large gatherings, but also behave irresponsibly on occasion.
And there's a fourth group.
"They've somehow made it a Constitutional right to infect others if they want to," Lanting said.
He added that many people in that fourth, staunchly anti-mask group seem to be cherry-picking their sources of information. They're ignoring the recommendations of thousands of doctors, Lanting said, choosing to seek out the advice of a small number of doctors who oppose masking. People are looking for reasons not to wear masks, he said.
That fourth group probably can't be convinced to behave respectfully, Lanting said. But those middle groups, full of people who sometimes abide by the guidelines and sometimes don't, might be swayed by this resolution.
We asked the doctors who live in the Magic Valley and see COVID patients here to talk about what is really going on, in their own words.
Grayson Stone, a Twin Falls real estate broker, spoke in favor of a mask mandate at last week's council meeting. On Monday he criticized the Council for failing to pass a mask mandate.
"It's great we passed a resolution tonight," Stone said. "Where was that eight months ago? Do we really think that right now a resolution is going to change peoples' personal accountability?"
He said the City Council is, like most Idaho governmental entities, failing to do anything substantial to slow the spread of COVID-19.
"That mandate was crucial to so many people," Stone said. "And Craig (Hawkins) was the only one that voted to hold it up (Hawkins was the only one who voted against tabling the mandate discussion last week).
"Chris (Reid) you said you wanted to do something and you wished you could do something. Craig (Hawkins) you said the same thing, Greg (Lanting) you said the same thing. So do something. Take it off the table. Stop letting people decide what we're going to do as the general population. You're a city council. Take an action one way or another. The governor has punted it. South Central (Public) Health (District's board) has punted it, our commissioners sure as hell aren't going to pass it. Stop punting it. … Stop kicking the can down the road."