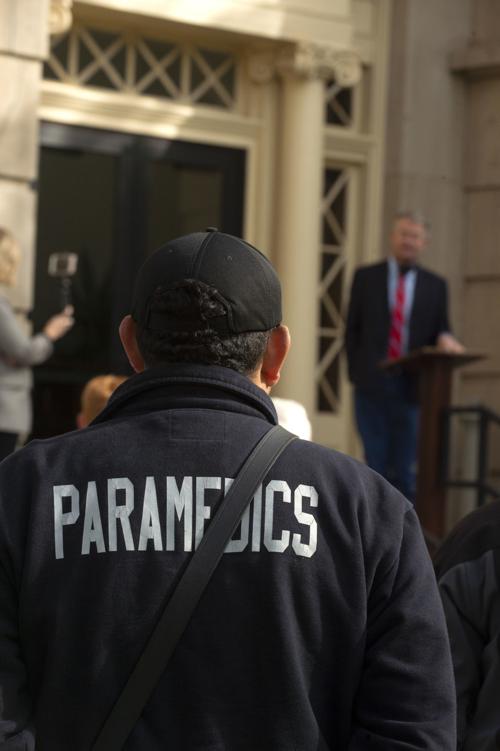 TWIN FALLS — Council members chose to take part in a state program that could provide Twin Falls residents with about $3.5 million in property tax relief in 2021, but they may ultimately decline to take the money.
The Twin Falls City Council voted unanimously Monday to opt-in to Gov. Brad Little's property tax relief program that diverts up to $200 million in federal aid to participating cities and counties to cover salaries for public safety personnel.
City Manager Travis Rothweiler told council members a ruling on the program's compliance with federal guidelines was not likely before Friday's deadline to opt-in, but said the city could choose to opt-out in the future. Rothweiler said a decision to abandon the program and the estimated $3.5 million would need to be made before the budget is set next month or else the city would be responsible for paying the money back.
"We are proceeding in an area with a tremendous amount of uncertainty," Rothweiler said.
Before the vote, councilwoman Ruth Pierce said the city should opt-in now and decide whether to opt-out later.
"If we choose not to opt-in by (Friday), we have no options period," she said.
The money goes to cities and counties to cover the salaries of local public safety personnel on the condition that savings are passed to property taxpayers as a credit on their 2021 tax bill. To be eligible, cities and counties could not increase their property tax budgets by the allowed 3% next year or use any forgone balance from previous years, but they could still collect new construction or annexation.
Little set aside up to $200 million for the program from the $1.25 billion Idaho received from the federal CARES Act. The money will be proportionately divided among participating cities and counties using a formula based on the actual cost of public safety personnel salaries.
The exact amount each local government will receive won't be known until October when local budgets are certified. City officials estimate Twin Falls could be eligible for about $3.5 million in total property tax relief, meaning a median value homeowner would save about $111.29 on their city property taxes in 2021 under the program.
Rothweiler said the city could receive more or less money depending on how many localities take part in the program. He said the city spends about $14.1 million on costs that would qualify under the program.
The city will not take the allowed 3% budget increase or use any foregone balance regardless of whether it stays in the program, Rothweiler said.
"The opportunity to opt-in is only to a benefit of our citizens," he said.
The concern over legality came from a letter signed by prosecutors from more than half of Idaho's counties that said the program does not appear to meet several requirements of the CARES Act. The prosecutors questioned whether the conditional distribution of money amounts to equitable treatment between local governments.
Twin Falls County signed the letter questioning the program, and commissioners are expected to decide whether to opt-in on Thursday.
Concerned about COVID-19?
Sign up now to get the most recent coronavirus headlines and other important local and national news sent to your email inbox daily.