TWIN FALLS — It's official: bees and butterflies are welcome in Twin Falls.
City leaders unveiled signs Tuesday recognizing Twin Falls for its effort in protecting pollinators and its designation as a Bee City USA and a Monarch City USA.
Pollinators are important to the livelihoods of residents, said Sherry Olsen-Frank of Magic Valley Beekeepers.
"Every third bite of food that we eat is because of a pollinator," Olsen-Frank said. "Becoming a Bee City USA will just help pollinators, and bring more education and focus on the importance of our pollinators."
Both the bee and monarch programs endorse a set of requirements that help create sustainable habitats for pollinator species. The programs ask communities to commit to being a better steward for pollinators by providing abundant food and water in an undisturbed, pesticide-free environment.
The organizations want to combat declining pollinator species populations — U.S. honey bee populations are declining 44% annually, according to Bee City USA. About 90% of the world's plants depend on pollinators to reproduce, according to the Bee City USA website.
That resolution commits the city to preserving pollinator habitats at certain parks in the area. Tuesday's event was held at Tom Courtney Conservation Park, which has protected native and water conservation plants since it was created in 2011.
Part of the sustainable habitats initiative includes identifying weed and pest management strategies to maintain safe and healthy populations of species.
The resolution also established the Twin Falls Pollinator Council to "promote the growth and health of pollinators." Olsen-Frank said the council will include several community pollinator leaders and will likely begin meeting in early 2020.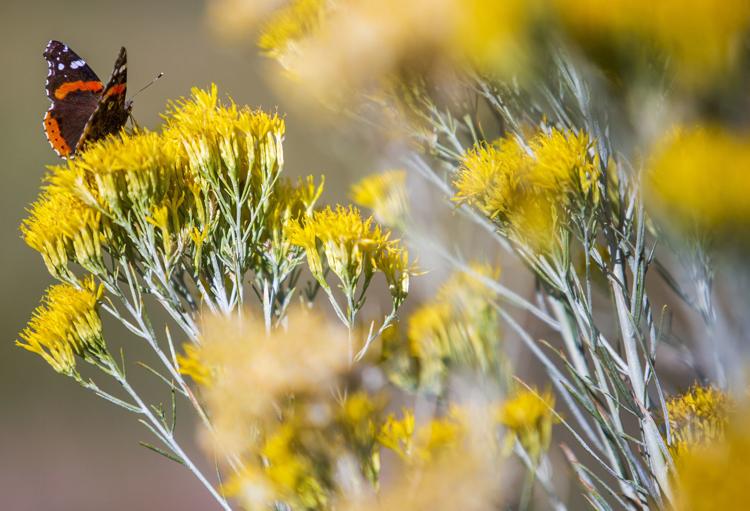 The city and the pollinator council will hold events to educate residents on the importance of pollinator species and ways to promote healthy habitats.
Protecting pollinators helps agribusiness in the area and helps the city further its strategic plan as an environmental, responsible and learning community, said Mayor Shawn Barigar.
Mountain Home is the only other Idaho city with both bee and monarch designations.
Get Government & Politics updates in your inbox!
Stay up-to-date on the latest in local and national government and political topics with our newsletter.