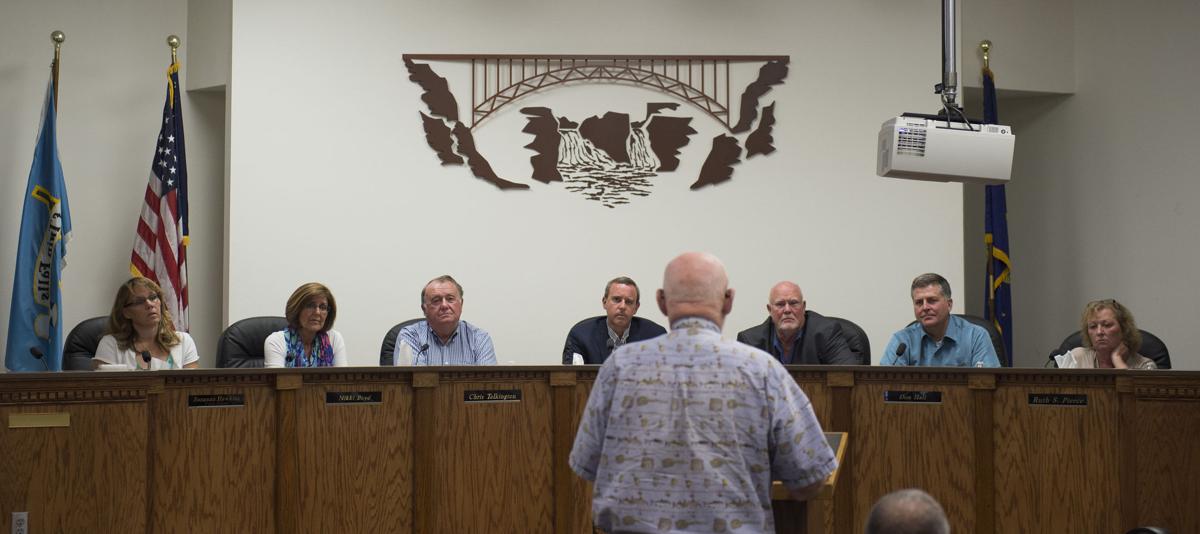 TWIN FALLS — The public comment at Monday evening's City Council meeting was shorter and more subdued than it has been for most of the past few weeks.
The public comment period has gotten longer and more contentious than usual ever since news came out last month of a five-year-old girl who, authorities say, was sexually assaulted at the Fawnbrook Apartments on June 2. Two boys, from Iraq and Sudan, have been charged. The incident prompted some to accuse city officials a coverup and renewed debate on Islam and refugee resettlement in Twin Falls. The cases against the boys are pending in juvenile court.
Mayor Shawn Barigar imposed a three-minute time limit on public comment Monday and four people spoke. Two said they support the City Council's handling of things and one appealed for help in finding a new home for the girl's family, who still live at Fawnbrook near one of the families of the alleged perpetrators. The complex started eviction proceedings against both families late last month.
"The last few meetings have been something of a circus and have ... made a mockery of what this body is supposed to mean and represent," Lucy Wills said.
Wills said the rancor of the past few meetings has gotten in the way of city business and public comment has "become a bitter and angry attention-seeking tactic for a few." She said she, as a Christian, would not want to be associated with the views of some people who have testified at recent meetings.
"Just (as) there is not room for radical Muslims in Twin Falls, I do not believe that there is any room for radical Christians in Twin Falls," she said.
But refugee resettlement opponent Terry Edwards said Council members need to remember that the 5-year-old girl, and not they, are the victims, and that they need to do their jobs.
"If you can't stand the heat, get out of the kitchen," he said.
Police body cameras and the budget
The Council accepted a $127,510 bid to buy police body cameras from Taser International. And, it discussed the 2017 budget. City Manager Travis Rothweiler unveiled his proposal a week ago, and Council members will discuss it over the next few meetings before likely voting to adopt a budget at the end of August.
Monday, Rothweiler went over how his budget proposal helps to further the "responsible community" and "internal organization" areas of the city's strategic plan. The latter, he said, would be furthered by raises for city employees included in the budget, which city officials have said are necessary to stem turnover and attract qualified employees.
"Public service professionals are scarce resources," Rothweiler said.
Councilman Chris Talkington again called for reducing sanitation fees on poorer seniors who don't produce a lot of garbage, saying they are effectively subsidizing pickup for people who generate more trash. Rothweiler said he is looking at ways to give them a break, but that most pickup costs are fixed, and he is looking at how this could affect the cost to other sanitation users. The city would need to figure out how to ensure the smaller can discounts are going to people who truly need them, he said.
"We've searched," Rothweiler said. "We have yet to find it."
Councilman Don Hall suggested city police hire a victims' advocate, saying recent events, apparently referring to the assault at Fawnbrook, highlight the need for the position. The legal system isn't always the most user-friendly, he said, and crime victims sometimes need help navigating it.
If the Council wants to do this, there is more than $200,000 in the proposed budget that hasn't been allocated — Rothweiler put his proposal together with a lower estimate of how much new construction there has been than turned out to be the case. Rothweiler said hiring a victims' advocate would likely cost about $62,000 a year.