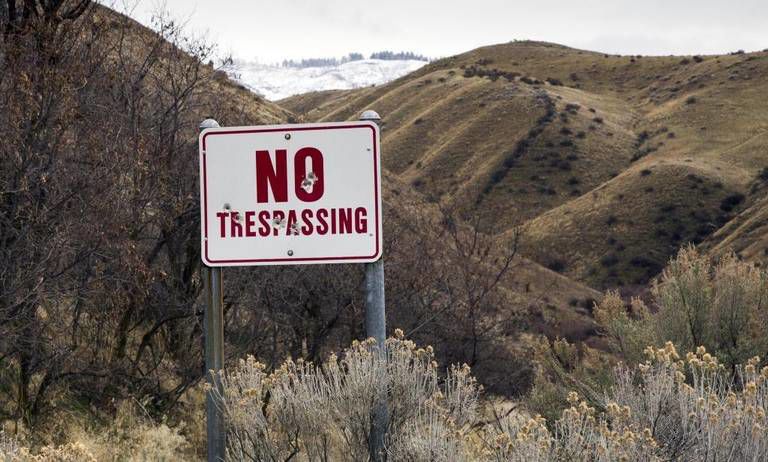 BOISE — Idaho lawmakers on Wednesday voted against introducing a bill that would have fined individuals who knowingly block access to public land.
The House Resources and Conservation committee heard draft legislation sponsored by Rep. John Gannon, D-Boise, that the lawmaker said was meant to "encourage resolution" when public land access is impeded.
"This is not an advocacy bill, this is a conflict resolution bill," Gannon told the committee, which comprises 14 Republicans and four Democrats.
The bill would have allowed individuals blocked from public land to deliver a cease and desist notification to the individual blocking access. The defendant would have 72 hours to respond.
Anyone blocking public land would be issued a warning on first offense, an infraction with a $200 fine on second offense and a misdemeanor and $1,000 fine on third offense. The bill did not call for jail time in any instance.
Rep. Rob Mason, D-Boise, moved to introduce the bill, but his motion was denied along party lines.
Following the committee meeting, Gannon told the Statesman he'd like to see the Legislature find another way to address the issue — a study released last year estimated 208,000 acres of public land in Idaho is inaccessible.
"I'd like to ask (the committee), 'If you don't want to do this, what do you want to do?' " Gannon said. "If this remedy isn't it, bring another one."
In particular, Gannon said he was frustrated that the bill was denied without being introduced, making it difficult to know exactly what elements of the proposal bothered lawmakers.
Recreators showed support for public lands bill ahead of introduction
Ahead of the bill's introduction Wednesday, Idahoans were already voicing their support for the proposal, which was drafted by the Idaho Wildlife Federation. The sportsmen and conservation group last year introduced a similar, more broad bill that was voted out by Idaho senators.
Committee Chairman Marc Gibbs, R-Grace, opened the Wednesday meeting by noting that committee members had received "400 to 500 emails" in support of the bill, the vast majority of which appeared to be form letters.
"To me, we were dealing with robots here," Gibbs said, discouraging the use of copy-paste communications.
Idaho Wildlife Federation Executive Director Brian Brooks said the emails were encouraged by an outside party, not by the nonprofit. He said he was frustrated to see the bill voted out without explanation — particularly because the legislation was a less-sweeping version of last year's bill, which was introduced.
"We're just trying to protect public property rights," Brooks said in an interview. "I can't believe it's controversial to say you can't block a public road."
He said he hopes to meet with lawmakers and their constituents in the coming year before again introducing public land access legislation during the 2021 session.
"How many times do legislators get to say they support access and vote against it?" Brooks said.
Supporters were also in attendance during the committee meeting. Ritchard Noble, a Boise ATV and snowmobile rider, said he has found once-accessible roads and trails blocked in recent years.
The issue has been a hot topic in Idaho, particularly since Texas billionaire brothers Dan and Farris Wilks began buying Idaho land in 2016. The Wilkses have erected gates across several roads in Southwest Idaho that they maintain are private and critics argue are public.
Brooks said the rejected bill proposed Wednesday wouldn't have waded into that controversy.
"This isn't about those roads that are in legal limbo," Brooks said. "People love to vilify the Wilks brothers ... but I don't think the Wilks brothers are evil. I don't think anyone who's blocking access is evil, they're just ignorant of what belongs to them."
Get Government & Politics updates in your inbox!
Stay up-to-date on the latest in local and national government and political topics with our newsletter.