TWIN FALLS — Streaks of pink and purple sunrise hadn't yet left the sky when a bus carrying seven Republican candidates pulled up to the Twin Falls GOP headquarters.
It was the first campaign stop of eight on Friday, wrapping up a ten-day tour of the state. Lt. Gov Brad Little and six fellow statewide candidates — lieutenant governor candidate Janice McGeachin, Secretary of State Lawerence Denney, State Controller Brandon Woolf, Attorney General Lawrence Wasden, state Superintendent Sherri Ybarra, and state treasurer candidate Julie Ellsworth — would make seven more stops before sundown, appearing at senior centers, grocery stores, community centers and restaurants around the Magic Valley.
As the candidates mingled their way through the headquarters, Twin Falls GOP chairman Steve Millington said he was pleased with the event's turnout.
"I think this election is going to have a lot more involvement than other elections," Millington said. "Voters seem to be more involved and energized."
Deborah and David Butler, Republicans from Twin Falls, said they came out to Friday morning as part of an effort to be more politically active.
"I'm just hoping that the American people are going to wake up and see what's happening," Deborah Butler said. "I think too many people just thought things were going to go their way in the past.... I hope they're kind of getting squared up."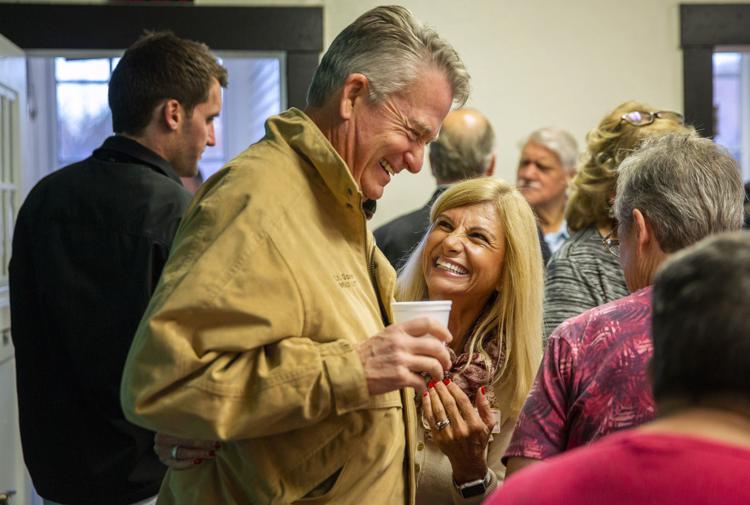 Greater voter involvement and energy was a common theme in remarks by some of the statewide candidates, who delivered brief speeches from the building's back deck. Denney, the secretary of State, told the crowd his office had received 100,000 absentee requests as of Thursday, while Ellsworth called for a "red wave."
John Kapeleris, a member of the central committee, said he'd been to similar events in elections past.
"I think it's really exciting," he said of November's races. "There's a lot of energy. And I hope we get a lot of people out to vote."