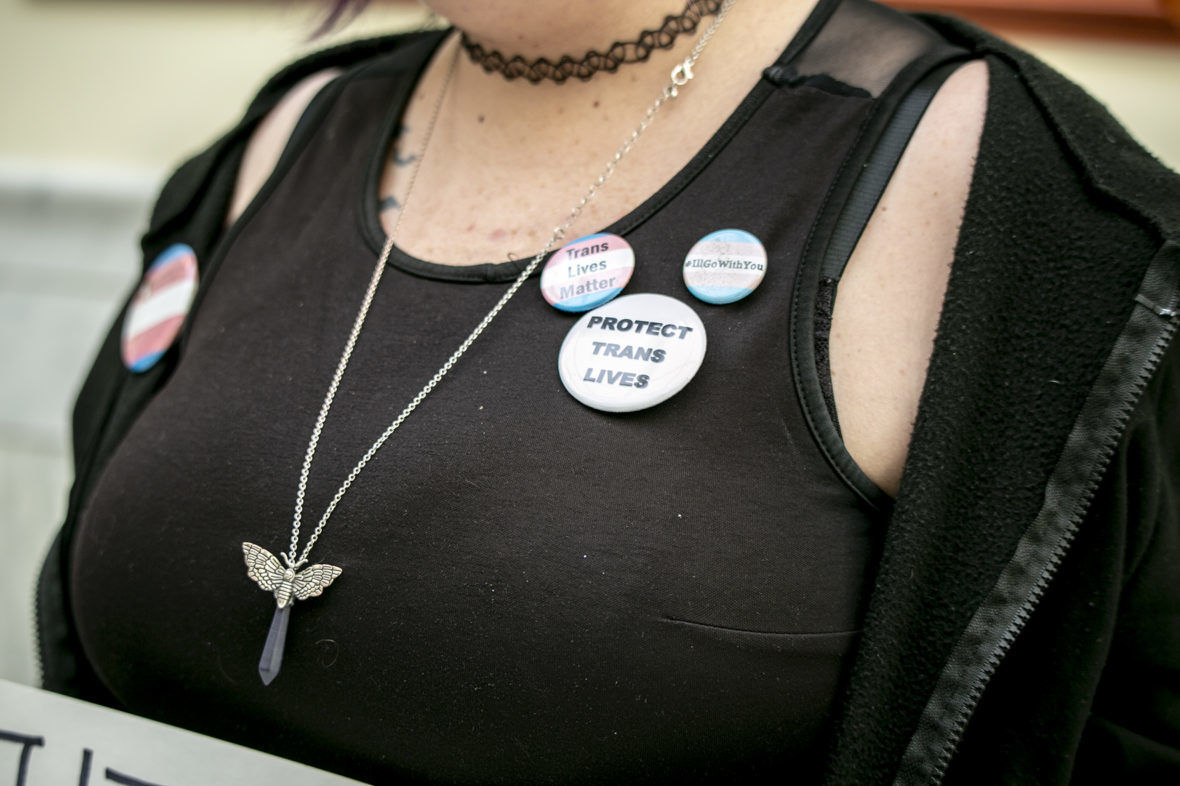 BOISE — On March 30, the eve of the international Transgender Day of Visibility, Idaho Gov. Brad Little signed two anti-transgender bills into law.
One law makes Idaho the first U.S. state to ban transgender girls and women from competing in female public school and university sports leagues. The other prevents transgender people from changing their birth certificates, in defiance of a federal court order banning the state from the practice.
The American Civil Liberties Union of Idaho quickly responded to Little's actions: "The ACLU will see the governor in court."
Amid a global pandemic that hit Idaho while the Idaho Legislature was in session, Republican lawmakers stayed focused on passing the two bills despite local and national public outcry, and warnings from the Idaho attorney general and other legal officials that the bills likely are unconstitutional.
"Idaho is now a national innovator in discrimination, having passed and signed into law first-of-its-kind anti-transgender legislation. It also becomes the first state in the country this year to enact legislation that specifically singles out the transgender community for discriminatory treatment," said the Human Rights Campaign in a news release.
The move has put Idaho in the national spotlight, with CNN, Reuters, Forbes and other national media outlets reporting on the state's enacting of some of the nation's most anti-transgender measures.
The Statesman has reached out to Little for comment on why he chose to sign the bills. This story will be updated when a response is received.
From the governor's desk to the court
Both laws go into effect July 1.
An Idaho Attorney General's Office's analysis of both pieces of legislation, which was provided to lawmakers, found them possibly unconstitutional and open to legal challenge.
Lambda Legal, a national legal organization that focuses on lesbian, gay, bisexual and transgender communities, won a federal case in 2018 striking down Idaho's policy of categorically barring transgender people from changing their birth certificates.
U.S. District Court Magistrate Judge Candy W. Dale ruled that Idaho officials can no longer "automatically and categorically" reject transgender individuals' applications to change the sex listed on their birth certificates. Dale issued a permanent injunction to put an end to Idaho's ban on transgender people changing the gender markers on their birth certificates.
"If the government wants to enforce this new law, which sets out to do exactly what the federal court held to be unconstitutional, on July 1, then Idaho will need to ask the court to dissolve the injunction," Lambda Legal attorney Kara Ingelhart told the Statesman on Tuesday. "It's exceptionally unlikely that the court would grant that request."
Should Idaho defy the injunction, Ingelhart said, "courts have the power to enforce their injunctions, including through contempt, which includes monetary penalties, until the government official complies with the injunction."
The ACLU of Idaho is already drawing up paperwork to sue the state over the transgender sports law.
"The ACLU of Idaho condemns Gov. Brad Little's decision to sign discriminatory, unconstitutional and deeply hurtful anti-transgender bills into law. Leaders from the business, faith, medical, education and athletics communities will not forget this decision or what it says about the governor's priorities during a global pandemic. The ACLU will see the governor in court," the legal organization said in a statement on Monday.
Five former Idaho attorneys general — Tony Park 1971-1975; Wayne Kidwell 1975-1979; David Leroy 1979-1983; Jim Jones 1983-1991; and Al Lance 1995-2003 — jointly sent a letter to Little urging him to "give great weight to the advice of our successor, incumbent Idaho Attorney General Lawrence Wasden," and veto the bill.
"The Attorney General has opined that the legislation contains a number of legal infirmities, making it subject to invalidation in federal court proceedings. The more serious concern is apparent conflict with the Equal Protection Clause of the Fourteenth Amendment to the U.S. Constitution, but other provisions of federal law are implicated," the former attorneys general stated.
Ironically, the Idaho Attorney General's Office, which serves as the state's legal arm and forewarned GOP lawmakers that the transgender legislation is on shaky legal ground, will have to defend the new laws in court should the state be sued or found in violation of any court orders.
Idaho has a constitutional defense fund it uses to pay legal costs for the state to file lawsuits or defend Idaho from lawsuits. The taxpayer-funded account was created in 1995, and it hasn't funded a winning case since 1996.
In that time, the state has spent $3.2 million through the fund. Its current balance is $1.3 million.
Criticism of Little
Little's actions drew criticism from social equality and lesbian, gay, bisexual, transgender and queer groups calling the legislation discriminatory and harmful.
"It is a sad day in the United States when lawmakers are more determined to stop trans young people from playing games than to provide them with the care, support and opportunities they need to survive and thrive," The Trevor Project, which provides crisis intervention and suicide prevention services to LGBTQ people under age 25, told Reuters.
Here are some other statements issued in response to Little's signing of the bills:
Rep. Lauren Necochea, D-Boise: "I am disgusted and disappointed that Gov. Little has decided to waste valuable taxpayer money to fight court battles over issues that are not a priority to Idahoans. Our residents are losing their jobs, getting kicked out of their homes, and struggling to make ends meet. Instead of wasting state money to fight court battles that we have already lost in the past, we should be prioritizing taking care of our fellow Idahoans."
Planned Parenthood: "Gov. Little has made a decision that is bad for Idaho communities, bad for Idaho commerce, bad for Idaho's national image, and will cost taxpayers significantly when this undoubtedly goes to court. We condemn Gov. Little's actions and the actions of dozens of Idaho legislators who are so focused on pleasing their bigoted base instead of doing what is right. Their actions this legislative session will take decades to repair, but we will never stop fighting for the rights of all people," Idaho State Director Mistie Tolman said.
Idaho Coalition Against Sexual and Domestic Violence: "We are deeply disappointed that Gov. Little would ignore the voices of so many Idahoans, from every corner of this state, from all backgrounds, who were courageous in sharing their opposition to these bills and the additional hardships these bills will create for them. ... "We want our transgender community to know that we value and love them for who they are, and we will continue to support the transgender community however we can," Executive Director Kelly Miller said.
Human Rights Campaign: "We are living in an unprecedented global health crisis, with confirmed cases of COVID-19 increasing on a daily basis in Idaho, across the United States and around the world, but Gov. Brad Little and the Idaho Legislature have decided to prioritize the demonization of transgender people. This is unacceptable, and a gross misuse of taxpayer funds and trust," said Alphonso David, president of the Human Rights Campaign.
A Human Rights Campaign letter opposing anti-LGBQT state legislation was signed by more than 40 national businesses, including Amazon, Airbnb, Apple, AT&T, Google, Microsoft and Nike.
"As business leaders dedicated to equal treatment, respect, and opportunity for all — as well as to improving the financial and investment climate across the country — we call for public leaders to abandon or oppose efforts to enact this type of discriminatory legislation and ensure fairness for all Americans," the letter states.
In addition to the national letter, five of Idaho's largest companies — Chobani, Clif Bar, HP, Micron and Idaho National Labortory — called out the state for not supporting diversity and asked it to reject such divisive legislation.
Support for Little
Little's actions also drew praise from socially conservative groups calling the legislation fair and necessary.
"I am so happy that female athletes in Idaho will not have to face an unfair playing field as I have in Connecticut," said high school track athlete Chelsea Mitchell in a statement. Mitchell and other female athletes and their mothers filed a lawsuit to challenge Connecticut's policy of allowing transgender females to compete in girls' sports.
"We need separate sports categories based on biological sex in order to fairly compete. Idaho has now set the example for other states to follow," Mitchell said in a statement released by Alliance Defending Freedom, which filed the lawsuit on her behalf.
The lawsuit, filed in February, is pending. Last week, the U.S. Department of Justice got involved by filing a statement in the case opposing the policy, the Hartford Courant reported on March 25.
Here are some organizations' statement issued in support of Little's actions:
Alliance Defending Freedom: "Girls deserve to compete on a level playing field. Allowing males to compete in girls' sports destroys fair competition and women's athletic opportunities. We commend Gov. Little for signing the Fairness for Women in Sports Act into law so that those opportunities will be protected in Idaho. When the law ignores biological differences, women and girls bear the brunt of the harm," Senior Vice President Kristen Waggoner said.
Family Policy Alliance of Idaho: "Gov. Little has proven himself to be a friend to Idaho families. Idaho is the first state in the nation to enact this law protecting athletic opportunities for girls. ... We've answered the naysayers: It isn't exclusionary to say that girls' and women's sports are for women, not for biological men. Our daughters are thanking legislators and the governor for saving girls' sports," spokesman Blaine Conzatti said.
Madison Liberty Institute: "Biological sex matters and is important to the health and safety of all of us. When we choose to support accurate vital statistics, we are choosing to support everyone in Idaho, from insurance companies and medical professionals to law enforcement, churches, and sports teams by giving them language to effectively communicate about and enact policy based on biological differences. When facts are changed on birth certificates, then those records would become fraudulent and 'male' and 'female' become void of meaning," spokeswoman Amanda Penrod said.
Roman Catholic Diocese of Boise: "We are grateful to the governor and the many legislators that chose to support these bills. We know that this was a hard decision to make, and we commend our elected officials for choosing to do the right thing. We know that choosing to support family-centered policy will strengthen our state for decades to come," spokesman Christian Welp said.
Get Government & Politics updates in your inbox!
Stay up-to-date on the latest in local and national government and political topics with our newsletter.