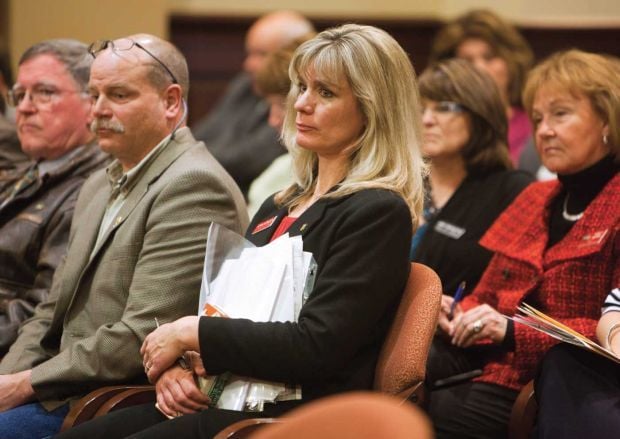 BOISE: After a lengthy debate, the Senate voted 19 to 16 to reject the appointment of Joan Hurlock to the Idaho Fish and Game Commission.
Hurlock, who lives in Buhl, was the second female commissioner to the Idaho Fish and Game Commission. Gov. C.L. "Butch" Otter appointed Hurlock to the commission in June. Last week, the Senate Resources and Environment Committee voted 5-4 not to recommend confirming Hurlock to the commission.
Sen. Lee Heider, R-Twin Falls, sponsored that recommendation on the floor of the Senate, arguing she had no experience.
Former Fish and Game commissioner Sen. Jeff Siddoway, R-Terreton, wasn't present at last week's testimony, but said during floor debate he met Hurlock last summer and was unimpressed with her experience.
"The passion for children is there. This is an intelligent woman. She is well informed. She's a quick study. She has all of those elements that make her good on almost anything," Hurlock said. But, he concluded, "her passion for hunting and fishing, I submit to you, is not there."
Sen. Jim Patrick, R-Twin Falls, said Hurlock lives in his district and is a "breath of fresh air" on the commission and pointed out that the eight-person selection committee unanimously recommended her, along with another candidate, to the governor for the appointment.
"If she's not capable, why would all eight support her? You have to think about that. The current commission she's served with for six months supports her," Patrick said.
Sen. Patti Anne Lodge, R-Huston, pointed out that you don't have to fish or hunt to be passionate about wildlife.
"Remember, that wildlife belongs to all of Idaho," Lodge said.
After debating for more than an hour and a half, the Senate voted to reject the confirmation, with many hesitating before casting their votes. The governor will be notified of the Senate's decision.