TWIN FALLS — The organization responsible for getting Medicaid expansion on the ballot in 2018 is expecting another challenge to Idaho's initiative process.
Potential changes to the process that allow citizens to get issues on the ballot was the topic of a town hall hosted by Reclaim Idaho on Aug. 7 at College of Southern Idaho.
Initiatives allow the people of Idaho to hold the Legislature accountable, said Former Idaho Supreme Court Justice Jim Jones, the event's featured speaker.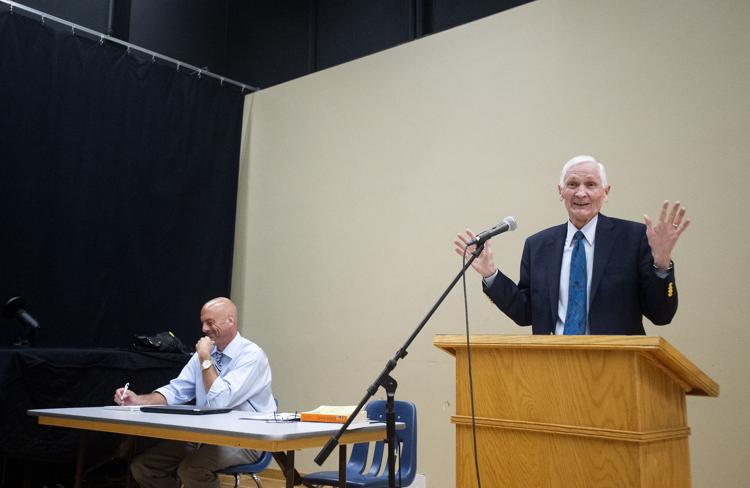 "If you don't think it's a good idea, then you simply don't trust the public," Jones told the audience.
The current process for a citizen's initiative requires signatures to be gathered from 6% of the state's registered voters in 18 legislative districts in 18 months. A proposal that passed the Legislature in April would have required 10% of voters from 32 districts in 6 months, but Gov. Brad Little vetoed the bill over concerns it would be struck down in court.
At a town hall in Twin Falls in July, House Republican leadership suggested a similar proposal could be brought back for consideration in 2020.
Opponents of the proposed restrictions say it would be effectively impossible to get an initiative on the ballot. Those in favor say rural communities aren't heard in the current process.
The voice of people in smaller counties would be weighted disproportionately under the changes, Jones said, adding no law passed by the people has negatively impacted rural voters since the initiative process began in the state in 1912.
"When you put it on the ballot, it doesn't become law," he said. "It only becomes law when the majority of the people of this great state vote for it."
Several people at the event expressed concern with the role of special interest groups and corporate money in state level politics.
The proposed restrictions would allow those groups to lobby directly to legislators and cut out the voice of the people, Jones said.
"All of the wisdom of the state is not concentrated in the Legislature," he said.
The current proposed changes to the initiative process are concerning and the power of the state is fundamentally with the voters, said Clark Muscat, a Jerome resident.
"If I was a politician, I would listen to what the people say," Muscat said. "We're Idaho. We don't need to subdivide ourselves further."
In attendance but not speaking were Sen. Michelle Stennett, D-Ketchum, and Representatives Linda Hartgen, R-Twin Falls, and Laurie Lickley, R-Jerome, who all opposed the bill during the last legislative session.
Several other legislators were invited to weigh in but did not show up, including Senators Lee Heider, R-Twin Falls, Jim Patrick, R-Twin Falls, and Rep. Clark Kauffman, R-Filer, who all voted in favor of the proposal.