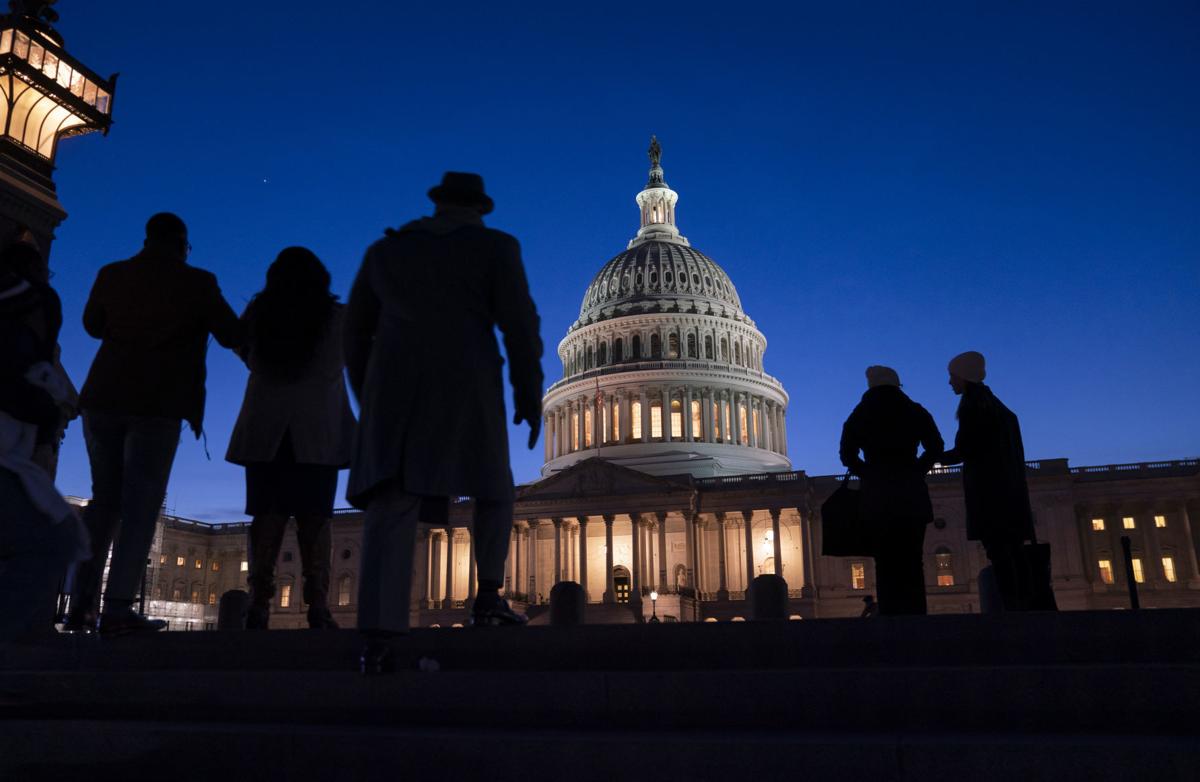 WASHINGTON — Asked during a Jan. 9 CNN interview about the upcoming U.S. Senate impeachment trial for President Donald Trump, Idaho Republican U.S. Sen. Jim Risch responded: "I am a juror. I have tried hundreds of cases. I know how to be a juror. I am going to act as a juror. The first thing we need to do is hear the opening arguments."
Risch concluded: "I'm absolutely, with an open mind, willing to listen to what they have to say. We'll proceed with a trial and … each of us will cast a vote that we believe is the right thing to do. I fall in that camp."
Less than 5 hours into the first day of the trial on Tuesday, Risch admits he fell asleep.
In a four-page handwritten statement to the Statesman, composed Friday during an impeachment trial break, Risch — an attorney — said he has been present for "99.9% of this trial."
"I did doze off briefly after about 4 hours on the first day. I was the first (to fall asleep) and the media are closely watching and keeping track of those who do," he wrote, noting that this "frailty" is bipartisan with senators from both parties dozing off during the proceedings.
In response to a Statesman question as to how he is serving as an impartial juror, listening to all the evidence as jurors have done in the hundreds of cases he has tried, Risch replied: "I have taken an oath to well and truly try this case. … We should not reach a final decision until the conclusion of the case, and I won't."
"Having had the legal experience I have, I mentally analyze the facts and arguments. I hear contemporaneously and attempt to arrange them into logical order," he wrote, noting, "that has been somewhat challenging because of the volume of material but also because the presentation is highly repetitive."
"This body is very capable of dealing with this," he continued. "I am proud to be part of this body and proudly representing the 1.7 million Idahoans in our federal body."
Risch concluded: "This matter will end — it will be resolved — each member will vote his or her conscience and answer to their constituents. Many people will be happy. Many people will be disappointed. Many accusations and complaints will be made, but once again, we the people will resolve our own issues."
At the start of each day of the impeachment trial, the Senate sergeant-at-arms announces: "Hear ye! Hear ye! Hear ye! All persons are commanded to keep silent on pain of imprisonment." One of the impeachment trial rules is no talking on the Senate floor while the trial is under way.
On Friday night, as House manager Rep. Adam Schiff was giving his closing statement, he mentioned a news report from earlier in the day in which a CBS reporter stated, "A Trump confidant tells CBS News senators have been warned — vote against the president and your head will be on a pike."
Schiff's comment sparked loud shouts from at least three senators in the chambers, CNN reporter Manu Raju posted to social media. One of those senators was Risch, who yelled, "That's not true." Risch's office confirmed to the Statesman the CNN reporter's account is correct.
While Risch has been commenting to local and national media on the impeachment trial, Idaho U.S. Sen. Mike Crapo has remained quiet. Crapo also is an attorney.
"Senator Crapo is withholding comments for the duration of the trial," his press secretary, Melanie Baucom, told the Statesman on Friday.
When asked if Crapo has been listening to the impeachment trial's opening arguments with an impartial and open mind and if he has been abiding the rules and "decorum guidelines" set by Senate leadership, including requiring senators remain in their seat, not talk during proceedings and not use cell phones, Baucom replied, "Yes."
In his written statement Friday, Risch suggested the Statesman "ask a member of your McClatchy team here in the Capitol to randomly monitor the situation. "
Prior to receiving Risch's response late Friday afternoon, the Statesman already had requested that McClatchy political reporter and former Idaho Statesman reporter Brian Murphy visit the Senate gallery and observe Risch and Crapo, who sit next to each other. Reporters are allowed to observe the impeachment trial from the gallery, but they cannot have their phones or take photos or video.
During a 20-minute period Friday afternoon while U.S. Reps. Jerry Nadler and Zoe Lofgren spoke to the Senate on the obstruction of Congress charge, Murphy observed Crapo reading a hardcover book, stopping periodically to show a page to Risch or to talk to Risch.
"Neither appears to be paying much, if any, attention to the presentation, though Risch does glance at the screen (used by the impeachment managers) once in a while," Murphy reported.
So which book was Crapo reading?
A scholarly tome on impeachment: "High Crimes and Misdemeanors: A History of Impeachment for the Age of Trump" by Frank O. Bowman III.
Get Government & Politics updates in your inbox!
Stay up-to-date on the latest in local and national government and political topics with our newsletter.