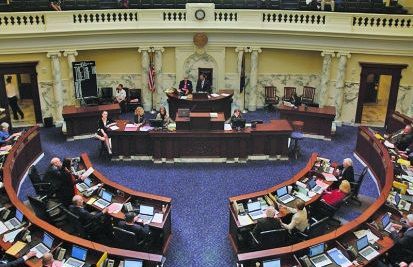 BOISE • Several new public records exemptions are making their way through the Statehouse this year.
Most of these bills go through the House State Affairs Committee, which is more often in the headlines for the divisive social issues that go through it but which also takes up most legislation related to public records and election disclosure.
A bill to redact from election filings the cell phone numbers and email addresses of absentee voters, political candidates, campaign treasurers and lobbyists was printed in the committee in late February. A phone number, such as a home or business number, would remain publicly available when it comes to candidates, treasurers and lobbyists, but absentee voters' contact information would be completely redacted.
The first version would have gone further, redacting any cell number even when that was the only number provided. The Newspaper Association of Idaho and the Idaho Press Club objected to this one, one of the objections being that a candidate for office should have a publicly available telephone number in his or her filings. That version was pulled due to what House State Affairs Committee Chairman Rep. Tom Loertscher, R-Iona, called "ghosts" in the legislation — Statehouse talk for a bill that has run into opposition for mysterious reasons.
"We listened to some of the concerns people had, and we think it addresses those concerns," deputy Secretary of State Tim Hurst said when introducing the second version. "It incorporates the changes that were brought up."
Another new exemption making its way through the Legislature, brought by the Idaho Consumer-Owned Utilities Association, would exempt from disclosure records relating to "critical infrastructure" such as schools, dams and cell towers, if they could, in the agency's judgment, endanger public safety. Its supporters said this new exemption would protect records and building plans that could be used by someone wishing to attack them.
"Do we want to release information that could increase their vulnerabilities and increase the risk of a terrorist attack?" asked floor sponsor Rep. Don Cheatham, R-Post Falls, during the debate.
It passed the House 63-4, with a handful of the House's most conservative Republicans voting against it. However, the Senate State Affairs Committee held the bill after a lengthy hearing on Wednesday, intending to make the circumstances under which an agency can withhold records more narrow than the "could" be used to jeopardize persons or property in the original bill.
Rep. Caroline Troy, R-Genesee, is sponsoring a bill to exempt from disclosure the documents people must file with their county sheriff when buying weapons regulated under the National Firearms Act. It passed House State Affairs on a party-line vote. While one Democratic lawmaker said he had a problem in principle with creating too many public records exemptions, the debate focused as much on gun control as it did on the public records issue. The bill's supporters said it would protect people who might own a fully automatic weapon, suppressor, sawed-off shotgun or other regulated item from potential burglars.
A bill to remove the requirement for a "benefit corporation" — a corporation that could pursue charitable goals rather than just maximizing profits — to file a copy of its report with the Secretary of State's office has passed the House unanimously. The report would still be publicly available, but if the bill passes you would need to get the report from the corporation itself, rather than the state. The corporations would have to post them online if they have websites. The Senate State Affairs Committee approved the proposal Wednesday, sending it on to the full Senate.
Another records-related bill would allow cities to save certain "non-historic" records in digital form only. The current law requires them to keep paper copies. This one has been referred to the House's amending order, to add some wording recommended by the Idaho State Historical Society to ensure preservation of records with historic value.
A couple of bills would increase disclosure in some areas, including one that would require employees of state government agencies and public educational institutions to report gifts to lawmakers and executive officials the same way lobbyists must now.
Hurst gave meals, entertainments and tickets to sports games as examples of gifts. They would have to be itemized individually if they are worth more than $105, but smaller amounts could be lumped together.
"So if they give you a really good meal they have to report that; if they take you to McDonald's they don't," Hurst said.
The bill passed the House unanimously and is awaiting action in the Senate.
Another bill that would have increased disclosure was killed by the Senate State Affairs Committee over concerns about the burden of compliance on small cities and districts. The bill would have required campaign finance reports to be filed by everyone running for office (currently candidates in smaller cities and school districts are exempt) and by groups backing or opposing a bond or ballot measure.
Get Government & Politics updates in your inbox!
Stay up-to-date on the latest in local and national government and political topics with our newsletter.