TWIN FALLS — When doors opened at 8 a.m. on Election Day, about 50 people were already in line at Amazing Grace Fellowship.
Dave and Linda Burgess — who were checking in voters at Amazing Grace Fellowship — have been poll workers for about 10 years. Having a line when a polling place opens is "very unusual," Dave Burgess said, calling the turnout Tuesday "very heavy."
He said he thinks a combination of local and state races was driving the large turnout. He was also seeing a lot of Election Day voter registrations.
The Times-News visited three Twin Falls polling places Tuesday. The general consensus among poll workers: It was much busier than usual — particularly, for a mid-term election.
Statewide, early voting numbers exceeded the last two midterm elections, the Associated Press reported. County officials didn't expect to have Election Day turnout numbers until late Tuesday night.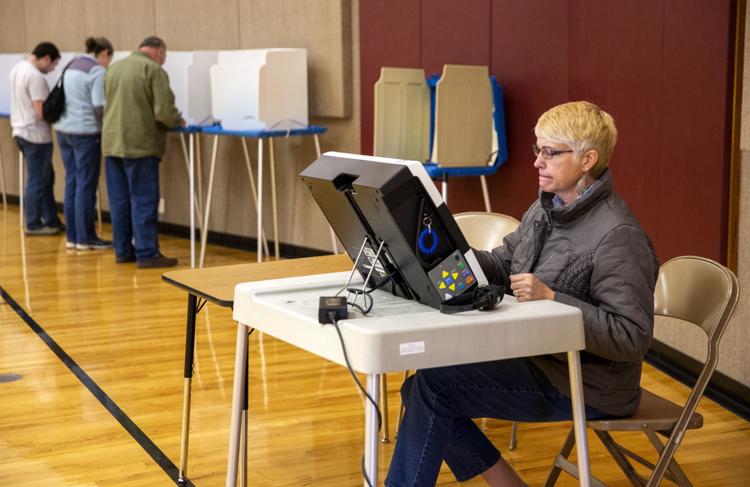 Twin Falls County Clerk Kristina Glascock said she expects good turnout, but hadn't received any voter counts from polling places as of 2 p.m. The county ended up needing to pull out more voter registration cards, she said.
Lines weren't too long at polling places, Glascock said, but there was a steady stream of voters. It felt more like a presidential election, she said, rather than a mid-term election.
In Jerome County, polling places were also unusually busy, according to the elections department.
In Gooding County, "there has definitely been a good voter turnout," deputy clerk Jackie Fuqua said. She expects turnout will be closer to 2016 presidential election levels than the 2014 mid-term.
Idaho Secretary of State Chief Deputy Tim Hurst says the longest lines he's aware of by late afternoon on Tuesday have been about 15 minutes.
He says many counties are prepared with more ballots than usual for a midterm election and have contingency plans if they do run out.
The Idaho Secretary of State's office said this year's number already trounces the 98,281 absentee votes in 2014 and 91,326 absentee votes in 2010.
This year's early voter number could even surpass the 2012 presidential election cycle, which netted 164,374 people who voted absentee.
Voter turnout is typically stronger overall when America picks a new commander in chief.
However, the 2018 election numbers pale in comparison to the 2016 presidential election cycle. The state recorded 202,732 absentee votes two years ago.
In south Twin Falls, The Church of Jesus Christ of Latter-day Saints on Orchard Drive — the polling place for four precincts — was bustling Tuesday morning, with a continuous stream of voters coming in and out.
You have free articles remaining.
At times, a small line formed at a voter registration table. Another line formed near several large maps as a poll worker helped voters figure out which precinct they're in.
After helping one man, she told him: "For you, sir, you're back by the stage. Happy voting."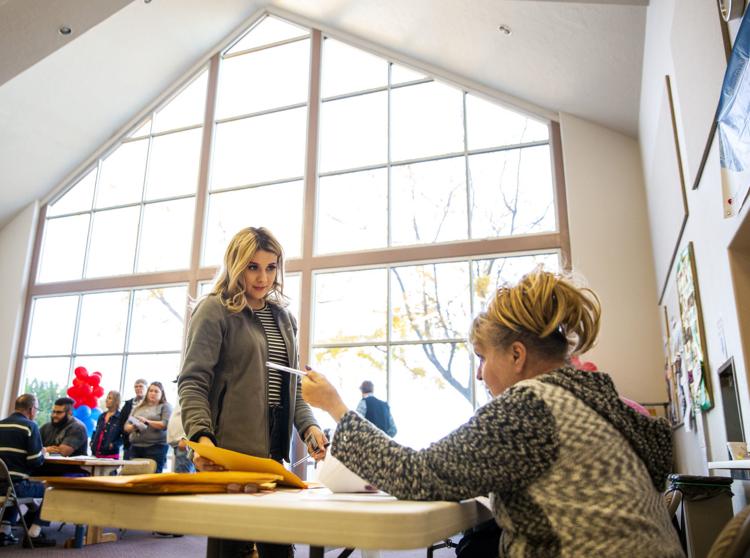 Some parents brought their young children along. One woman, who came with an elderly couple to vote, took their picture on her cellphone. The couple posed, each wearing an "I Voted" sticker.
When poll workers Sharon Theener and Ruby Wehmeyer started working at 8 a.m., there was a line of 27 people at their table just for precinct 13.
Compared with other mid-term elections, more people were voting, Theener said. "I would say a lot more."
Depending on what's on the ballot, elections tend to draw either young or elderly voters, Wehmeyer said. "This time, it's everybody — young and old."
Nearby, Chris Rose waited as his daughter — who turned 18 in July — registered to vote.
Rose said he usually votes. Leading up to this election, he was particularly interested in the Idaho governor's race, and statewide ballot initiatives about horse racing and Medicaid expansion.
Back at Amazing Grace Fellowship, Terry Miller waited in line of about 10 people Tuesday morning to check in and get a ballot. She said she feels it's important to come out, vote and be heard. "I think it's the right thing to do."
At Twin Falls County West, several of Perri Gardner's political science students from the College of Southern Idaho were poll workers.
For 18-year-old Sammi Sanchez, it was a big day: her first time voting and her first time as a poll worker.
Just before the lunch rush, Sanchez said she was surprised by how many people were coming to vote. When the polls opened at 8 a.m., there was already a line.
"I didn't expect the turnout," she said. Sanchez, who's majoring in political science at CSI, said she also didn't expect voters to be so enthusiastic and didn't expect being a poll worker to be so exciting.
Sanchez said she enjoyed giving children a sample ballot they could practice filling out while their parents voted. Obviously, their ballot wasn't turned in because they're younger than 18 and can't legally vote, but it was "really cute," she said. When the children finished, they received an "I Voted" sticker.
In addition to studying political science, Sanchez is a member of CSI's Student Senate. She said she hopes her name will be on ballots as a candidate someday.
As for being a poll worker, she said: "I'll definitely be doing it again."