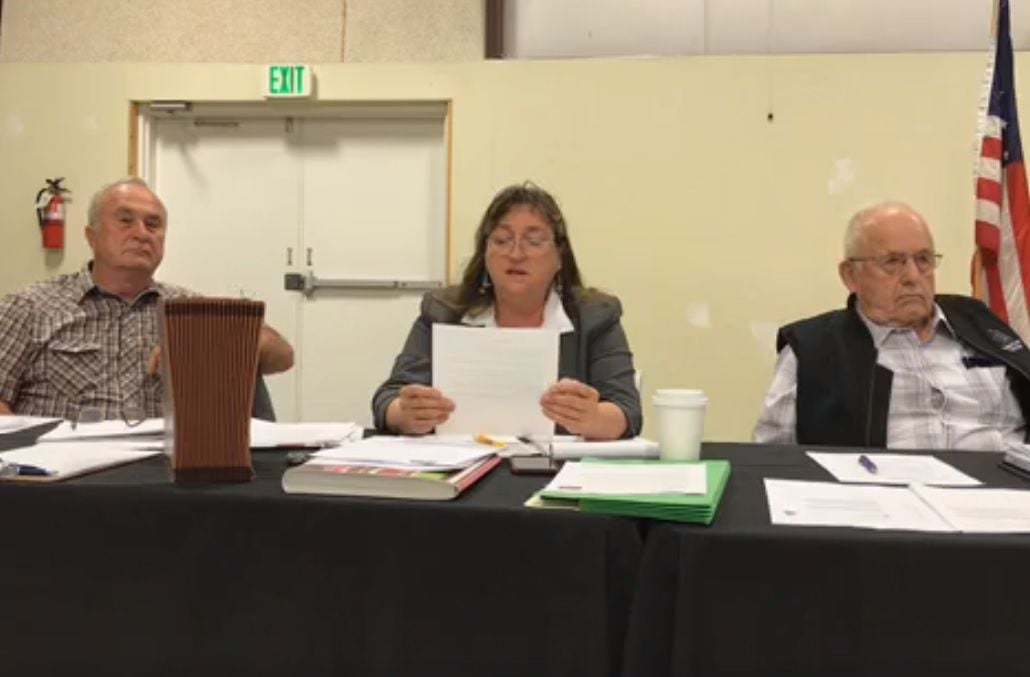 SHOSHONE — Even the county's legal counsel told them not to do it.
Lincoln County commissioners Rick Ellis and Roy Hubert voted Monday to ban video recordings of their weekly meetings — for now.
The motion passed 2-1 against County Prosecutor Richard Roats' advice, as a room full of county voters groaned and shook their heads in disbelief.
The vote came a week after County Clerk Brenda Farnworth set up a cellphone to record a County Commission meeting in addition to taking the minutes. The video, which was streamed live on the county's Facebook page, shows Ellis telling Commission Chairwoman Wood to shut the recording off.
When Wood refused, Ellis walked out of the meeting.
At Monday morning's meeting, commissioners listened as folks emphatically asked the commissioners to allow video recording of their meetings; only one person spoke in favor of the ban.
One constituent asked Ellis and Hubert to resign. A petition to recall Ellis and Hubert has been circulating the county since the pair dropped their effort to restore the county's historic courthouse and, instead, are pursuing a bond to build a new courthouse.
"This is not about one commissioner or another commissioner or even about one issue," Farnworth said before asking the commissioners not to ban video recordings at the meetings. "It's a bigger issue. It's about being open and transparent with the public.
"Why are we debating transparency in government?" she asked.
Resident Jann Thomsen agreed.
"Why would you not want transparency in government?" Thomsen asked.
Government "is for the people, by the people," county resident Steven King told the commissioners. "We are the people. ... We need transparency in government..."
And former Commissioner Mike Telford weighed in.
"I wish we would have had the tools when I was a commissioner that we do now," Telford said. He asked the commissioners to "take the high road" and allow the recording.
Roats asked the commissioners for a reason to ban video recorders as he explained the legal ramifications of such a ban. If they didn't have a reasonable cause, he said, the ban could be considered "arbitrary and capricious" in a court of law.
In the end, Wood made a motion to allow video recording, but the motion was not seconded.
Ellis then made a motion to disallow video recording until the issue can be researched and put back on the agenda for a permanent decision. Hubert seconded the motion.
Get Government & Politics updates in your inbox!
Stay up-to-date on the latest in local and national government and political topics with our newsletter.