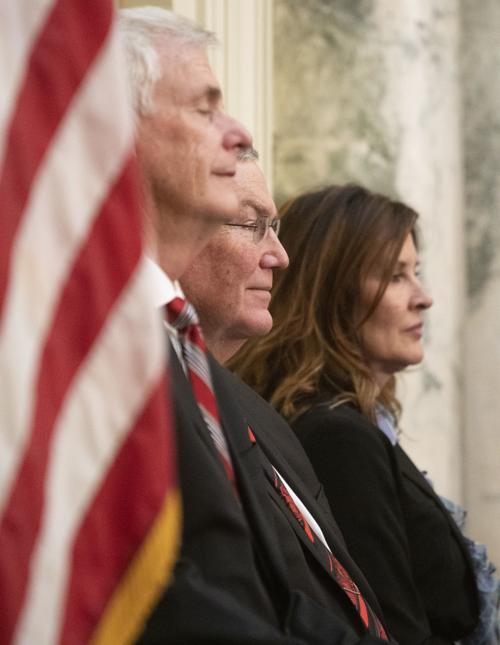 BOISE — Lawmakers marched forward this week with two bills related to property taxes.
Rep. Heather Scott, R-Blanchard, said the bill is necessary to respect the wishes of voters. Opponents pointed to the fact that the bill would only apply to about 6% of school bonds, and that waiting a year to ask for a bond would only make it more expensive.
Taxing districts in Idaho may raise property taxes by up to 3%.
If they choose to raise less than 3%, the unused amount goes into a foregone balance and may be collected later.
The bill from Rep. Steven Harris, R-Meridian, would require districts to explicitly reserve foregone property taxes through a public resolution if they wish to use them later.
Twin Falls City Manager Travis Rothweiler told the Times-News the city has no qualms with the specific bill, but that it's worrisome in respect to other ideas in Legislature to restrict property tax growth.
Another bill that would up the amount of sales tax dedicated to state transportation passed a House committee this week, the Lewiston Tribune reported.
Currently, 1% of the state's sales tax revenue goes to transportation, or about $18 million. The bill would double that to 2%, or $36 million.
Rep. Joe Palmer, R-Meridian, said sales tax revenue is growing significantly, largely thanks to vehicle purchases, the Tribune reported.
The money would come from revenue that pays for public schools and other state services. Democrats opposed the bill, which now heads to the full House.
Members of the judiciary committees in the House and Senate approved rules Wednesday that prevent the Department of Correction from identifying the state's supplier of lethal injection drugs.
Some lawmakers justified approval by saying the source needs to be protected in order for the state to carry out executions.
Opponents said the state already lost a lawsuit requiring release of the information, and that adding new rules would only result in more expensive litigation.
A Senate committee introduced a bill that would put northern Idaho on daylight saving time year round if approved by the federal government.
Gov. Brad Little appointed Coeur d'Alene reverend Tim Remington to fill a vacant seat in the House of Representatives, the Idaho Press reports.
The seat was vacated by John Green, who was convicted of felony tax fraud by a federal court in Texas.
Senate President Pro-Tem Brent Hill, R-Rexburg, announced Thursday he will not seek reelection in November, the Post Register reports.
Hill has served in the Legislature for 19 years.
Those waiting for the House Education Committees to decide on the state's academic standards, often referred to as Common Core, did not receive an answer this week. Idaho Education News reports the vote on whether to get rid of the standards could come next week.
Get Government & Politics updates in your inbox!
Stay up-to-date on the latest in local and national government and political topics with our newsletter.