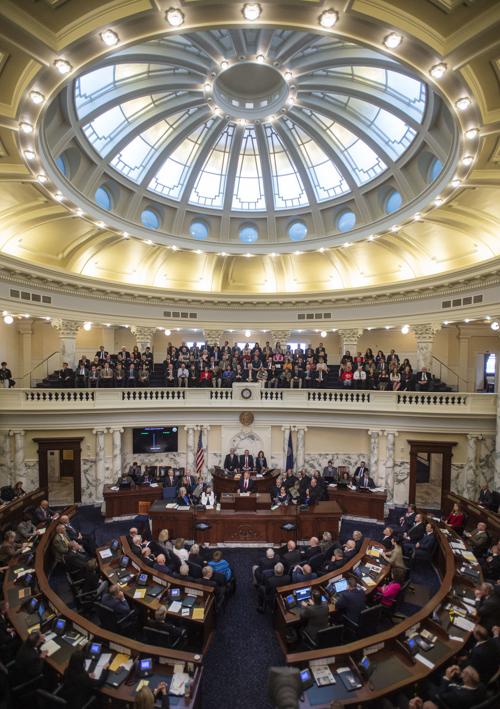 BOISE — The 2020 legislative session is underway, and administrative rules, as expected, have dominated much of the discussion so far.
Gov. Brad Little kicked off the session Monday with his State of the State address, debuting a conservative budget and setting his legislative priorities for the year. Little asked for about $4.1 billion in spending, an increase of about 3.75%, the lowest increase requested by a governor since 2014.
"Idaho has experienced tremendous growth in recent years," he said in his speech. "But nationally and internationally, the pace of economic growth is expected to slow."
Most notably, Little's proposal adds $102 million to the rainy day fund. It also keeps a budget surplus of $60 million this year and $61 million next.
"My budget leaves an appropriate cash balance and shores up our rainy-day funds, which have helped us weather economic storms that forced other states to raise taxes," he said. "Idaho is ranked in the top 10 states nationally for the balance of our budget reserves, but a credible stress test showed we have more work to do to prepare for a recession."
The Joint Economic Outlook and Revenue Assessment Committee adopted Little's revenue projection for 2020, but cut his 2021 projection by about $23.1 million, the Idaho Press reported. The committee projects revenue to grow 4.1%, less than Little's 4.7% projection, the Press reported.
Transportation bills introduced
Few bills received attention last week, but the House Transportation and Defense Committee introduced the first two of the session.
One bill would provide a statewide distracted driving law and replace a variety of ordinances passed by cities and counties. It would also expand the definition of distracted driving to include things like eating or grooming, not just texting.
Another bill in the committee would shift $272 million from the rainy day funds into a new account that could help pay for state and local transportation projects, the Lewiston Tribune reported.
Administrative rules dominate the first week
Following Little's speech, lawmakers immediately dove into administrative rules. All rules are up for review this year, including several defining controversial topics. Last week, though, committees spent most of their time confirming large swaths of rules and hinted at a few potential battles.
A similar committee in the Senate approved several sections of rules on tobacco, immunizations, food safety standards and more, but notably withheld a decision on the process to change gender on birth certificates.
The House and Senate began discussion on updating the rules review process to avoid a repeat of last years impasse.
The week ahead
The rules process could get more heated this week as the House Education Committee is set to hold rules hearing on academic standards. English language arts, math and science standards standards will be reviewed Tuesday through Thursday.
Standards on climate change education are expected to be contested, but some legislators and leaders from the Idaho Freedom Foundation could try to repeal all standards entirely, Idaho Education News reported.
On Thursday, Little will hold a press conference on Zero-Based Rulemaking. In his State of the State, Little said his first executive order of 2020 would require "a routine practice for Idaho state government to undergo the kind of successful regulatory review we saw in 2019."
The Post Register reported that while details of the executive order are unknown, it could require agencies to review a portion of rules every year and result in the entire administrative code being reviewed every five years.
Get Government & Politics updates in your inbox!
Stay up-to-date on the latest in local and national government and political topics with our newsletter.