JEROME — The City of Jerome is experiencing a boom in population and economic growth, with more projects on the way to bring more housing and infrastructure to the city.
City officials and community leaders discussed the future of Jerome at the Feb. 12 State of the City event hosted by the Jerome Chamber of Commerce.
"If you drove around the town you'll notice even during the winter months construction has not really slowed down," Jerome Mayor Dave Davis said.
Residential and commercial growth
There are now 125 new buildable lots in Jerome, with 48 new residential permits in 2019. Residential permits in Jerome have been in an upward trend for almost a decade. Construction is not limited to new housing and also includes remodeling projects.
"This is significant, sustainable growth that we've been experiencing in the last few years," Davis said.
In order to mitigate a shortage of affordable housing and continue downtown revitalization efforts, the city is planning to use the old Central Elementary School site as a mixed-use development that will include green space, commercial space and market-rate housing.
"There's no need for the city to have seven acres of property when we're trying to revitalize and redevelop downtown," Jerome City Administrator Mike Williams said.
"There's only so many things we can control, but the development of property that we own is one thing."
There were 67 commercial permits issued in 2019, with new businesses moving in to Jerome in the next few years.
Among the new business coming to Jerome are Western Transport, Smiles 4 Kids and an expanded Family Health Services, which will move from its location on Pioneer Court to a building twice the size of its current facility.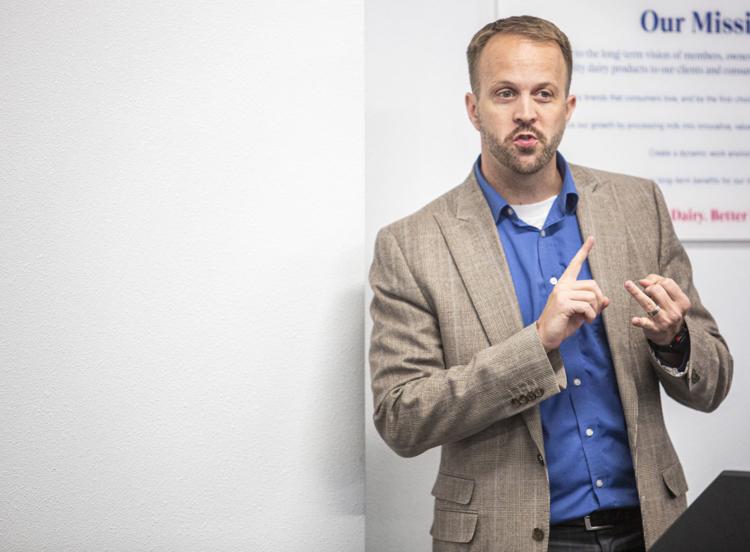 Community development
Jerome has various projects to improve and remove existing infrastructure to beautify the town, improve safety and save money.
After five years of planning for a new police station, the city has $1.8 million saved to rebuild its existing station or purchase and remodel new property, Davis said.
You have free articles remaining.
"If anybody's been in our police station, it's too small and it's dangerous," Davis said. "It's basically a gauntlet for somebody to come in and go down through that hallway and take care of some of our city's finest. We owe it to them to have a better facility."
The city will be removing a lift station for the Jerome Estates subdivision to the wastewater plant and replace it with gravity flow, saving it $20,000 in maintenance and opening the space up for more residential projects. It also has a goal to upgrade all parks with better facilities, including toilets, playground equipment and shelters.
"We're going to look at other parks and do the best we can financially to be able to upgrade them to make them more appealing for use for families and residents of this community," Davis said.
Connectivity plan
There are three projects in the works as part of the connectivity plan that it passed in 2015. There will be a curb, gutter and 10-foot pathway built on East 10th Street between Lincoln Avenue and Fillmore Street. The project is out for bid and construction will begin this summer.
"Notice the kids out there in the road," Davis said, referring to a photo of the street, which has no sidewalk. "That is a major problem and safety issue in our community. A lot of children walk up and down East 10th Street … and yet we don't have a pathway for these children."
The city is temporarily funding a pathway project on North Date Street. It applied for grant funding, but failed to obtain it. It will also receive a 10-foot detached pathway in an area that connects Jerome High School and Summit Elementary where there is high foot traffic from children and teens.
It also applied for grant funding to build a pathway, curb and gutter between Jerome High School and the Sinclair service station on East Main.
Urban Renewal Agency investments
Williams, who is also executive director of the Jerome Urban Renewal Agency, said that projects like the Southeast Industrial Park, near Idaho Milk Products, have been successful because of the agency's investment in them. The industrial park's total taxable value when it was acquired in 2008 was approximately $1 million. Its value is now $100 million.
"That taxable value goes into the agency to reinvest for continual growth," Williams said.
Debt from the $5.5 million, 20-year bond used to provide infrastructure for Idaho Milk Products is expected to be paid off in April 2022, six years before its due date and will provide an opportunity for property taxes to go down.
Through a partnership with the agency and the city to get out of debt and reinvest the money, city officials hope to rebuild Main Street, particularly the site near Lincoln Avenue that was damaged by a fire six years ago.
"A lot of you have seen what's happened to Twin Falls, their downtown and their revitalization of Main," Williams said. "The seed there was planted 20 years ago when they established their Urban Renewal District. Everything that's happening there I don't believe would have happened with the assistance of Urban Renewal to help pay for their upgrades. We're not so much different here."