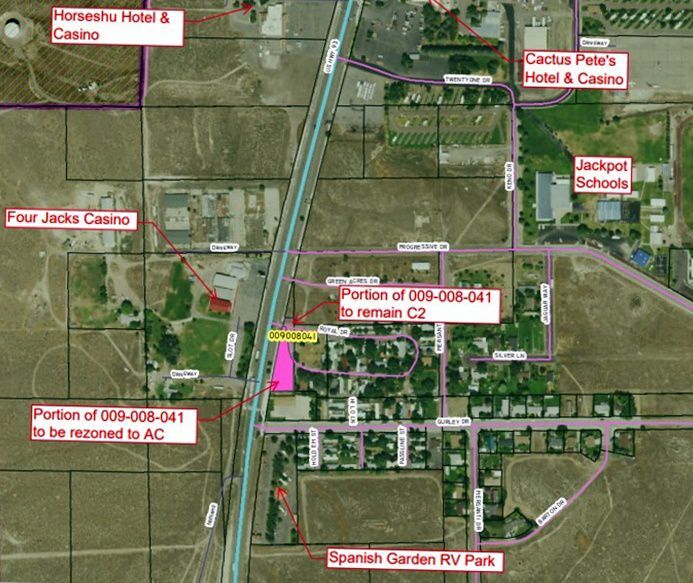 ELKO, Nev. — Spence Property Group LLC's request for rezoning a parcel of land in Jackpot as an adult cannabis district comes before the Elko County Planning Commission on Thursday, but there is still competition for potential marijuana shops in the town on the Idaho-Nevada border.
Spence, out of Idaho Falls, is seeking the change in zoning from a highway services and tourist commercial district to allow for retail marijuana sales on the property along U.S. Highway 93 that would be leased or sold.
"Jackpot is in desperate need for a business coming in there," said Corey Rice, senior planner for Elko County.
The community about 45 miles south of Twin Falls is dependent upon the jobs and revenue from casinos and hotels, and gaming was hit hard because of the COVID-19 pandemic that resulted in shutdowns and layoffs. The casino doors are open again but the town is still feeling impacts from coronavirus restrictions.
A staff report to the Elko County Planning Commission states that the staff recommends passage of the zoning change and says "the opening of this retail cannabis store is expected to greatly improve the economic impacts caused by COVID-19 to the community of Jackpot."
Rice said Thrive Cannabis Marketplace is expected to be the dispensary operator at the parcel targeted for rezoning because the company already has a license for Elko County that is in "good standing." Thrive was looking at a dispensary in Carlin.
Thrive Chief Executive Officer Mitch Britten said at a July 1 meeting of Elko County Commissioners that the company was interested in opening a dispensary in Jackpot. Scott Matthews of 420ville said Wednesday he is still working toward opening a cannabis store in Jackpot, too.
"We purchased Stateline Liquor Store for that reason. The store would become the retail cannabis store, and we would build a new liquor store," he said. "We feel good. We've done our stuff. We just hit a wall when Nevada quit handing out licenses until lawsuits are resolved."
Marijuana license holders and those attempting to obtain licenses sued the state over the way licenses were granted.
Matthews, who has a marijuana store in Oregon, said Nevada's new Cannabis Compliance Board also is rewriting the state's marijuana ordinances, which is delaying license action into 2021. He said he understood that the board is revoking inactive cannabis licenses, too.
Nevada created the board to take over regulation of the state's cannabis industry from the Nevada Department of Taxation, and it was launched on July 1 of this year.
Before now, Elko County has not allowed any sales in the county, although incorporated cities could choose to permit sales. West Wendover has a legal dispensary within city limits. The Elko Colony of the Te-Moak Tribe of Western Shoshone also has a license to sell cannabis because the tribe is a separate entity. Wells has marijuana growing and production facilities.
According to a site map, the marijuana retail location would be across from Four Jacks, a hotel and casino. The rezoning would be for roughly 20,675 square feet of land.
The planning report notes that staff had not received any negative or adverse comments to the proposed zoning change for a 24-hour retail store.
The Elko County Planning Commission meets at 5:15 p.m. Thursday in the Nannini Administration Building.
The agenda for Thursday's meeting includes a request for a waiver of the preliminary hearing on the Jackpot zoning change, which would send the application directly to a public hearing, also slated for Thursday.
The rezoning action follows final approval from Elko County Commissioners of an ordinance that allows marijuana sales in Jackpot and details regulations for the business and the fees required. The final vote was on Nov. 4, with little discussion.
The ordinance does not specify any company that would be selling marijuana but does require a business license application fee of $20,000 and an annual renewal fee of $10,000. Money from the license fee is designated for the Jackpot general fund, and a 3% tax on gross revenue will go to the county's general fund.
Commissioners acknowledged at the Nov. 4 meeting that the Twin Falls County Board of Commissioners opposed the marijuana dispensary and they had received the letter of opposition.
"While a dispensary may be an economic opportunity for the town of Jackpot, we are concerned that the location of the dispensary poses several problems which will have an adverse effect on our citizens," the Twin Falls County officials wrote.
They said Oregon marijuana sales on that state's border with Idaho are more than 400% higher than anywhere else in Oregon because Idaho people stream across the border to buy the marijuana that is illegal in Idaho. There is a boost in crime near the Oregon border, they wrote, and they expect a need for extra law enforcement if Jackpot has sales.
Hotbox Farms LLC of Ontario, Oregon, sent commissioners a letter dated Nov. 2 supporting approval of the ordinance allowing marijuana sales in Jackpot, stating that the legalization of cannabis and a cannabis business in Ontario "created a direct and positive financial impact at the local level."
Hotbox's letter does not say whether the company wants to open a store in Jackpot but does ask Elko County Commissioners to consider that a new revenue stream and increased tourism would benefit citizens of the county.