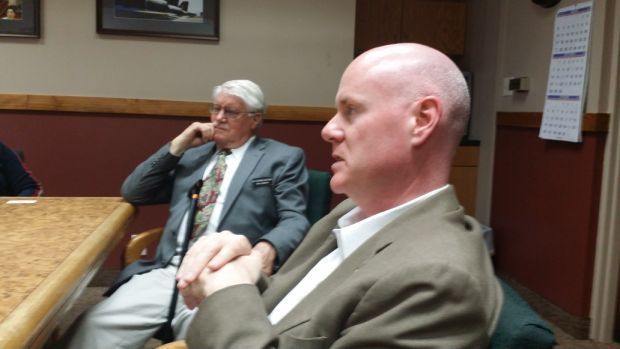 IDAHO FALLS • The bizarre "secret society" controversy between local Republican leaders and state GOP Chairman Steve Yates has taken an even stranger turn.
On Thursday, Bonneville GOP Chairman Doyle Beck released a 39-minute video of a November conversation between himself and Yates. Beck covertly filmed the conversation by placing his phone in his breast pocket and setting it to record.
The secretly recorded conversation concerns the Idaho Prosperity Project, a purported plan to shift control of local GOP central committees from people such as Beck and Region 7 Chairman Bryan Smith to more "stable" and "constructive" leadership.
Beck says the video contains proof the "Idaho Prosperity Project" is real. It's time for Yates to "come clean or resign," he declared.
Yates says the video is deceptive. He was playing along with a hoax, trying to "manipulate" Beck into chasing his tail by allowing him to believe the Prosperity Project was after Beck's seat. It was a "head fake," Yates said.
"I wanted him to believe that this is real," he said.
After the video was released, Yates backpedaled on earlier public statements that he knew nothing about the Prosperity Project. He knew about it, but only as a hoax, he said. He refused to say where he learned of the hoax.
He reiterated that the Prosperity Project does not exist as an active political organization, as far as he knows.
Beck says if Yates was trying to manipulate him, it's dishonest and improper behavior for a party chairman. Beck said Yates owed him honesty, if nothing else.
In the video, Beck hands Yates a copy of the document outlining the Prosperity Project and asks him if he knows anything about it. Yates responds: "It's a local project to flip the precincts in this area."
Yates says he had heard that GOP members Ann Rydalch and Sean Coletti, who is currently seeking the Bonneville chairmanship, had been "meeting and talking about folks."
"You're not a part of it?" Beck asks.
"I'm not," Yates says. "I'm not a part of working on any of the precincts."
Beck argued one line in which Yates says "I have a data program that runs through the project" is proof that Yates took money to work on the Prosperity Project. That's the key difference between Beck's own intervention in precinct races and Yates' purported involvement, Beck said.
Yates said that line has been misinterpreted. He was referring to a pilot project his company has established with a big data platform called i360, which is funded by Charles and David Koch and was also referenced in the Prosperity Project document.