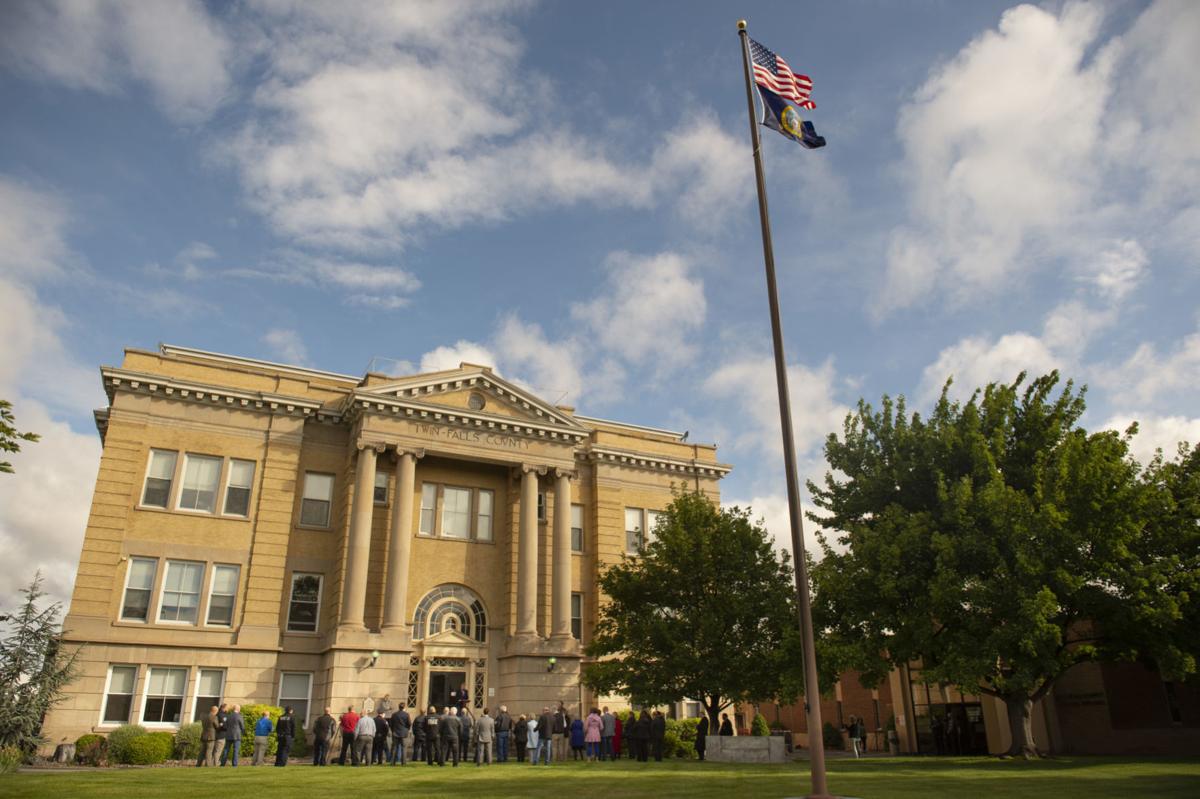 TWIN FALLS — Prosecutors from more than half of Idaho's counties are questioning whether Gov. Brad Little's plan to use $200 million in federal aid for property tax relief is legal under the federal CARES Act.
The prosecutors issued a letter that asks Little's office to request a legal opinion from the U.S. Treasury Department and the Idaho attorney general's office before proceeding further. It also asks Little to move the deadline to opt-in to the program from July 17 to July 24.
The letter, dated Friday, is written by Latah County prosecuting attorney William W. Thompson Jr. and chief civil deputy prosecuting attorney Bradley J. Rudley. It says 24 other counties agree the plan "does not appear to meet legal requirements" of the CARES Act, and 16 signed on to the letter, including Twin Falls, Jerome, Gooding, Camas, Blaine and Lincoln counties.
Little's plan calls for sending $200 million to participating cities and counties to cover local public health and public safety personnel salaries, on the condition that savings are passed to property taxpayers as a credit on their 2021 tax bill.
Additionally, cities and counties could not increase their property tax budgets by the allowed 3% next year or use any forgone balance from previous years, but they could still collect new construction or annexation.
The letter from the county prosecutors questions whether Little's plan to conditionally distribute the money complies with the federal government's rules.
"At a minimum, the divide between our respective interpretations of the U.S. Treasury FAQs evidences that they may not ultimately approve the program, at least in regard to the tax reduction conditions and the conclusion that the plan would constitute revenue replacement as prohibited by the FAQs."
The letter says Little's plan does not meet the requirement for equitable treatment between local governments, and it would "disproportionality affect rural counties with lower new construction rolls." Simply covering the costs of first responder salaries does not help local governments pay for costs related to employee health care, jails, courts, drivers licensing and other services that have increased due to COVID-19, it says.
"While some local governments do not need the 3% increase this year, many do," the letter says. "This further creates an inequitable situation for property taxpayers in those counties which need the increases to provide their services year after year."
The state's plan "does not appear to meet the intent" of requirements for passing assistance along to individuals and placing restrictions on the money, the letter says. It points to a section in the federal guidelines that say any assistance program established using the federal money must be "structured in such a manner as will ensure that such assistance is determined to be necessary in response to the COVID-19 public health emergency. ... For example, a per capita payment to residents of a particular jurisdiction without an assessment of individual need would not be an appropriate use of payments from the Fund."
"Recognizing that these funds should not end up as a windfall to a local entity," the letter says, "consideration should be given to only covering expenses that actually exceed budgeted amounts or that required taking funds from other lines to cover COVID personnel costs."
Little's office responds
Little's press secretary Marissa Morrison said the program is optional and their office was "a little taken aback" by the letter from counties.
"Governor Little believes we need to do everything we can to support our local law enforcement, EMTs, and public health districts and ensure they are fully funded and prepared to keep our communities safe," Morrison wrote in a statement. "That is what this plan does."
Little's budget director Alex Adams sent a letter to the U.S. Treasury Department in May outlining how the state's plan complies with federal guidelines. Adams said the money may support payroll expenses for several classes of employees whose services are "substantially dedicated to mitigating or responding to the COVID-19 public health emergency."
"This guidance is helpful and makes practical sense in Idaho where the work of our public health and public safety employees have become substantially dedicated to mitigating and responding to the COVID-19 public health emergency," Adams wrote in the letter. "Likewise, the cost for mitigating and responding to COVID-19 is substantially different than what was expected in local government's most recent budgets."
In order for the state to comply with federal guidance, Adams wrote, local governments will be required to conform to a series of conditions, including that "the accepting local government will lower the tax burden on their citizens without using relief funds for revenue replacement."
"We believe this will help us ensure the local governments comply with the Treasury's intent of not allowing the funds to be used to backfill lost revenue, but rather to cover COVID-19 expenses," he wrote.
Adams said the state previously sent $94 million to local governments for direct COVID-19 costs, and that money was also conditional on several reporting requirements.
Morrison said the federal guidelines confirm "the Governor's authority to put conditions on the use of the funds."
Twin Falls city, county to decide next week
Cities and counties must sign a letter stating their interest in the program by July 17.
Twin Falls County Commissioner Don Hall said the county will decide whether to opt-in sometime next week. He said there's interest in the program — and any program that offers tax relief for residents — but there are still questions that need to be answered first.
"We need to be assured that this is completely legal to be able to do through the federal government, and we're not quite there yet," Hall said. "We're just trying to do our due diligence to ensure this is defensible."
Twin Falls City Council will decide whether to opt-in Monday.
City manager Travis Rothweiler told council members at the last meeting that the city is eligible for about $3.5 million.
"I can't tell you if it is (legal) or not," he said. "All I can tell you is if it is, it's a windfall for our citizens and you should take advantage of it, assuming there are not any ramifications or repercussions that would cause us or our citizens to be in a negative situation."
Council members already agreed to not take the full 3% budget increase allowed under the law. Without the CARES money, the city's tax rate would fall from $7.13 per $1,000 of taxable value last year to $6.90 in 2021, according to the city's proposed budget. With the CARES money, the tax rate would fall further to $5.87. City budget documents estimate that would save a taxpayer in a median value home $111.29 over the course of the year.
Rothweiler said council members can choose to opt-in and then opt-out later if they find the program does not comply with the CARES Act. He also said that if the city does not take the money, that money does not go back to the federal government, and will instead be redistributed to other cities and counties.
"What I would fear is that we make a decision without all of the information, we do not opt-in to the program, we find out it's entirely legal and that our citizens miss out on $3.5 million," he said.
Rothweiler pointed out the money is only available for one year.
"That doesn't necessarily make it a bad thing," he said. "It just creates some pretty interesting political conversations in subsequent years as to 'who caused my tax rate to go up.'"
Hall also acknowledged the potential confusion of a one-year rate change and said that could be solved with community outreach.
"There would be a sticker shock in following years … but I think that's mitigated by education," he said.
This is a developing story, return for updates.
Concerned about COVID-19?
Sign up now to get the most recent coronavirus headlines and other important local and national news sent to your email inbox daily.