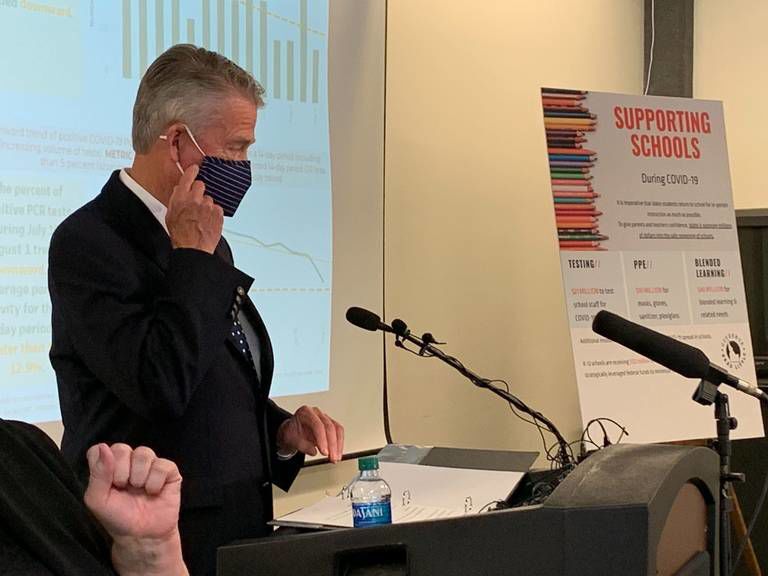 BOISE — Idaho Gov. Brad Little announced Thursday that the state will stay in Stage 4 of his reopening plan for the fifth period of time.
New cases of coronavirus are continuing to climb, especially in the Treasure Valley, and hospitals have repeatedly expressed concern about the number of hospitalized COVID-19 patients, even though the number of new cases has decreased slightly from where they were in July.
"We have increased our capacity for testing, contact tracing, and PPE for health care workers and businesses," Little said.
On Wednesday, the state's seven health districts reported 430 new confirmed cases of the virus, bringing the statewide count up to 21,354 since the pandemic reached Idaho.
Despite the prevalence of the virus, Little said that as of now, Idaho has sufficient numbers of health care workers, PPE, ventilators and intensive care beds at hospitals.
Little's announcement Thursday follows the White House coronavirus task force's report that said Idaho was in the "red zone" for infections, and cited a list of recommendations that the state has not ordered.
Little's plan, Idaho Rebounds, does not include many things the federal task force outlines. It recommended, among other actions, mask mandates, a social gathering limit of 10 people, bar and gym closures, and improved access to testing in the 14 red counties — including the population centers of Ada (Boise), Canyon (Nampa), Kootenai (Coeur d'Alene) and Bonneville (Idaho Falls).
The number of infected health care workers has climbed in Idaho, raising alarm among public health officials about whether they can appropriately staff hospitals if outbreaks continue. During the current 14-day window, 364 infected health care workers have been added to the state's total. That's 26 per day. On Tuesday alone, 40 new health-care worker infections were added to the list that Idaho Department of Health and Welfare reports.
Health and Welfare reported that there have been 931 hospitalizations because of the coronavirus and 262 admissions to the ICU since the pandemic began. The number of health care workers infected exceeds 1,350. The state was reporting, as of Wednesday that about 11.1% of people tested are found to have the virus. The goal is to have that rate below 5%.
Dr. Christine Hahn, state epidemiologist, said Idaho has updated its metrics regarding those hospitalized for confirmed coronavirus cases. Two weeks ago, Hahn said the state would be working with hospitals to bring that metric back, after the Trump White House issued a directive to discontinue publishing hospital data.
For Idaho health officials, hospitalizations was one of the metrics that the state failed to meet. The goal was to average less than four hospital admissions per day though the most recent two week period — July 22 through Aug. 4. That was not accomplished.
Hahn said the number of hospitalizations keeps creeping upward, and cited that growing number as one reason why Idaho must remain in Stage 4, where it's been since mid-June. Several two-week periods have passed since then, with the state unable to exit the final stage of Little's Idaho Rebounds plan each time.
Little has relied on the local health districts to make decisions on whether restrictions need to be put in place. The local health districts are made up of a county commissioner from each county in the district, as well as an advising physician. The commissioners are not required to have any medical training or knowledge about epidemiology.
Central District Health, which has jurisdiction over Ada, Valley, Boise and Elmore counties, is set to discuss some of these recommendations at its next meeting on Tuesday. It moved Ada County back to Stage 3 last month.
Some districts, including the the Southwest Health District, which includes Canyon County, have faced serious outbreaks and recently deemed nearly all of its counties as "red," meaning they have a high risk of community transmission. But the commissioners on Southwest District's Board of Health have declined to implement restrictions, instead relying on "recommendations." One board member, Adams County Commissioner Viki Purdy, has made disparaging comments about masks on social media — and had content flagged for being inaccurate — and denied basic medical advice.
When asked whether he was confident that heath boards would take action if needed, Little did not directly say "yes." Instead, he commented that those people were chosen by the voters.
"For the most part ... 80% of them are elected," he said. "... They represent the public. Just like the legislative branch and the county commissioners represent the public. So I am fully committed to giving them all the tools, the resources, the counsel, for them to look at the data that we have and make right decision."
Governor still expects schools to reopen
Little, who also has left school decisions to local officials, reiterated that he expects students to return to in-person classes this school year and recapped $201 million he said the state has directed toward education during the coronavirus pandemic.
That $201 million includes:
$48 million to boost schools' computer and internet resources
$21 million for COVID-19 testing for teachers and school staff
$10 million for masks, gloves, sanitizer and plexiglass dividers
$3 million to increase coronavirus testing capacity and turnaround time
$3 million for pharmacies to conduct tests in rural areas
Idaho cut $99 million from the state's education budget earlier this summer. All state agencies will absorb a 5% cut in state funding as Idaho prepares for a drop in tax revenue.
"Idaho public schools will be minimally impacted by revenue shortfalls," Little said.
Little, State Superintendent Sherri Ybarra and State Board of Education President Debbie Critchfield all said they wanted to get students back in classrooms as soon as it's safe. And they noted that approaches to reopening will vary by school district, because local authorities have the final say.
"We know that computers and websites, apps and videos cannot replace the in-person experience for schools and our students," Ybarra said. "We know that it's the teacher in the classroom that has the biggest impact on student learning."
Little said he worried about and the academic damage done to students who can't be in school.
"When students are out of the classroom for too long, the achievement gap widens," Little said. "This gap draws down the progress of all students. This gap is detrimental to economic prosperity and future workforce demands."
Many teachers have expressed concern about their safety upon returning to classrooms. Some have even written wills in case they catch the coronavirus and the worst happens.
"It's tough for everybody," Little said. "It's tough for people in the media, I've even heard, to work in the time of a pandemic. It's tough for governors. It's tough for a lot of people.
"... I'm not denying that life is more stressful. But, really, life is more stressful for almost everybody during this pandemic."
Concerned about COVID-19?
Sign up now to get the most recent coronavirus headlines and other important local and national news sent to your email inbox daily.