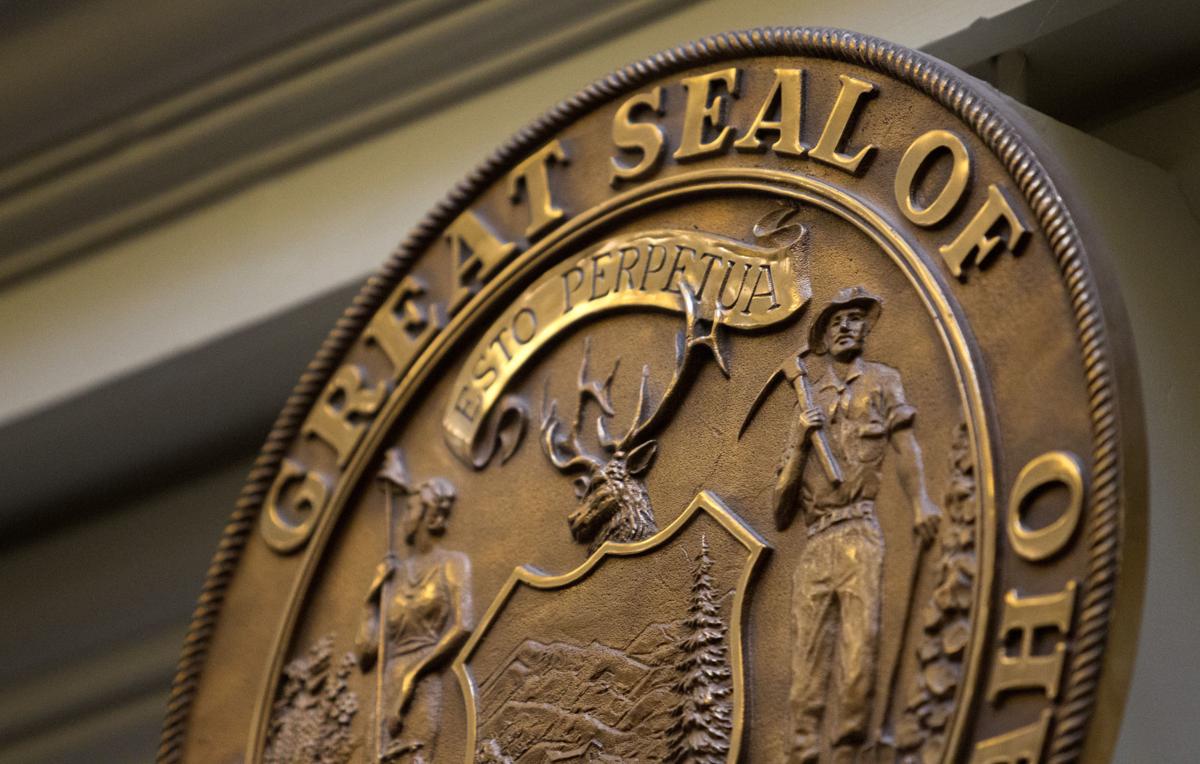 TWIN FALLS — Gender, guns and vaping are on the minds of lawmakers ahead of what could be a wide-ranging legislative session.
Shortly before they return to Boise in January, legislators from Districts 23, 24 and 25 spoke at a town hall Wednesday hosted by the Twin Falls County Republicans. They briefed the crowd on the issues expected to dominate the session and offered a glimpse at bills they plan to back in the Legislature.
Sen. Lee Heider, R-Twin Falls, said he expects disputes between both parties and both the Senate and the Houses in what could be an "interesting" session.
"This session is shaping up to me to be a little bit contentious," Heider said.
Zito trio
Rep. Christy Zito, R-Hammett, said she plans to work on a trio of bills and provided handouts with some general details.
The first would allow U.S. residents to open or concealed carry guns in all areas of Idaho.
"We have one last thing to finalize and then Idaho will have the most complete and most constitutional carry laws in the United States," Zito said.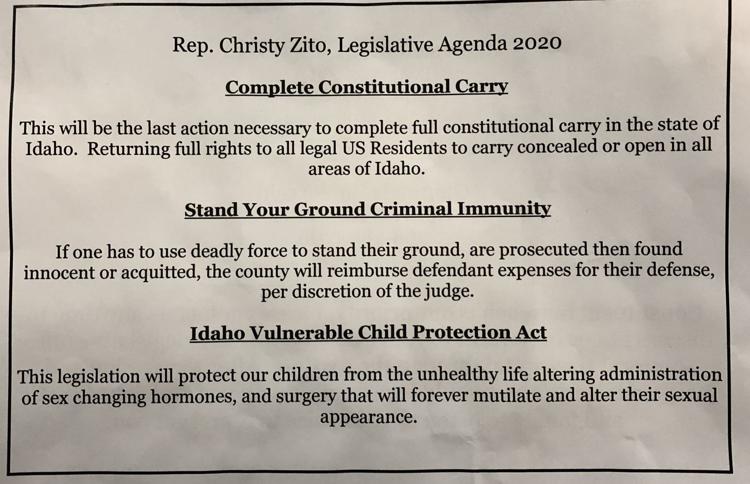 Heider pushed back at the idea and said while he has a concealed carry license, there needs to be some training.
"I don't want everybody on the street to be able to carry concealed," he said. "We need to be responsible with the bills that we bring up and pass."
Zito also referenced a bill that would provide criminal immunity for those who use "deadly force to stand their ground." If the person who stands their ground is acquitted or found innocent, the county would reimburse legal expenses.
Another proposal Zito offered was called the "Idaho Vulnerable Child Protection Act" that would "protect our children from the unhealthy life-altering administration of sex-changing hormones and surgery that will forever mutilate and alter their sexual appearance." Zito said the bill would only cover those who are 18 or younger.
Heider did not comment specifically on Zito's bill but said he was concerned about sexual choice.
"I don't like the fact that in health and welfare now you can walk in and say 'I'd rather be a girl than a boy,'" Heider said. "That to me is an immoral issue and I cannot abide that, so I'm going to fight that issue in the Legislature."
Highlighting hemp
Zito also gave general support for extending avenues for hemp production in the state. There are 26,000 uses for hemp, and reducing the complex set of restrictions under Idaho law could help the state's economy, she said.
Sen. Jim Patrick, R-Twin Falls, said he would support hemp legislation under certain conditions, but offered a less optimistic take on the plant's economic impact.
"This is not a savior of farms by any means," Patrick said. "There's a lot of areas where farmers are going broke because who do you sell the hemp to? There was a big market for a while but now they've saturated it."
While there are some valuable uses for hemp, it should still be illegal, Heider said, adding he's fought to keep marijuana and its byproducts out of the state for 10 years.
"I'd like to keep it out, but there will be those and there will likely be a strong push to bring it in," Heider said.
Vape tax
Sen. Bert Brackett, R-Rogerson, said he has a bill that would limit nicotine content in vape products to 20% and then tax them at the same rate as traditional tobacco. Money generated by that tax would go towards a "rigorous" education program. Any money left over would go to state services.
Vaping is a "real health issue" with kids from elementary school to high school, he said. It's "virtually unregulated" currently, and aggressive marketing schemes with bubble gum and lollipop flavors are concerning, he said.
"There's no doubt … they're targeting kids," Brackett said.
Brackett said he would gather feedback on the proposal from health officials.
Get Government & Politics updates in your inbox!
Stay up-to-date on the latest in local and national government and political topics with our newsletter.