TWIN FALLS — It's a long shot, but a chance remains that a Buhl native could be the nation's next first lady.
April McClain-Delaney bought a campaign bus last week from Middlekauff Ford in Twin Falls. After a special paint job from Lytle Signs, the bus will be driven to Detroit this week to make the first stop of a Midwestern tour for the Democratic presidential debates.
"I mean how many people can ever run for president," she said. "It's just an incredible opportunity."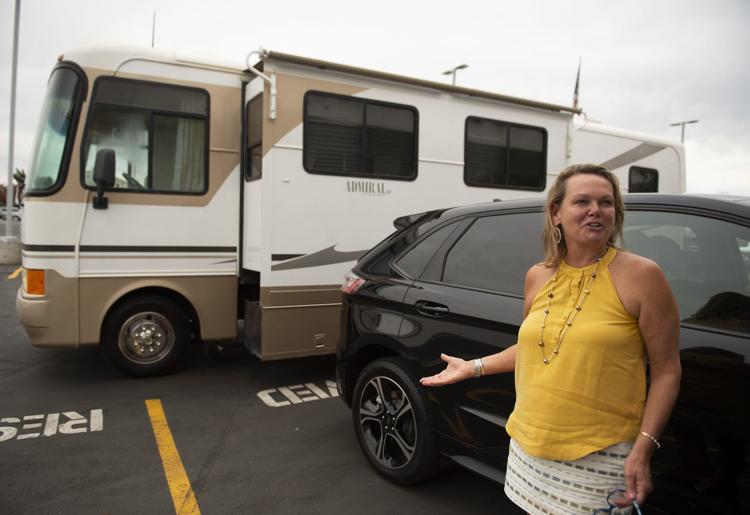 The choice of dealership to purchase their mobile advertisement was not random.
McClain-Delaney grew up in Buhl and graduated from Buhl High School in 1982. Her father, Thomas McClain, was a potato farmer who served as the president of the Potato Growers of Idaho.
One potato-related business trip led the family to Chicago, where McClain-Delaney toured and fell in love with Northwestern University. Her status as a small-town resident helped her earn a scholarship to attend.
"There's not that many potato farmer's daughters that apply to Northwestern," she joked.
After completing her undergraduate degree, McClain-Delaney decided to attend Georgetown University to pursue her dream of becoming a lawyer.
While signing up for classes at law school, she asked a third-year student for advice on what sections to take. She later found out that man, Delaney, had returned to the registrar's office to drop all of his classes and enroll in the ones he'd advised for her.
The stunt worked. They went on a date shortly after and hit it off immediately.
"We went out on our first date; we came home married," she said. "Only in America does the union electrician's son meet the Idaho potato farmer's daughter."
They officially married a year later in 1989 in Sun Valley.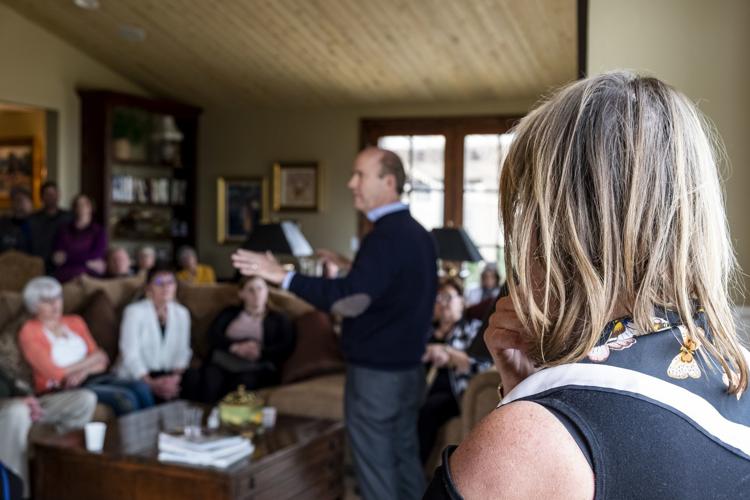 After graduating, the two decided to live near Washington, D.C., where McClain-Delaney began her career as a regulatory attorney in cable and broadcast law.
For 15 years she worked in the industry, taking a short time off to focus on raising her four daughters but returned to work for Common Sense Media, where she serves as the Washington director and board member.
Her work focuses on tech addiction, anxiety, privacy, and how media impacts kids and minority groups, especially women.
If she were to become the first lady, her initiatives would not stray far from her career.
"I think we need to really look at updating our communication legislation and really look at the issues of protecting kids' privacy," she said. "Kids should have privacy to grow up making mistakes and not being monetized."
Those are relevant issues, her husband told the Times-News.
"I think she'd be amazing," Delaney said. "Clearly she's one of the leading experts in the country in this field."
The other portion of her plan would focus on mending relationships across the aisle and within the Democratic party. If she were the first lady, all members of Congress and their spouses would be invited to the White House frequently in an effort to build community, she said.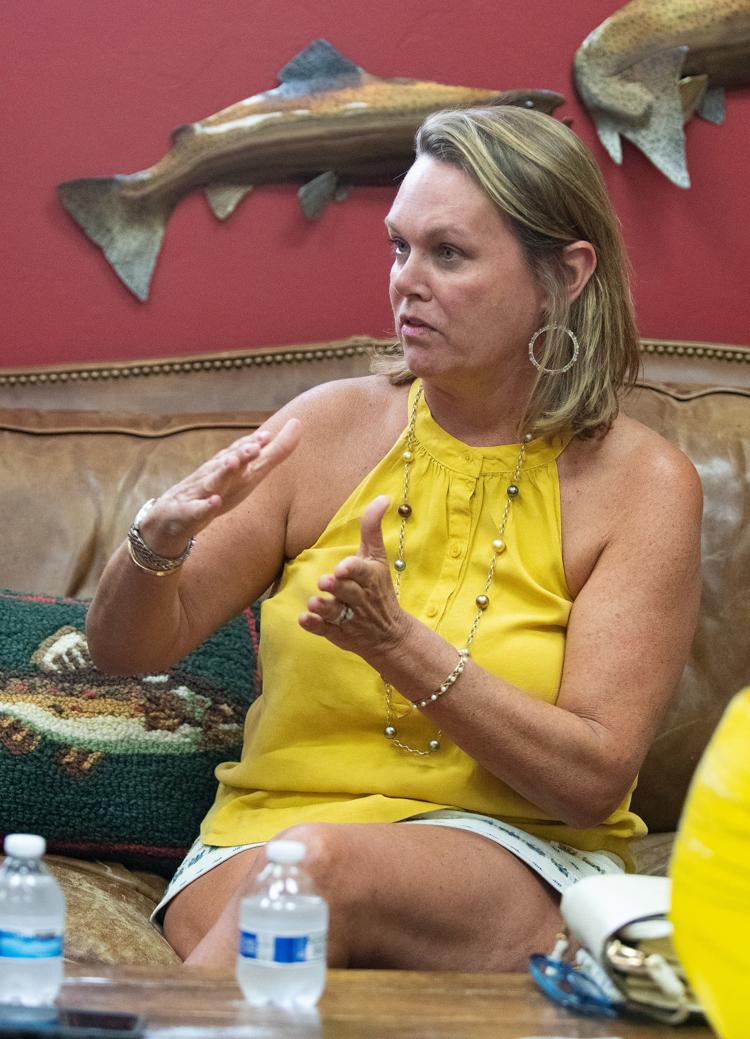 "Through personal relationships and building up trust and respect, you actually unify and bring back America," McClain-Delaney said. "Wouldn't it be great to weave people back together as a country?"
It's an area she has experience in. She served as a chairwoman of the Congressional Club's First Lady Luncheon and was a co-chairwoman for the Congressional spouse events for the National Prayer Breakfast while Delaney was in Congress.
That belief in civility among parties is part of the reason her family initially got into politics.
In 2012, their home in Potomac, Maryland, was redistricted from red to purple, and Delaney saw an opportunity to run as a Democrat for a traditionally Republican-held position in the U.S. House of Representatives. He earned 58.8% of the vote to unseat incumbent Roscoe Bartlett, who sat for nearly two decades.
There's more of a willingness for bipartisanship than people acknowledge, McClain-Delaney said.
"It was a moderate district but there were no moderates," she said. "Both the red and the blue liked John because he talked sense and he was very pragmatic."
Centrism's appeal is part of the reason they decided he should run for president, she said.
"The central issue facing this country is how to heal a fractured nation," she said. "We are so busy fighting with each other that we don't focus on the long term issues at hand."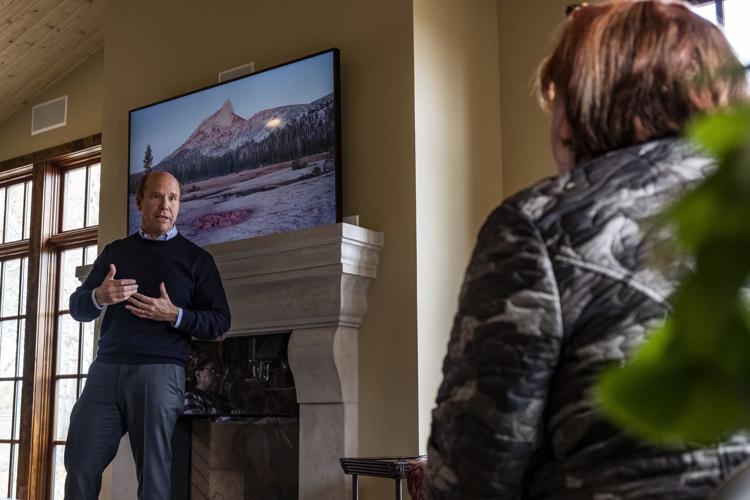 Delaney, a wealthy health insurance financier and businessman, became the first Democratic candidate two years ago Sunday. He's since positioned himself as a pragmatist and a centrist alternative to Joe Biden. As the Democratic party moves further to the left, Delaney has maintained the middle and opposed certain policy positions often used as a litmus test for leftism, such as Medicare for all.
But voters have not yet taken to his message. Most polls show Delaney at about 1%, and he struggled to get questions during the Democratic debates in June.
Part of the problem is social media's focus on the divisive political climate, which rewards provocation over practicality, McClain-Delaney said.
"When you talk about things that are pragmatic, you aren't yelling," she said. "John and I don't believe in saying outrageous things."
At the California Democratic convention, Delaney was heavily booed by the crowd after denouncing Medicare for all in support of a less progressive system, similar to the Affordable Care Act.
The incendiary reality of politics, even within their own party, has often made the campaign difficult to follow, McClain-Delaney said.
"I think the hardest part being a spouse is watching your husband being attacked," she said.
Delaney's message of "real solutions, not impossible promises" will display again Tuesday at the second Democratic debate. It should play to Idaho voters, who are independent thinkers and favor a practical message, McClain-Delaney said.
Despite rumors Delaney's staffers have advised him to drop out of the race, he said he still hopes to be around for Idaho's caucus in April 2020.
"I hope to make a strong showing in Idaho, which means I've made a strong showing in many other places," he said.
McClain-Delaney says she'll continue to visit Sun Valley every year to maintain her formative small-town roots in the West.
"I don't think I'd be where I am had I not come from the upbringing that I had."
Get Government & Politics updates in your inbox!
Stay up-to-date on the latest in local and national government and political topics with our newsletter.