TWIN FALLS — Speakers covered a variety of issues at a Saturday rally, but their messages centered on a general idea: mainstream media and government are conspiring to take away individual freedoms and undermine the founding principles of the United States.
About a hundred people gathered in Twin Falls City Park for the "Freedom is the Cure" rally. The moniker comes from the John Birch Society and has been used as the title of other rallies in the Northwest, though organizers said the event was hosted independently.
Some of Idaho's most conservative state lawmakers, candidates and organization leaders spoke at the event. They rallied support around defending liberty and the Constitution and said their movement is threatened by traditional Republicans and the media.
"Hello, Christian patriots," John Birch Society coordinator Caleb Collier greeted the crowd. "Are you motivated? Are you organized?"
Collier said conservatives need to unify and warned the left is well aligned. He said Democrats want to implement a "Luciferian" globalist agenda through groups like Black Lives Matter and antifa.
"These are all organizations that are dedicated to overthrowing the United States," he said
Collier said complicit with leftist ideas are "Republicans in name only," or RINOs — a pejorative term for Republican lawmakers who do not uphold what some say are sufficiently conservative values.
"We will not let you be the designated defeat mechanism for our enemy," Collier said of moderate Republicans. "We the people are tired of you, and we're taking this country back."
Former representative Ron Nate agreed. Nate is attempting to return to the Legislature and is part of a rightward shift in the House after defeating Rep. Britt Raybould, R-Rexburg, in the 2020 Republican primary. He runs unopposed in November.
Nate called moderate Republicans "sellouts." He said Democrats push an "evil, Marxist agenda," but they are not the "true enemies" of Idaho.
"(RINOs) may advertise the right positions, but they lack the necessary convictions," he said. "The fiercest and most important battles are between true conservatives and establishment Republicans."
Real Three Percenters leader Eric Parker said residents need to be prepared to defend their constitutional rights and the rights of others. He noted the presidential election is 94 days away.
"It's coming — win or lose," Parker said of the election. "The history of a peaceful transition of power in America is slowly going down the drain. If you're not prepared for that, you're behind the curve."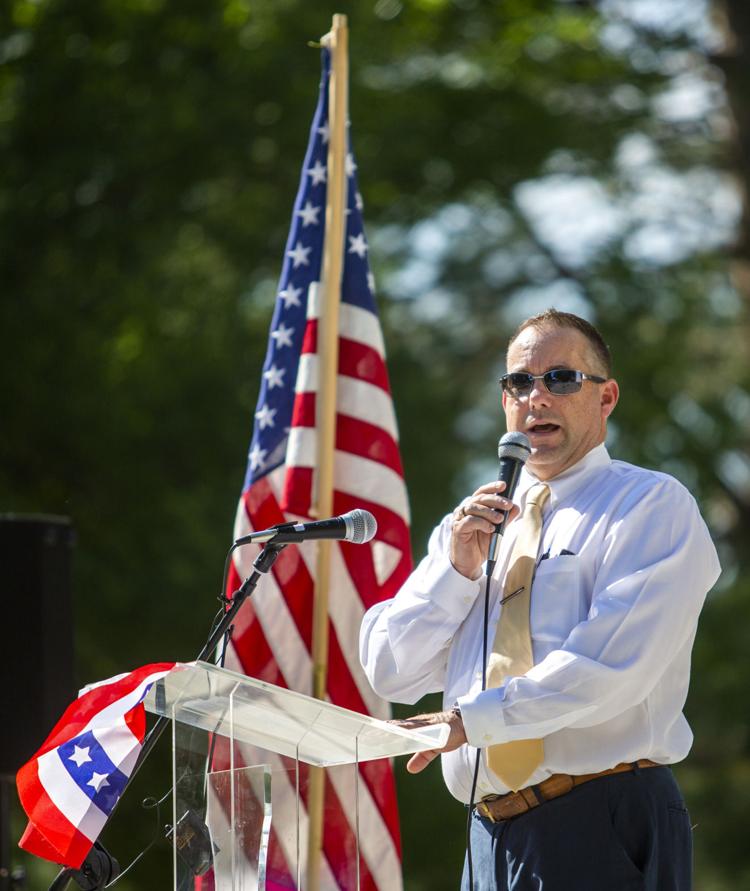 The American education system
Some speakers weighed-in on public education.
Lt. Gov. Janice McGeachin recounted a recent legislative work group meeting where lawmakers recommended calling a special session to consider a bill that could protect schools from COVID-related lawsuits.
"How did we get to this place where we sue our neighbors for a disease?" she asked.
McGeachin suggested parents should sign a liability release form before sending their child to school.
"For those parents who are afraid that their kids might become infected at school, how about this: have the school district offer the parents a liability release form," she said. "After all it is a privilege to attend public school in America.
"And for those parents who still do not feel comfortable with this form of education," she continued, "why don't we take some of that money — we spend $8,000 per student — why don't we take that $8,000 per student, give it to the parent to pool that money and hire a teacher. If 10 parents did that, they'd have hired a school teacher, paid him or her $80,000, and have 10 students in the classroom."
Idaho Freedom Foundation President Wayne Hoffman took a different approach.
"There's a question of whether schools should open this fall," he said. "My answer is eh, I don't really care."
He said parents should be the ones to decide if their child goes back to school, but ultimately "government should not be in the business of educating our kids." He said public schools are indoctrinating children to hate capitalism and teaching them to prefer communism from a young age.
"They're learning how to hate all the things that make our country great," he said.
It's not enough to talk about policy, people need to actively seek change from their lawmakers, he said.
"We have got to apply pressure on the politicians such that they are afraid to leave their houses because somebody is going to say to them 'What are you doing to get my kids out of the American education system.'"
Hoffman called on the crowd to continue advocating for the movement after the rally finished.
"You have got to be the army, the force, the revolutionary warriors that we've been waiting for," he continued. "We will only win if we all get together and say, 'Let's go and apply the remedy, the cure, freedom where it is needed most.'"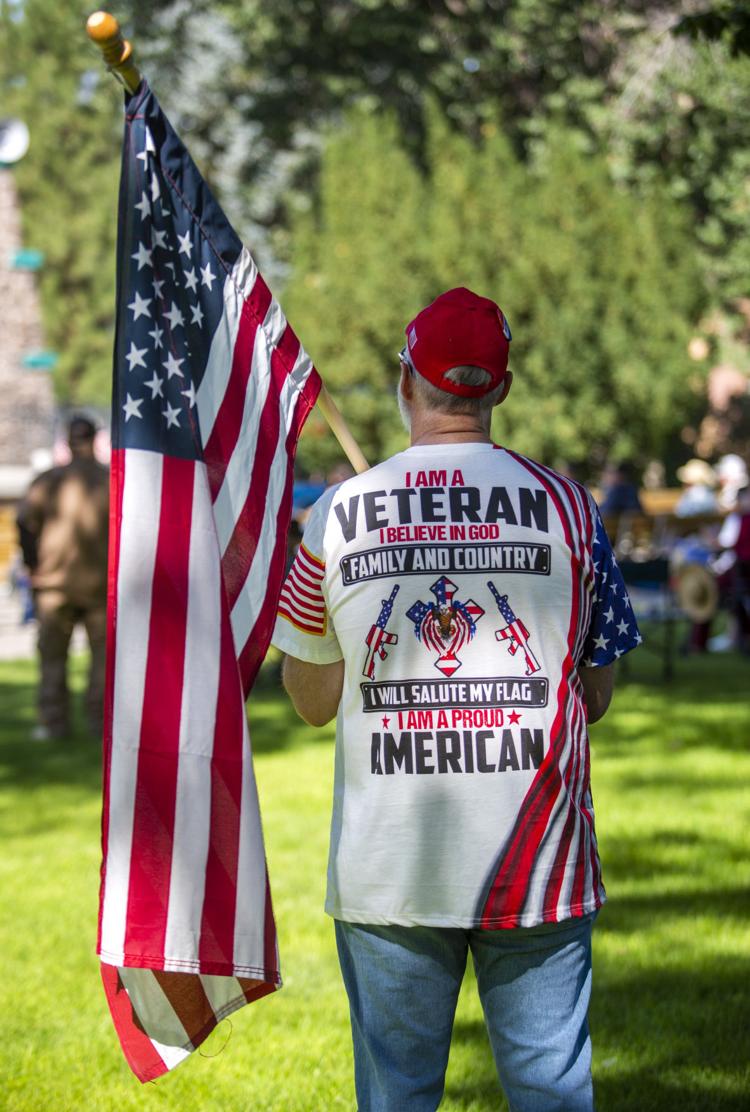 Masks and the media
Few if any masks were worn at the event. Several speakers criticized government attempts to require masks or implement other public safety measures in response to COVID-19.
"The government is not going to save us, the masks are not going to save us, the CDC is certainly not going to save us," said Sarah Clendenon of Health Freedom Idaho, referring to the Centers for Disease Control and Prevention. "We need to remember the right to liberty is the only thing that can save us.
"Just because the mob wants to wear masks, it doesn't matter," she continued. "I have the right to enjoy and defend my liberty."
Miste Karlfeldt, also of Health Freedom Idaho, suggested the media is often incorrect about the pandemic.
"They're poisoning our brains," she said.
Many other speakers also condemned coverage of the COVID-19 pandemic.
Retired physician and Madison Liberty Institute fellow Jud Miller said the only people who fear the virus are those who follow it in the mainstream news.
"Why are they trying to scare us?" he said of the media. "It seems the cure is becoming worse than the disease."
Miller also said conservative voices and efforts tend to be marginalized.
"Sometimes it's a little frustrating to be a minority," he said. "We definitely are a minority."
John Birch Society coordinator and master of ceremonies Tom Munds dismissed reporters covering the event as "fake news." He said media members "are planning on overthrowing the American republic."
Rep. Tammy Nichols, R-Middleton, said mainstream news is especially slanted against conservative voices.
"The media is not our friend," she said. "They are out there spewing information that is not correct."
Editor's note: A previous version of this story incorrectly identified master of ceremonies Tom Munds. The story has been corrected. The Times-News regrets the error.