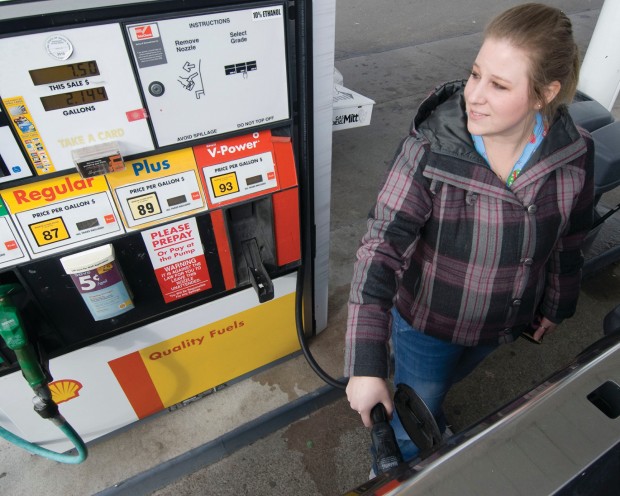 TWIN FALLS • There could be another fight in Boise next year over whether to raise fuel taxes and registration fees to pay to fix Idaho's roads and bridges.
A University of Idaho survey of likely voters released in July said most of them think Idaho's roads are adequate now but won't be in 10 years, and roughly half said road funding should be among the Legislature's top three priorities.
"We need to put more money into our roads, particularly into maintenance," Bert Brackett, R- Rogerson, chairman of the Senate Transportation Committee, said Friday.
A task force chaired by Lt. Gov. Brad Little concluded in late 2010 that Idaho needs to put over $200 million more yearly into its roads just to maintain them. The question is going to be how to pay for it. Most of the money the state spends on roads comes from the fuel tax and vehicle registration fees. The state's fuel tax is 26 cents a gallon, vehicle registration fees range from $24 to $48, depending on the age of the vehicle, and neither has gone up since 1996.
Raising either is bound to be controversial. Now-U.S. Rep. Raul Labrador made a name for himself in 2009 when, as a state legislator, he played a prominent role in the successful fight to block a proposed 7 cent per gallon increase in the fuel tax, handing Gov. C.L. "Butch" Otter one of the more notable legislative defeats of his governorship. A coalition of supporters of more road spending started to beat the drum again in fall 2013, but this effort went nowhere in the 2014 legislative session. And the same UI survey that found most people think Idaho's roads will need to be fixed also found most people opposed raising the fuel tax.
Supporters of the increase said they need to pitch it as a money-saving measure — it's cheaper to fix a road than to have to rebuild it completely once it gets bad enough — and as an economic one. The University of Idaho survey found most people view good roads as key to a good economy.
Brackett said the Legislature would likely try to do something in 2015 to raise some, but not all, of the additional money needed to maintain the roads, and keep chipping away at it over time. Little said convincing voters of the importance of maintaining roads and bridges could help get people on board with raising taxes and fees to pay for it. Fuel tax revenue hasn't kept up with maintenance needs, he said, as vehicles get more fuel-efficient.
"We've got to make our case," he said.
Otter said the state needs to figure out how to collect more from people who drive hybrid and alternative-fuel vehicles, and pay less in fuel tax as a result. The transportation task force suggested a vehicle-mile-traveled fee, or a direct tax on these vehicles, as ways this could be done.
Otter said he needs to hear more from the House and Senate transportation committees, and more public input, before deciding what the best approach to raise funding would be.
"What I'm in favor of is having the necessary funds to maintain our highways," he said.
Get Government & Politics updates in your inbox!
Stay up-to-date on the latest in local and national government and political topics with our newsletter.