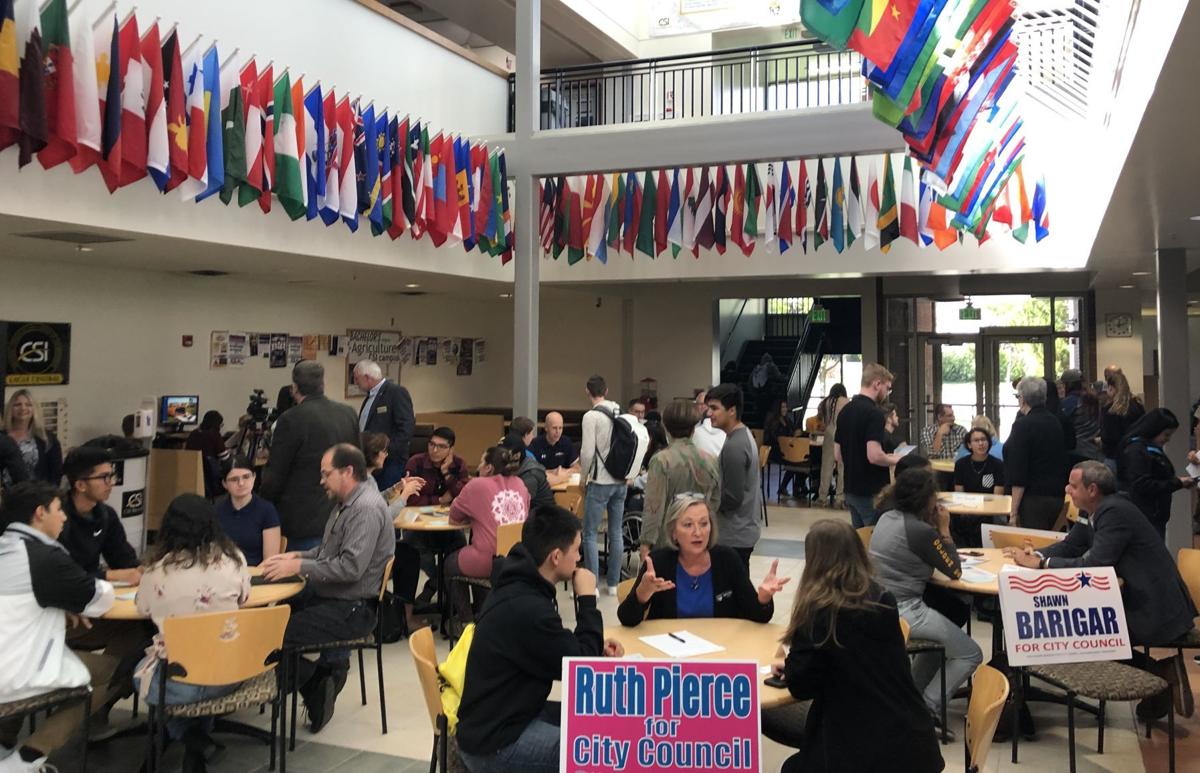 TWIN FALLS — Some City Council candidates are calling on state lawmakers to allow the city to pay for projects by raising its sales tax.
Candidates for Twin Falls City Council met with students Thursday at a College of Southern Idaho event meant to get young voters interested in local politics.
Many candidates expressed concern for the rising tax burden on property owners while still needing to pay for city projects. Some suggested a local option tax that would effectively raise sales taxes on items purchased in the city.
There aren't many alternatives to property taxes available to the city, said Councilwoman Nikki Boyd.
"Property taxes are a limited resource," Boyd said. "Our property taxes have to pay for everyone who is paying in, plus all the people who come here every day to play and work."
Idaho law does not allow most cities and counties to have a local option tax, and an act of the Legislature is required to change that. Lawmakers at a July town hall suggested debate on the concept could resurface during the 2020 legislative session.
Voters would have to approve a local sales tax raise, and the Legislature should give them that option, said Mayor Shawn Barigar.
"I would hope they would allow us to do that so citizens can decide whether they want to pay an extra penny on their candy bar to help pay for the things they want in the community," Barigar said.
Barigar said he's in favor of the local option tax if it were issued for a limited amount of time and supported a specific project. He said the city currently must rely on property taxes because there aren't many revenue options available.
You have free articles remaining.
"Unfortunately, local government doesn't have a lot of places to get those funds," Barigar said. "Property tax is one of our sole sources of revenue for the services that citizens demand."
Twin Falls is a hub city that doubles in population every day, said Councilwoman Ruth Pierce. A local option tax would be an equitable way for visitors to contribute to city projects, Pierce said.
"Those people from out of town are using our streets, our public parks, et cetera, and they're not directly paying for it through property tax," Pierce said.
Jaren Thompson, who is running against Pierce, said he's undecided on a local option tax, but would rather look at cutting budget items.
"I don't like the idea of taxation just across the board, but I do understand the need to pay for services," Thompson said.
There needs to be options to raise money for projects, said Jan Rogers, who is running for council seat four.
"We still have things we have to do," Rogers said. "I think there is no question that the community should have more say."
Michael Shaffer, also running for seat four, said he's undecided, but doesn't think it would offer a net gain to the city.
"You tell me how I can tell if whether its you buying that potato or somebody from Kimberly is buying that potato, then we can talk about if that's a doable thing," Shaffer said.