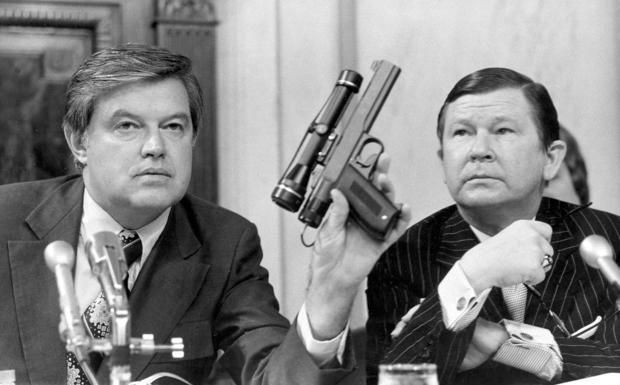 BOISE • Forty years ago this spring, in a cramped room on Capitol Hill, Idaho Sen. Frank Church led a group that pored over many of the most highly classified documents of the CIA, NSA and FBI.
The room contained the staff and U.S. senators of the Senate Select Committee to Study Governmental Operations with Respect to Intelligence Activities, better known as the Church Committee. Church was the leader of the committee, which had unprecedented power to examine the country's top intelligence agencies.
"It was the first open hearing into the role of a secret intelligence agency in a democracy," said Tim Weiner, a former New York Times investigative journalist.
Weiner has won a Pulitzer Prize and National Book Award for his reporting on the intelligence community.
The Church Committee's investigation revealed more about the secret, sometimes illegal, work of the nation's top intelligence agencies than any comparable effort before or since. And it led to reforms meant to rein in the agencies and protect civil liberties, though many of those reforms were weakened in the years after the 9/11 attacks.
"I know the capacity that is there to make tyranny total in America, and we must see to it that this agency and all agencies that possess this technology operate within the law and under proper supervision so that we never cross over that abyss," Church said at the time on NBC's "Meet the Press." "That is the abyss from which there is no return."
The committee convened in early 1975, during a time of unparalleled domestic dissent and distrust of executive power.
Months earlier, on Aug. 9, 1974, President Richard Nixon became the only U.S. president to resign from office. The American people had lost faith in the Vietnam War, and Saigon would fall within months.
The impetus for an investigation of the government's expansive intelligence apparatus came in December 1974. The New York Times published a front-page article by investigative reporter Seymour Hersh based on a set of documents that CIA director William Colby had dubbed the "family jewels." The documents detailed illegal operations, including warrantless wiretapping and surveillance of the civil rights and antiwar movements.
The article created an uproar, and it quickly was determined that a congressional investigation was needed.
Church lobbied Senate Majority Leader Mike Mansfield, D-Mont., to be named committee chairman.
Church had served as an Army intelligence officer in eastern Asia during the final years of World War II. He initially supported the Gulf of Tonkin Resolution, which greatly escalated the Vietnam War, but had grown disillusioned and became an effective critic of Nixon's conduct of the war, including the secret bombing of Cambodia.
Rod Gramer, a former Idaho Statesman reporter and Church biographer, said in an interview that the slowly leaking news about the CIA covertly backing the overthrow of Chilean President Salvador Allende struck Church's conscience.
Allende, the co-founder of Chile's Socialist Party, was elected president in 1970. The CIA supported a 1973 military junta led by Gen. Augusto Pinochet. A truth and reconciliation commission later found Pinochet responsible for torturing some 28,000 people. He used the national soccer stadium to imprison his victims, thousands of whom were never seen again.
Church's notions of America clashed with the reality of his nation engaging in tactics he associated with the Soviet KGB.
"He used to say that when we start acting like our enemies, we start looking like our enemies," Gramer said.
'WE WORKED SEVEN DAYS A WEEK'
The Church Committee faced a monumental task: to investigate intelligence agencies for possible illegal behavior, and then formulate reforms. It had 18 months to accomplish the task. The committee interviewed 800 witnesses and reviewed some 110,000 classified documents during 126 hearings.
"We worked seven days a week," said Peter Fenn, who was Church's chief of staff at the time. "Weekends were nonexistent for us. It was a terrific time."
Frederick "Fritz" Schwarz acted as the committee's chief counsel. Initially, he said, some advocated handling the matter quietly. Schwarz resisted.
"Unless there was evidence of outrageous conduct, there would be no groundswell of support (for reform)," Schwarz said in a phone interview.
And the committee found plenty of outrageous conduct: human experimentation, opening domestic mail, warrantless wiretapping and defying presidential orders.
"We were looking at things that, if true, would shock the conscience of America," Schwarz said. "Every single president (from Franklin Roosevelt to Richard Nixon) had abused their secret power."
The National Security Agency was the nation's largest intelligence agency, but the public knew almost nothing about it in the mid 1970s. Insiders joked that it stood for "No Such Agency."
The Church Committee shed more light on the agency than any prior inquiry, including the existence of a program called Project Shamrock, which intercepted all telegraphs entering or leaving the country.
The NSA had spied on Church for years as a part of Project Minaret, a warrantless electronic surveillance program it operated in the late '60s and early '70s.
Minaret spied on Martin Luther King Jr., Muhammad Ali and several journalists, all without warrants. The senators the NSA spied on included Howard Baker, R-Tenn., who later served as White House chief of staff under President Ronald Reagan.
The NSA fought to keep the identities of those it spied on secret until 2013.
"It was a real shock," Fenn said. "And if it had come out at the time, I tell you, all hell would have broken loose. You're monitoring United States senators? That would have been the height of irresponsibility.
"Aside from the fact that a lot of this was clearly illegal, it severely undercuts our democratic system of government."
The Church Committee in mid-1976 released extensive reports on programs within the intelligence community that were either illegal or ill-advised.
"What you essentially had was the question of if and how you could actually run a secret intelligence service in an open and democratic society," investigative reporter Weiner said.
Several major reforms resulted from the panel's work. Permanent intelligence oversight committees were set up in the House and Senate. Sen. Ron Wyden, D-Oregon, who serves on the Senate Select Committee on Intelligence, said those reforms helped end "decades of abuses" by intelligence agencies.
"Thanks to Sen. Church's dogged investigation, the Church Committee represented a landmark achievement in congressional oversight of U.S. intelligence agencies," he said.
Congress enacted the Foreign Intelligence Surveillance Act, or FISA, after the investigation. It established a court that could make decisions about wiretapping and other forms of surveillance that could affect U.S. citizens.
"We were trying to set up a system where warrants would be required," Fenn said. "Not traditional warrants with an open court. You had a FISA court because they had to be kept secret. But somebody should make the call on whether to tap somebody's phone or send some crew in to bug their apartment."
Two major laws — one outlawing assassinations of foreign leaders and another limiting the term of the director of the FBI — also were enacted.
Schwarz, Fenn, Weiner and Wyden all agree that in the years following the Sept. 11, 2001, terrorist attacks on the World Trade Center and Pentagon, many of the institutions spawned by the Church Committee's investigations were seriously weakened.
One blow to the power of the FISA court, Weiner said, came when President George W. Bush authorized warrantless NSA surveillance of American citizens without going to the court. It was an effective end-run, he said.
"The system broke down after 9/11 on the direct orders of the president of the United States, who tried to bypass and countermand the court," Weiner said.
Fenn recalled a CIA official's telling remark during a hearing.
"The guy looked up at me from the table and said, 'Hey, guys. We'll be here long after you are gone.' And (what) he meant was, 'We'll wait you out,' " Fenn said.
While the House and Senate intelligence committees continue to exercise oversight over the 17 federal intelligence agencies, Weiner said the will of Congress to maintain effective management has waned considerably. Fenn and Schwarz both said the time has come for a second Church Committee, but Weiner can't see it happening.
"It's too late," he said. "If you were ever going to have an investigation into the establishment of secret prisons and the use of torture as a tool of interrogation, it should have happened many years ago."
Get Government & Politics updates in your inbox!
Stay up-to-date on the latest in local and national government and political topics with our newsletter.