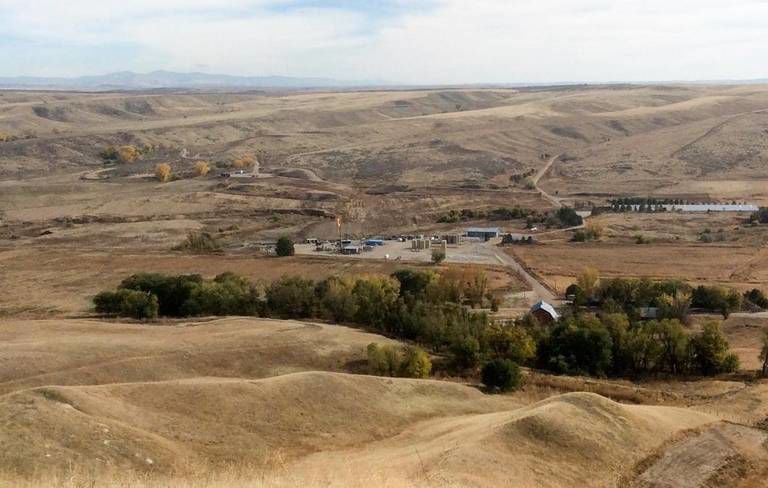 PAYETTE — Snake River Oil and Gas Group has bought controlling interest of the wells and production facilities in Payette County.
The company has had a minority interest in the Idaho fields, controlled first by Alta Mesa Idaho and its successor High Mesa, which took over in 2018 when Alta Mesa declared bankruptcy. Snake River brought in new investors and took a 55% interest when it closed Dec. 24.
Sun Valley's Richard Brown, who heads the group, said he wants to reset the relationship with Idaho, which has been troubled for the past six years over royalty payments, environmental concerns and disputes with its neighbors.
"I want to put the past behind us," said Brown, who began buying oil and gas leases in southwest Idaho shortly after natural gas was discovered in 2010.
The transition is expected to take place over the next 10 days, Brown said in a phone call Thursday.
Snake River has six wells producing natural gas and condensate, a light crude oil and other liquids in the Willow Creek drainage northeast of Payette. Another four wells, including the state's only oil well, have been shut-in and are no longer producing.
Two wells drilled in Fruitland are shut-in awaiting the building of a pipeline to a processing plant in the Willow drainage. Work on the pipeline has begun, Brown said. That will be Snake River's focus for 2020 as well as "getting this whole project in a profitable state."
Oil and gas in southwest IdahoOver the past decade Alta Mesa and its investors have spent $160 million on the southwest Idaho project, including the Willow Creek Gathering Facility and the Highway 30 dehydration plant, Brown said. Snake River, a subsidiary of Weiser-Brown, the Arkansas-based company he owns with Chris Weiser, hopes to buy out the remaining High Mesa investors by the end of this year.
Once the company gets the Fruitland area into full production, it hopes to do more 3-D geophysical exploration to expand its drilling in the area, Brown said.
But it plans to allow its leases in the Eagle area to lapse over the next 12 to 24 months.
Brown's ability to get investors with long expertise in the petroleum industry shows the potential for growth in the oil and gas industry here, Brown said.
"There's definitely more oil and gas here," he said. "This new investment group saw the potential."
Much of the criticism of Alta Mesa was that it was not forthcoming with information about its business, its wells or the geology of the field. This made it hard for competitors to raise capital to drill on the lands they controlled.
Brown said he welcomes competition because it will help reduce exploration costs and support the added infrastructure, such as pipelines.
"I want to return to transparency," Brown said.
Leaseholders in Idaho shorted by Alta MesaThe state of Idaho completed an audit of four wells, which included state land leases, in 2019 and found that Alta Mesa underpaid them $50,361.57 from 2015 through 2018. Alta Mesa paid the state back in 2019.
State regulators discovered additional underpayments to other royalty property owners in an investigation report released in May 2019.
Investigators blamed the discrepancy on a "systematic error in an equation used in some steps of the allocation process."
Soon after the report came out, a class-action complaint was filed by nine Idahoans who signed leases with Alta Mesa. The complaint alleges Alta Mesa committed fraud and breached the leases by underpaying royalties to the leaseholders on the natural gas it harvested from their property.
The complaint alleges Alta Mesa "manipulated royalty accounting methods by calculating royalty on a net price rather than a gross price, by taking midstream deductions from royalty that the oil and gas leases do not expressly authorize, by failing to account for and pay royalties on all products produced, used, or sold, and by engaging in transactions with affiliates which reduced royalty paid …"
The company had backed out of mediation, but Brown said they would return to mediation in February and wanted to get the issues settled.
"I don't want to fight any more," he said.
Randy and Thana Kauffmann, two of the leaseholders in the class action suit, said they could not comment on the lawsuit or mediation. But the oil well on their land is separate, and they hope Brown will resolve the discrepancies found there.
"I told him to call us when he's ready to talk," Thana Kauffman said.
Fruitland remains restlessBrown also will have to work through a forced pooling or integration process that has been caught up in court and administrative processes surrounding one of its Fruitland wells. The process is designed to ensure all of a unit's mineral-right holders are fairly compensated.
Initially the company sought a unit size of 640 acres, but the state ruling was challenged successfully in federal court by landowners and the state had to start over. This time the company is arguing for a unit only 160 acres.
A hearing is scheduled for Feb. 12.
Julie Fugate, a retired speech therapist, was one of the landowners included in the larger area. She joined Citizens Allied for Integrity and Accountability, an Idaho group organized to push health, safety and property-rights issues raised by oil and gas development. The group successfully pushed the Fruitland City Council to pass an ordinance for a drilling setback to protect residents and property values.
She remains skeptical about the company even though Alta Mesa no longer has control.
"We need to remember (Brown) is the one who brought Alta Mesa to Idaho," Fugate said.
Get Government & Politics updates in your inbox!
Stay up-to-date on the latest in local and national government and political topics with our newsletter.