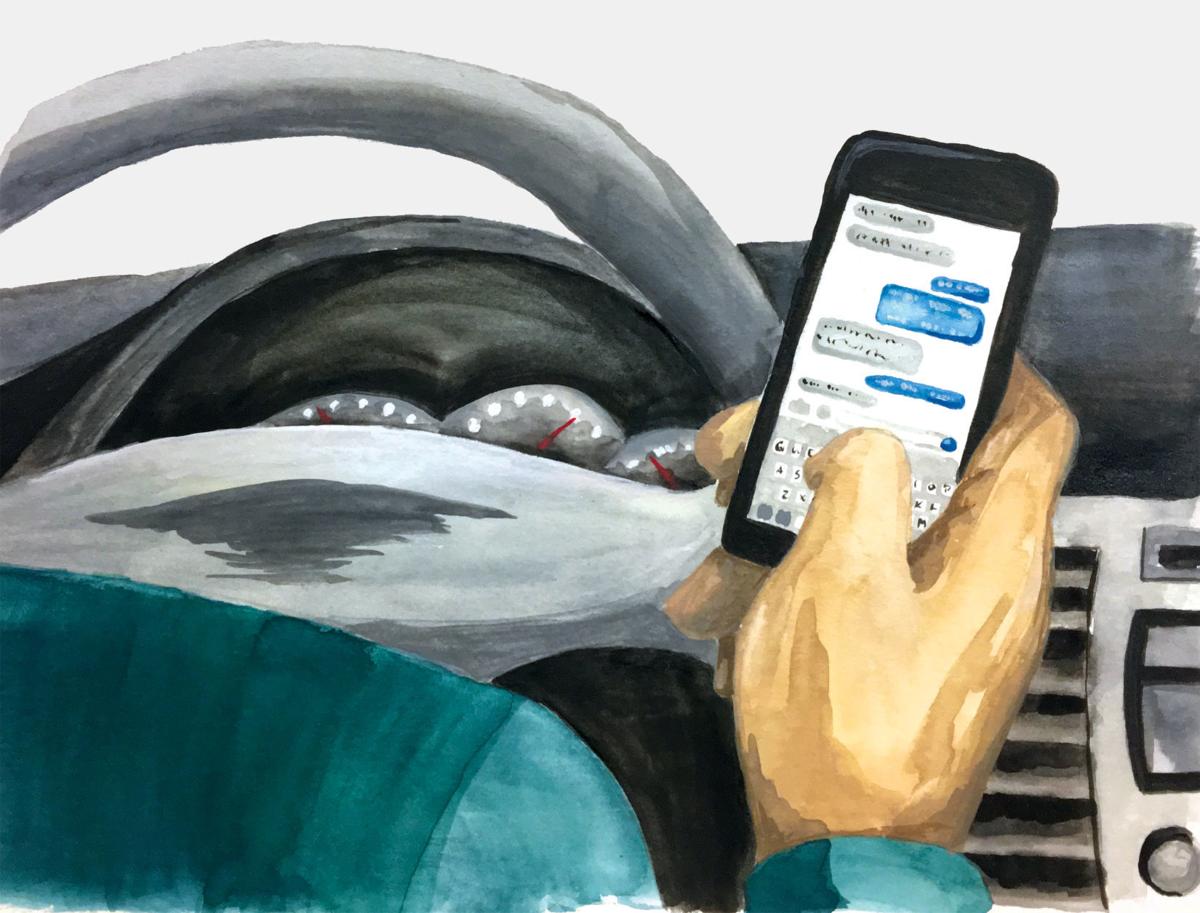 BOISE — Recent legal and legislative challenges to local bans on handheld cellphone use while driving could threaten such ordinances in several Blaine County cities.
A piece of legislation introduced in the state Legislature this week would prevent cities from enacting their own rules regarding cellphone use while driving. Meanwhile, a legal challenge to Hailey's ordinance prohibiting handheld cellphone use behind the wheel has caused the city to stop issuing citations until further notice.
While some critics of such ordinances characterize them as local government overreach, city leaders in Ketchum and Hailey say they are simply trying to do what the state's current texting and driving law doesn't: effectively crack down on and deter distracted drivers.
"In Idaho, we live and let live," Ketchum Mayor Neil Bradshaw told the Times-News. "We're not a big fan of a lot of government. But at the same time, when you're affecting another person's safety, that's when it's appropriate."
Existing state law prohibits texting while driving, but Bradshaw and Hailey Mayor Fritz Haemmerle say the statute in place doesn't go far enough. Current law essentially requires police to get a warrant to look through a phone to prove the suspected texter was indeed texting rather than, say, reading an email or scrolling through Spotify. Because of the difficulty in enforcing the state's texting and driving ban, Magic Valley law enforcement previously told the Times-News, citations are relatively rare — with the only legal alternative being the harsher misdemeanor charge of distracted driving.
But concerns about government overreach have prevented broader laws that more closely resemble the city ordinances from passing in the Idaho Legislature. A bill to ban all handheld cellphone use died in the state Senate in the 2018 legislative session on a 22-13 vote.
"If the state isn't going to act to protect people, then I think cities or counties should be able to protect their people," Haemmerle told the Times-News. "This isn't even an issue about politics. This is an issue about public safety."
Hailey and Ketchum are among a handful of cities across the state — including Sandpoint, Pocatello and Idaho Falls — that enacted bans on handheld cellphone use behind the wheel in recent years. Now, an eastern Idaho lawmaker is working on legislation to make such bans illegal.
A proposed bill presented to the House Local Government Committee on Tuesday by Rep. Chad Christensen, a Republican from Ammon, would prevent cities from implementing their own restrictions on cellphone use while driving.
"This is an overreach of city government and beyond their authority," Christensen said in the hearing. "We don't need more laws to address every behavior," he continued, such as eating in a car or talking to a passenger.
When asked to respond to Christensen's characterization of cellphone bans as government overreach, Haemmerle laughed.
"I think that that particular legislator is a conspirator in criminal acts that destroy people's lives," Haemmerle said of Christensen. "I think he should resign."
The legislation was ultimately returned to Christensen to clarify some of its wording, but several lawmakers on the committee voiced support for the concept. Rep. Bryan Zollinger, a Republican from Idaho Falls, said he had received calls from a number of constituents unhappy with the ban implemented in his city.
"I love this bill," Zollinger said. "This is the No. 1 issue."
For his part, Bradshaw said the Ketchum ordinance has received "broad support" within the community since it was introduced in 2016.
"I think just having it there as an ordinance brings it to people's awareness, and that's a first step in encouraging a behavioral change," Bradshaw said. "That's really all we're trying to do. We're encouraging a behavioral change."
Blaine County passed its own ordinance in 2016 to ban handheld use of a cellphone while driving, but it isn't clear whether and how Christensen's legislation would affect counties.
The potential bill isn't the only challenge local ordinances are facing. The city of Hailey is in the process of appealing a magistrate's judge ruling in October that its cellphone ban "was enacted without the required authority from the state" and therefore invalid. As a result of the ruling, Hailey police have stopped issuing cellphone citations until further notice.
"But to me, the case in court is not the issue," Haemmerle said. "The issue is: What is the state Legislature going to do to protect us?
"If they don't want us passing them, that's fine," he added. "Then pass your own."
Get Government & Politics updates in your inbox!
Stay up-to-date on the latest in local and national government and political topics with our newsletter.