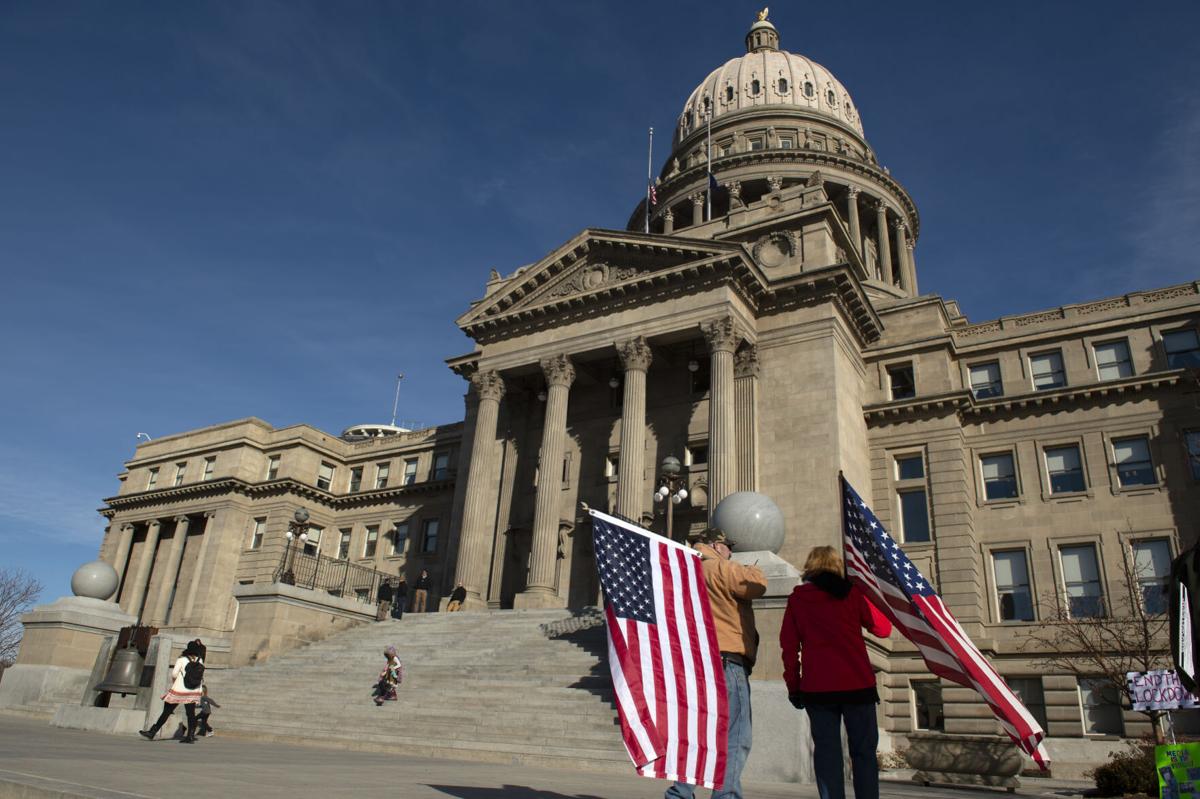 BOISE — An Idaho lawmaker accused of rape resigned this week after an ethics committee recommended he be expelled from the Legislature.
Rep. Aaron von Ehlinger, R-Lewiston, submitted his resignation after the Ethics and House Policy Committee unanimously found he "engaged in conduct unbecoming a Representative," according to Thursday's House Journal.
The committee's decision came after it held a public hearing Wednesday following a 19-year-old intern accusing von Ehlinger of forcing oral sex on her in March. According to the Associated Press, the Boise Police Department is investigating the alleged crime.
The committee did not evaluate whether the alleged sexual assault occurred, but rather whether any sexual conduct with staffers is inappropriate for a lawmaker.
Gov. Brad Little issued a statement Thursday supporting the committee's recommendation to expel von Ehlinger.
"I applaud Jane Doe and the other brave women for their courage in telling their stories and participating in this process to hold Representative Aaron von Ehlinger accountable for his deeply damaging and shameful actions," Little said. "Representative von Ehlinger's inappropriate and alarming actions stand in opposition to the values and behavior state elected officials must uphold."
In his resignation letter, von Ehlinger maintained his innocence of any wrongdoing or violation of law or state policy. He said that he hopes his resignation "spares my good colleagues any more difficulty in this matter."
In response to his resignation, attorneys representing the woman accusing von Ehlinger of rape released a statement saying the now former lawmaker should have "taken responsibility for his actions from the outset." The attorneys are Erika Birch, who is based in Boise, and Annie Hightower, who is the director of law and policy at the Idaho Coalition Against Sexual and Domestic Violence.
Rather than take responsibility, Birch and Hightower said von Ehlinger dragged the process out and subjected their client to a lengthy committee investigation that culminated with her testifying in a public hearing.
"It is inexcusable that he waited until his fate was inescapable to resign," Birch and Hightower said in their statement. "While we are pleased he is out of the legislature and unable to prey on any more young women at our statehouse, his actions are simply unforgivable."
Little signs nondiscrimination education bill
The governor signed a bill Wednesday that prohibits school districts and higher education institutions from pressing upon students ideas that are connected to critical race theory.
The legislation does not define critical race theory, but Encyclopaedia Britannica states: "Critical race theorists hold that the law and legal institutions in the United States are inherently racist insofar as they function to create and maintain social, economic, and political inequalities between whites and nonwhites, especially African Americans."
The legislation states that the tenets of critical race theory often "exacerbate and inflame divisions on the basis of sex, race, ethnicity, religion, color, national original, or other criteria."
Under this law, schools cannot "compel students to personally affirm, adopt, or adhere" to ideas such as "that individuals, by virtue of sex, race, ethnicity, religion, color, or national origin, are inherently responsible for actions committed in the past by other members of the same sex, race, ethnicity, religion, color, or national origin."
The law is relevant to other conversations the Legislature has had this session over the idea that schools are indoctrinating students with certain ideas and belief systems. For example, earlier this session, lawmakers debated a bill that would have stripped money from Boise State University's budget that the college uses for courses on social justice issues.
In a letter informing Speaker of the House Scott Bedke, R-Oakley, that he signed the bill, Little said that claiming there is widespread indoctrination in Idaho schools is a "serious allegation" that "undermines popular support for public education."
Little also raised concerns about how the controversy over this bill, and the concept of indoctrination in schools, has caused a delay in the Legislature passing education appropriation legislation. The governor noted school districts must pass budgets for the upcoming fiscal year by July 1.
"The process that produced this legislation over the past few weeks sends the wrong message to Idaho teachers, parents, and students," Little said in the letter. "It has been nothing short of a distraction from meeting our constitutional and moral obligations to public education in Idaho. It is time to get back on track."
Governor signs bill restricting abortion
The governor signed a bill this week that would severely restrict a woman's ability to have an abortion in Idaho.
House Bill 366, which is commonly known as the "Fetal Heartbeat Bill," would prohibit abortions after a fetal heartbeat is detected. This can happen as early as five or six weeks after conception.
"Idaho is a state that values the most innocent of all lives — the lives of babies," Little said in a statement announcing his signing of the legislation. "We should never relent in our efforts to protect the lives of the preborn. Hundreds and hundreds of babies lose their lives every year in Idaho due to abortion, an absolute tragedy. I appreciate Idaho lawmakers for continuing to protect lives by passing this important legislation, and I am proud to sign the bill into law today."
The legislation includes exceptions for pregnancies that are the result of rape or incest, as well as in situations of medical emergencies. However, to quality for these exceptions the act of rape or incest must be reported to a law enforcement agency. A copy of the report must then be given to the physician who is performing the abortion.
During the debate on a previous version of this bill, Sen. Melissa Wintrow, D-Boise, raised concerns about this aspect of the bills. She said many sexual assaults or incidences of rape go unreported to the police for myriad of reasons.
Even if a woman were to report the rape or sexual assault to the police, actually obtaining the report to present it to a physician would not be an easy process, Wintrow said. It is difficult to obtain reports during active investigations.
"If you have never known anybody to experience a rape and have to face those decisions and then to think about having to jump through all these hoops to get an abortion when you're already traumatized — it's too much," Wintrow said.
Other states in the U.S. have passed similar bills banning abortions at the moment a heartbeat can be detected, but they have been shot down in the court system. House Bill 366 includes a provision that would allow it to take effect if any U.S. appellate court upholds one of these other states' laws.
Expanding wolf killing
A bill that would allow the killing of up to 90% of Idaho's wolf population finished quickly working its way through the Legislature this week and is now before the governor.
The House passed Senate Bill 1211 Tuesday with a 58-11 vote just a week after the bill was first introduced in the Legislature. As of Friday evening, the governor had not yet taken action on the legislation.
According to the Associated Press, the bill would allow the state to hire private contractors to reduce the state's wolf population from about 1,500 down to 150. A wolf management plan established in 2002 calls for the state to maintain at least 150 wolves and 15 packs in Idaho.
Supporters of the bill say the measure is needed because there are too many wolves in the state, leading to attacks on cattle and sheep costing ranchers hundreds of thousands of dollars.
In February, the Idaho Department of Fish and Game reported the state's wolf population has remained around 1,500 over the past two years. This is despite hunters, trappers and state and federal authorities killing about 500 wolves in each of the last two years, the Associated Press reported.
The Associated Press reported this week that nearly 30 federal, state and tribal wildlife managers sent Little a letter asking him to veto the legislation. This includes people who have worked at the Idaho Department of Fish and Game, U.S. Fish and Wildlife Service, U.S. Bureau of Land Management and the U.S. Forest service, among others.
According to the Associated Press, these managers claim the bill violates longstanding wildlife management practices and sportsmen ethics due to some of the ways people would be legally allowed to kill wolves under this legislation. This includes allowing hunters to pursue wolves on snowmobiles and all-terrain vehicles.
The Center for Biological Diversity is also calling on Little to veto the legislation. In a press release Tuesday, Andrea Zaccardi, a senior attorney with the center, said this bill will wipe out decades worth of work toward recovering the wolf population.
"Governor Little must veto this cruel and disastrous bill," center senior attorney Andrea Zaccardi said. "Idaho's state wildlife agency should be allowed to continue to manage wolves, not anti-wolf legislators dead set on exterminating the state's wolves. We're going to do everything we can to fight for the survival of wolves in Idaho."